Commentary
Ranking Phelps' eight great wins in Beijing
Updated:
August 17, 2008, 3:43 PM ET
By
Pat Forde
| ESPN.com
BEIJING -- Michael Phelps' eight gold-medal swims were all magnificent. But the world needs lists, so we're here to rank his great haul of China from most memorable to least:
1. 100-meter butterfly
Yes, this was the only race in which Phelps did not set a world record -- but what he did to reach the wall first was the stuff of legends. Apparently beaten by Milorad Cavic in the final meters, Phelps somehow squeezed in a rapid-fire final arm stroke to touch and win by one-hundredth of a second. Still-frame photos show Cavic inches from winning before Phelps made up ground and splashed in at the last instant. The fact it was his seventh gold, tying Mark Spitz's Olympic record and securing a $1 million bonus from Speedo, didn't hurt.
2. 400 freestyle relay
It's hard to find good help nowadays -- unless you're Michael Phelps, and you need a relay mate to perform a miracle on your behalf. That would be anchorman Jason Lezak, who roared back from a considerable deficit in the final 50 meters to stun Frenchman Alain Bernard by 0.08 of a second. Phelps certainly did his part, leading off the relay by swimming what at the time was the third-fastest 100 freestyle in history -- in an event that's far from his specialty.
3. 400 individual medley
This was Phelps' first swim of the Games, and the pressure on him to perform was undeniable. Not only was he the centerpiece of the pre-Olympic hype, but President George W. Bush was in the stands to watch. Phelps delivered and then some, smashing his own world record and crushing fellow medalists Laszlo Cseh and Ryan Lochte.
4. 200 butterfly
Phelps said this was the only swim that disappointed him, because he expected to swim much faster. But the fact that he broke his own world record after his goggles leaked only adds to the Phelps mythology. He said he was basically swimming while blind, guessing at where the wall was on his turns. Who needs to see to win gold? Not Phelps.
5. 200 freestyle
Phelps only qualified fourth-fastest for the final, but he wasted no time in burying his competition. Phelps exploded to a fast start and led the entire race, leaving runner-up Park Tae-hwan of South Korea and bronze medalist Peter Vanderkaay of the U.S. in his wake. Phelps easily broke his own world record and won by 1.89 seconds.
6. 200 individual medley
Phelps beat Cseh and Lochte the same way he beat them in the 400 IM -- with a strong breaststroke leg that gave him separation leading into the final 50 meters of the freestyle. Whereupon he broke his own world record, of course. The impressive thing is the fact that Phelps' only "weak" stroke is the breaststroke. Turning that into his secret IM weapon only further validated his astonishing versatility.
7. 800 freestyle relay
This was an American tour de force, led off by Phelps. He gave the Yanks a huge, 2.6-second lead, and the rout was on. They wound up winning by three seconds and smashing their own world record, on a day when Phelps had to swim two finals.
8. 400 medley relay
The final swim of the meet, and of the Phelps program, was highly anticipated but largely anticlimactic. The American relay was pushed, but led fairly comfortably for the final 125 meters. Phelps took the Americans from third to first during his butterfly leg, then watched anchorman Lezak close the deal again by holding off the Australians.
Pat Forde is a senior writer for ESPN.com. He can be reached at ESPN4D@aol.com.
PHELPS: THE GREAT 8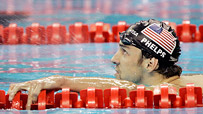 Michael Phelps has become the most decorated gold medalist in history, winning eight gold medals in a single Games. Here's a review of what we saw from this super American swimmer in Beijing:
• Coverage | Schedule | Results | Phelps news
RACE BREAKDOWN
•
Pat Forde's breakdown:
Phelps bettered Mark Spitz's record of seven gold medials, set at the 1972 Munich Games. Here is a review of Phelps' races at Beijing.
Story
• Race No. 1 -- 400-meter IM: Phelps kept pace with teammate Ryan Lochte and László Cseh in his weakest discipline, the breaststroke, before putting the hammer down in the freestyle to win his first gold of the Games. Story | Forde's take
• Race No. 2 -- 4x100 free relay: Phelps almost saw his run end, but Jason Lezak came back in the final leg to help the U.S. men edge France to win gold in one of the most memorable relay races in Olympic history. Story | Forde's take
• Race No. 3 -- 200 freestyle: Phelps easily won his third gold of the Games and ninth of his career in one of his strongest events. He also broke his own world record (1:42.96). Story | Caple's take
• Race No. 4 -- 200 butterfly: It wasn't even close, folks. Phelps controlled the race from the beginning to win, breaking his own world record and becoming the most decorated gold medalist in Olympic history. Story | Forde's take
• Race No. 5 -- 4x200 free relay: Phelps chose to swim the first leg of the relay and immediately set the tone. By the time Peter Vanderkaay swam the anchor leg, the Americans held a five-body-length lead. Story | Forde's take
• Race No. 6 -- 200 individual medley: Phelps dominated right from the start of the 200 IM and powered away to win in 1:54.23, another world record. Less than an hour later, Phelps won his 100 butterfly qualifier. Story | Forde's take
• Race No. 7 -- 100 butterfly: Just when you thought it couldn't get any better ... Phelps beat Milorad Cavic by a hundredth of a second to win the 100 fly and match Mark Spitz's record of seven golds in the same Games. Story | Forde's take
• Race No. 8 -- 4x100 medley relay: The relay team of Aaron Peirsol (back), Brendan Hansen (breast), Phelps (fly) and Jason Lezak (free) won, helping Phelps pass Mark Spitz for an unprecedented eighth gold medal in the same Olympics. Story
PREVIEW
•
Bowman on Phelps:
What makes Phelps so good? ESPN.com asked his coach, Bob Bowman, to break him down by each discipline.
Story
• ZOOM gallery: A look at Michael Phelps, stroke by stroke. Launch
• ESPN The Magazine: Once again, Michael Phelps is poised at a frontier of the impossible. Eric Adelson
WATCH
•
SportsCenter:
ESPN's Hannah Storm sits down with Phelps, who says this will be his last run at history.
Watch
• Outside The Lines: Eric Adelson gives us a behind-the-scenes look at Phelps' training regimen. Watch