Track and Field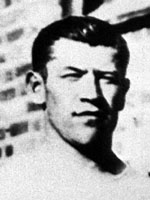 Jim Thorpe
Date of birth

1888-05-28
Birthplace

Shawnee (Oklahoma)
Height

187 cm
Weight

83.0 kg
Discipline

pentathlon, decathlon
Olympic Games (2 medals - 2 gold)
Pentathlon: 1st (1912)
Decathlon: 1st (1912)
The perfect athlete
Jim Thorpe had exotic origins, being the product of a part Irish part Sac and Fox Indian father and a mother whose roots were a mix of Potawatomie and Kickapoo Indian, and French.
A veritable genetic handful. But when it came to competing, Thorpe left no question unanswered as to his athletic qualities.
Primarily an American football player, he emerged as an outstanding all-round athlete, and even cut a dash on the dancefloor, tiptoeing his way to the 1912 intercollegiate ballroom dancing title before his selection for the Stockholm Games.
Once in the Swedish capital, Thorpe promptly left his dancing shoes behind and instead, waltzed off with the Olympic decathlon and pentathlon titles.
Following his success, Thorpe returned home hailed a hero. But following the publication of a damaging story in a newspaper, the American Olympic Committee stripped him of his medals when they learned he had earned 25 dollars a week in 1909/1910 playing minor-league baseball.
Pleading for compassion, he wrote to the Amateur Athletic Union, proclaiming his innocence, "I was only doing what I knew several other college men had done except that they did not use their own names," but to no avail.
Thorpe subsequently turned to major-league baseball and then football before trying his hand at jobs ranging from construction work to nightclub bouncer.
Justified epilogue
The public and the press, however, did not forget him. In 1950 he was voted the greatest athlete of the half century by sports writers from Associated Press. A film of his life story was even released that year starring Burt Lancaster.
Yet, ironically, while a star on screen, in real life Thorpe was down on his luck. He was admitted to hospital with cancer of the lip - with no money, he was looked after as a charity case.
He died of a heart attack in California and was buried in Mauch Chunk, Pennsylvania, which changed its name in a deal to secure his body.
Seventy years on from Sweden, the IOC finally agreed to lift their ban and his name was reinstated into the Olympic record books, with his gold medals returned to his family the following year.
Copyright 2008 Agence France-Presse.