Track and Field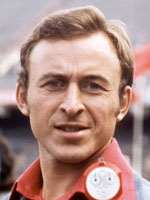 Valery Borzov
Date of birth

1949-10-20
Birthplace

Sambor
Height

183 cm
Weight

83.0 kg
Discipline

100m, 200m
Olympic Games (5 medals - 2 gold, 1 silver, 2 bronze)
100m: 1st (1972), 3rd (1976)
200m: 1st (1972)
4x100m relay: 2nd (1972), 3rd (1976)
European Championships (4 medals - 4 gold)
100m: 1st (1969, 1971, 1974)
200m: 1st (1971)
Refining the man machine
In achieving the sprint double (100m and 200m) during the 1972 Munich Games, the Soviet Valeri Borzov was able to dint the crushing domination which had, until his arrival, been enjoyed by the African-American sprinters.
Thanks to his coach, Valentin Petrovski, Borzov learned the technique of sprinting through visualising and carefully studying the races of the best sprinters in the world.
Each movement was thus analysed by a team specifically set up to help him maximise his race form at the Kiev Institute of Physical Culture, where he was a student.
In 1969, at the age of 19, the first real results began to show with the European 100m title in Athens, although he was still somewhat short of catching his Cold War adversaries.
Two years later however, his double (100m/200m) win in the European Championships signalled a significant warning.
Unbeaten for two years in the period leading up to the Munich Games, a much favoured Borzov dominated the 100m final with disconcerting ease. Five metres from the finish line he flung his arms into the air in triumph. Three days later Borzov ran 20.0 sec to take the 200m title, establishing a new European record in the process.
Seven-year unbeaten run
The Ukrainian arrived in Montreal four years later in bad shape due to a series of injuries he picked up in 1975 and 1976. Despite this shortfall he still collected a bronze medal in the 100m. He subsequently put an end to his career with however the satisfaction of being unbeaten for seven years in Europe.
Borzov married the gymnast Ludmila Turischeva (four gold medals, three silver and two bronze between 1968 and 1976).
At the collapse of the old Soviet empire, he was named Ukrainian sports minister (1991) and elected president of the National Olympic Committee.
He has also been a member of the International Olympic Committee (IOC) since 1994, and is the president of the Ukrainian athletics Federation.
Copyright 2008 Agence France-Presse.