Track and Field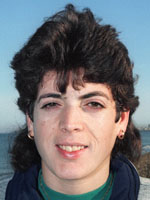 Hassiba Boulmerka
Date of birth

1968-07-10
Birthplace

Constantine
Height

165 cm
Weight

57.0 kg
Discipline

1500m
Olympic Games (1 medal - 1 gold)
World Championships (3 medals - 2 gold, 1 bronze)
1st (1991, 1995), 3rd (1993)
World Cup (1 medal - 1 gold)
African Championships (2 medals - 2 gold)
Boulmerka becomes pride of Algeria
The success of the diminutive Algerian Hassiba Boulmerka in the 1500m at the Barcelona Games in 1992 was regarded across the globe as the perfect answer to Muslim fundamentalists who had sought to restrict women from taking part in sport.
"Your victory in Barcelona is a victory for all arab women. It gives hope for the progress of the arab woman," Jordan's Queen Noor told her in a letter.
Born on July 10, 1968 she left school early and found a job working as a secretary in Constantine, finding time for training after work.
Crowned African champion in the 800m and 1500m in 1988 and 1989, she left Constantine for Algiers, where national coach Amar Bouras started her on a draconian training regime inspired by methods practised in the Eastern bloc.
IOC member
She put behind her disappointment of a semi-final elimination at the 1988 Olympics to stun the competition with a victory at the world championships in Tokyo (1991).
The shocking victory resonated throughout the world, coming one year after 100 ministers had called for young girls to be banned from participating in sport in school.
She made a triumphant return to Algeria. Scores of women turned up at the airport to pay tribute to the first African woman to register success at the world championships.
Once again, the Algerians accorded her an ecstatic homecoming.
Her victory in Barcelona was a dramatic one, kneeling on the track with an Algerian flag draped over her and whispering the name of her homeland.
She would later dedicate her victory to the assassinated Algerian president Mohammed Boudiaf killed just a few weeks earlier.
But two years later Boulmerka asked to be able to leave her country following death threats from Muslim fundamentalists.
Following a world bronze in 1993, she returned to top form to win gold at the 1995 world championships, her last major success, bowing out at the semi-final stage at the Atlanta Games in 1996.
In December, 1999, she was elected a member of the International Olympic Committee (IOC), and immediately drew attention to Pakistan and Mexico, countries she declared were discriminating against women in sport.
Copyright 2008 Agence France-Presse.