Veronica Campbell-Brown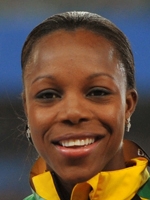 Veronica Campbell-Brown
Date of birth

1982-05-15
Birthplace

Trelawny
Height

163 cm
Weight

61.0 kg
Olympic Games (5 medals - 3 gold, 1 silver, 1 bronze)
100m : 3rd (2004)
200m : 1st (2004, 2008)
4x100m : 1st (2004), 2nd (2000)
World Championships (8 medals - 2 gold, 7 silver)
100m : 1st (2007), 2nd (2005, 2011)
200m : 1st (2011), 2nd (2007, 2009)
4x100m : 2nd (2005, 2007, 2011)
World indoor Championships (2 medals- 2 gold)
Super Campbell
If Usain Bolt is the King of Jamaican athletics then Veronica Campbell, vying for a third consecutive 200m Olympic gold at London 2012, is its Queen.
Keeping with the sovereignty theme Campbell goes to London as reigning 200m world champion too.
Other gold medals in the English capital are well within the bounds of reason too as the Jamaican 4x100m relay team are red hot, partly because Campbell herself ran both the world's second fastest female 100m times in 2011, and also picked up a world championship silver medal over the distance both individually and in the relay.
Born at Trelawny on May 15, 1982, her competitive edge was honed growing up as one of ten children, and as a teenager she was both a world champion athlete and a promising student.
As with a great deal of Caribbean athletes she won a grant to an American university, Arkansas in her case, and she was soon competing with top American women Allyson Felix and Lauryn Williams.
Dream come true
At 22, Campbell shot to international stardom at Athens 2004, leading from start to finish in the 200m final, powering round the bend with only Felix able to stay near her.
The warning signs had been there a few days earlier as she had sped to an unexpected bronze in the 100m and to cap a dream competition, she helped Jamaica win the 4x100m after the United States were earlier eliminated following a botched baton exchange.
The 200m triumph was Jamaica's first women's athletics gold medal since Deon Hemmings took the 400m hurdles in 1996.
A year later at the Helsinki world championships 100m final, run in freezing rain, Campbell was only edged into silver by a flying Williams.
She also took home a silver in the 4x100m relay as Jamaica were narrowly beaten by the United States, but could only manage fourth in the 200m after drifting out of lane.
During 2007 she was in scintillating form, with three sub-11 second 100m runs including the world's fastest time -- 10.89 in Kingston -- heading into the world championships.
The 100m final was astonishing, ending in a photo finish between Campbell, Williams and Torri Edwards. After a gut-wrenching wait during which first Edwards, then Williams and finally Campbell was declared winner.
At the 2008 Olympics, Campbell made it a golden double as she flashed home in 21.74secs to take her second 200m crown with American Allyson Felix second and fellow Jamaican Kerron Stewart picking up bronze.
But Felix would get revenge one year later when she won the 200m world title in Berlin as Campbell on this occasion settled for silver and the Bahamas' Debbie Ferguson-McKenzie just behind in third.
All the signs are there again for a fine Olympic haul if the 2011 worlds are anything to go by.
The 200m final was a close run affair with Campbell having to overhaul Carmelita Jeter in the last 50m, a smiling Felix claiming third as the Jamaican wept with emotion.
Results
Copyright 2008 Agence France-Presse.