Commentary
Alternates show game to keep Hamm-less U.S. men's team in contention
Updated:
August 9, 2008, 4:02 PM ET
By
Alyssa Roenigk
| ESPN The Magazine
BEIJING -- When Alexander Artemev dismounted from the pommel horse, he nodded toward the judges' table, then pointed into the stands at Beijing's National Indoor Stadium.
David Durante, the lone remaining alternate for the U.S. men's gymnastics team, smiled and returned the gesture. Just two days ago, Artemev was prepared to spend Saturday afternoon watching the team qualification round from a seat right next to Durante. Instead, he was both the first and final member of the U.S. team to compete in Saturday's team all-around and became a crowd favorite throughout the competition.
[+] Enlarge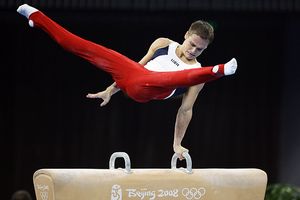 AP Photo/Julie JacobsonAlexander Artemev moved into the starting rotation after Morgan Hamm withdrew from the Olympics with an ankle injury.
"I was letting David know that I wished he could be down on the floor with us," Artemev said minutes after he and an underdog American team outperformed even their own expectations.
Like Durante, Artemev, 22, traveled to Beijing as an alternate, but he was named to the U.S. squad Thursday afternoon after Morgan Hamm withdrew from competition with an ankle injury. Talk about no time to make a mental shift: In less than two days, Artemev went from alternate to one of only two members of the U.S. team (Jonathan Horton is the other) competing in all six rotations.
"It was hectic," Artemev said. "After trials, I'd already gone through the emotions, first angry, then disappointed. Then I got over it, sucked it up and started proving to my teammates I was ready. But in some ways, it was good. I didn't have the whole week to analyze everything. I was just thrown in there, so there was less pressure."
Thursday night, Artemev moved into the room in the Olympic Athletes' Village he now shares with fellow alternate-turned-points-earner Raj Bhavsar, who narrowly missed making both the 2004 and 2008 teams but was bumped onto the squad when Paul Hamm, Morgan's twin brother, withdrew two weeks ago due to wrist and shoulder injuries.
"I don't see myself as an alternate," Bhavsar said. "I am a contributor on the team. I'm a gamer."
He proved that Saturday afternoon, when he competed in five events and had the highest team score on vault and second-highest scores on rings and parallel bars. "Two words come to mind," Bhavsar said. "Mission accomplished."
But his assignment is only half over; team finals are Tuesday morning, and that's when Bhavsar, Artemev and their teammates will face a seemingly unbeatable Chinese team, as well as strong Japanese and Russian squads. The Americans sit fourth with 365.200 points, behind China (373.600), Japan (369.500) and Russia (365.425).
"What we did today should have people thinking about us more seriously," said Kevin Tan, who competed in three rotations for the U.S. "Don't count us out yet."
Not out, but certainly down.
With the withdrawal of first Paul Hamm, then Morgan Hamm, the U.S. team lost more than talented siblings. It lost experience and leadership. Not one member of the current team is a returning Olympian. Joey Hagerty has never competed on a world championship team. And one-third of the team now is comprised of athletes originally selected as alternates. That doesn't exactly sound like the makeup of a podium-caliber team.
And yet, it almost looks like one.
Alyssa Roenigk is a senior writer for ESPN The Magazine.
ESPN The Magazine senior writer
Alyssa Roenigk is a senior writer for ESPN The Magazine and ESPN.com whose assignments covering action sports, Olympics and football have taken her to six continents and caused her to commit countless acts of recklessness. In 2012, she joined the X Games TV broadcast team and ordered additional pages for her passport. Follow her on Twitter at @espn_alyssa.
SPONSORED HEADLINES
MORE OLYMPICS HEADLINES
MOST SENT STORIES ON ESPN.COM