Matos faces lifetime ban after kicking referee following match
Updated:
August 23, 2008, 12:16 PM ET
Associated Press
[+] Enlarge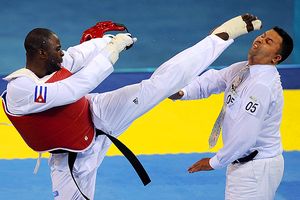 JUNG YEON-JE/AFP/Getty ImagesAfter a heated dispute about the ending of the bronze-medal bout, Angel Valodia Matos of Cuba assaulted referee Chakir Chelbat of Sweden.
BEIJING -- Cuba's Angel Matos deliberately kicked a referee square in the face after he was disqualified in a bronze-medal match, prompting the World Taekwondo Federation to recommend that he be banned for life.
"We didn't expect anything like what you have witnessed to occur," said WTF secretary general Yang Jin-suk. "I am at a loss for words."
Yang also recommended Matos' coach be banned. Matos was winning 3-2, with 1:02 left in the second round, when he fell to the mat after being hit by his opponent, Kazakhstan's Arman Chilmanov. Matos was sitting there, awaiting medical attention, when he was disqualified for taking too much injury time. Fighters get one minute, and Matos was disqualified when his time ran out. Matos angrily questioned the call, pushed a judge, then pushed and kicked referee Chakir Chelbat of Sweden, who required stitches in his lip. Matos spat on the floor and was escorted out. "This is an insult to the Olympic vision, an insult to the spirit of taekwondo and, in my opinion, an insult to mankind," Yang said. Matos' coach was unapologetic. "He was too strict," Leudis Gonzalez said, referring to the decision to disqualify Matos. Afterward, he charged the match was fixed, accusing the Kazakhs of offering him money. Although the arena announcer said Matos and his coach were banned effective immediately, Yang said due process must be followed before officially banning the two. In his first match, Matos defeated Italy's Leonardo Basile, then beat China's Liu Xiaobo 2-1 in the quarterfinals. But he lost to South Korean Cha Dong-min in the semis to land in the bronze-medal match. "To me it was obvious he was unable to continue," Chilmanov said. "His toe on his left foot was broken." But Chilmanov added: "Rules are rules. I'm happy with my medal." Matos won the gold medal in this division -- the men's over 80-kilograms (176 pounds) -- at the 2000 Sydney Games, dedicating the victory to his mother, who died on the day of the opening ceremony. At the 2004 Athens Games, he finished 11th. Matos' bad behavior followed a day of confusion on the mats and ended the four-day taekwondo competition, which was marred by several protests against judge's calls. Earlier Saturday, China's double gold medalist Chen Zhong crashed out in the quarterfinals after initially being declared the winner. World champion Maria del Rosario Espinoza, the eventual winner in the women's over 67-kilogram (147.4 pounds) class, was to fight Chen in the semifinals but the judges overturned an earlier ruling and made Britain's Sarah Stevenson the winner of the quarterfinal bout in which Chen scored in the closing seconds of the second round and then Stevenson tagged her with a head kick -- worth two points -- in the third.
The judges ruled Stevenson's kick wasn't solid enough for points, and Chen was declared the winner 1-0. After Britain protested, the result was changed to put Stevenson in the semifinal.
The decision brought loud jeers from the crowd. China did not appeal.
It was the first time a match result has been overturned since taekwondo became an official Olympic sport in 1990.
"It's been a really tough day, an emotional roller coaster," Stevenson said. "I would have been devastated if they hadn't changed the decision."

Copyright 2008 by The Associated Press
MOST SENT STORIES ON ESPN.COM