United States 11, Venezuela 0
| | | | | | | | | |
| --- | --- | --- | --- | --- | --- | --- | --- | --- |
| | 1 | 2 | 3 | 4 | 5 | 6 | 7 | R |
| UNITED STATES | 0 | 4 | 2 | 5 | 0 | | | 11 |
| VENEZUELA | 0 | 0 | 0 | 0 | 0 | | | 0 |
Final
after 5
12:00 AM ET
August 12, 2008
Finch, Abbott toss 5 no-hit innings as U.S. stomps Venezuela
Updated: August 20, 2008, 11:28 PM ET
BEIJING (AP) -- Like school girls nervous about their first day of class, several members of the U.S. softball team laid out their new uniforms the night before their Olympic opener.
They couldn't wait to wear them, and once they slipped them on, the Americans looked a lot like they did four years ago.
Superb.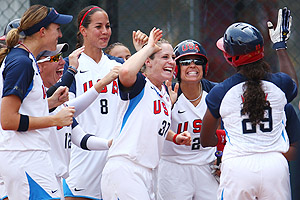 Vladimir Rys/Getty Images
The U.S. team began its run toward a fourth straight gold medal in record-breaking fashion in its Olympic opener Tuesday.
Picking up where they left off in the Athens Games, the U.S. team started its bid for a fourth straight gold medal with an 11-0 rout of Venezuela on Tuesday that set an Olympic record for runs scored in a game.
"We were so amped up when we got here," said Crystl Bustos, who hit a solo home run. "We couldn't wait to get into a game and get this thing started. We're so sick of practice."
Jennie Finch pitched four no-hit innings and Caitlin Lowe hit an inside-the-park homer as the U.S. won its 15th straight Olympic game and dispatched the Venezuelans in five innings due to the run-difference rule. Andrea Duran drove in three runs and Natasha Watley contributed a two-run homer.
The Venezuelans, Olympic rookies who never had a chance, dropped to 0-7 against the U.S.
"When we face the USA we have all kinds of problems," catcher Zuleyma Cirimele said. "We always lose by four or five runs. We should have done better."
Following pre-game introductions and the traditional gift exchange between the teams, U.S. coach Mike Candrea gathered his team near the dugout and asked, "Who do you play for?"
"U-S-A," shouted the world's top-ranked team.
Finch then proceeded to dominate on the mound. Watley and Lowe set the tone at the top of the order and Bustos, capable of hitting 300-foot-plus blasts, lined a screamer over the wall in left-center field, leading off the fifth to make it 5-0.
By then, any thoughts the Venezuela team had of staging a historic upset were, well, history.
"This was a great start," said Finch. Her husband, Casey Daigle, a pitcher in the Minnesota Twins' organization, and their 2-year-old son, Ace, stayed up late to cheer her on.
"There's only so much scrimmaging you can do," Finch said. "We needed to play somebody else."
But can anyone play with the Americans?
Four years ago in Greece, the U.S. were softball goddesses. They obliterated the tournament field, outscoring the other seven teams 51-1 to win their third consecutive gold.
With 10 players back from that squad, the U.S. is expected to roll again, although Japan, Australia, China and Canada all have enough talent to hang with the Americans.
Beating them is a whole other ballgame.
Bustos, a three-time Olympian, insists that while softball may appear lopsided, winning a gold medal in the sport's last Olympic appearance until at least 2016 is no guarantee.
"We've already played Canada and Japan and China this year," she said. "The gaps have closed and we recognize that. It's going to be interesting. I don't take anything for granted. I think it's going to be a little bit harder."
Things could get a lot tougher for the U.S. on Wednesday when it faces longtime nemesis Australia. It will be a rematch of the gold-medal game in Athens, which the U.S. won 5-1. The Aussies have twice beaten the Americans on the Olympic diamond: in 1996 at Atlanta and 2000 in Sydney.
Against Venezuela, the Americans threatened in their first at-bat, but after putting two runners on with none out, the U.S. couldn't push a run across against Johana Gomez.
Gomez plays for Southeastern Community College in Burlington, Iowa, but it's safe to say she's never faced a lineup like this one. The U.S. displayed its top-to-bottom depth and speed while scoring four runs off the right-hander in the second.
Duran was hit by a pitch leading off and she sped to third when Stacey Nuveman ripped a single to right. Lovieanne Jung followed with a sacrifice fly to make it 1-0.
One out later, Watley drilled a two-run homer to center field and as she trotted around the bases, her teammates skipped from the dugout to welcome her home.
Lowe, one of five Olympic newcomers on the team, then reached out and poked a ball to left that Rubilena Rojas misjudged and let sail over her head. Rojas stumbled and fell while trying to track it down, and by the time she got to the ball, the lightning-fast Lowe had kicked into high gear.
"Once I saw coach Candrea doing his little thing," she said, waving her hand in a circular motion, "I knew I'd make it all the way."
Another U.S. rout was on, probably not what a few International Olympic Committee members on hand at steamy Fengtai Softball Field wanted to see.
The IOC voted softball off the 2012 program for London, and many feel the decision was partly a backlash against the Americans' supremacy since softball was added to the games in 1996.
"We're not trying to put on a show," Candrea said. "We're playing the game the way we want to play it. USA softball is playing aggressively and it's playing smart and that's really my only concern right now.
"It was a great show and I hope we have many more."
In the tournament opener, Canada defeated Taiwan 6-1. Laura Bay Regula allowed just one hit in five innings and Megan Timpf drove in three runs for the Canadians, who matched their entire scored run output in while finishing fifth in '04.