Commentary
Weak link? Nah, this group just added more oomph to Phelps' run
BEIJING -- Sleep tight, Mr. Phelps. The "weak links" have you covered.
On a late night, as Michael Phelps rested, his 4x100-meter freestyle relay team broke a world record in preliminaries, temporarily quieting doubters that this was the United States' least-dominant relay team that ultimately could be the group to trip up Phelps in his quest for eight gold medals in one Games.
Nathan Adrian, Cullen Jones, Ben Wildman-Tobriner and Matt Grevers clocked a time of 3:12.23, smashing a 2006 mark also set by the U.S. Grevers waved his finger in the air and celebrated with his teammates after he touched the wall, knowing that this group won't be intact for Monday's final.
"You know, it's going to be a rough night for Eddie Reese being the head coach," Jones said. "I think he told me he was going to temporarily resign if we won the world record. So Eddie Reese is no longer the head coach."
He laughed.
"It's going to be tough, but I think we're all very happy with our performance today. If I don't get on the relay, it would be kind of devastating. But you know what? I believe in the coaches. I believe they're going to put together the fastest relay they can. If it doesn't work out that way, I've got 2012, right?"
Jones, who swam the fastest leg for the Americans with a time of 47.61, has no reason to worry. Roughly 20 minutes after he left, Reese said Jones would be on the team. He laughed when someone suggested that he keep the team intact, sans Phelps.
He also seemed to have fun playing coy about whom he'll pick.
"That's a real good question," Reese said. "Do you want to know? Should I tell you? Did you look at the relay? Did you get the splits? But did you subtract the differential in the starts? See, you gotta do that, too. Then we get some dice and throw 'em up against the wall."
As happy as Reese was with Sunday night's developments, he said the Americans probably will need to be 2½ seconds better than that to beat France on Monday. Amaury Leveaux's first-leg time of 47.76 on Sunday night was an Olympic record, and the French held out their world-record holder, Alain Bernard.
France still managed to finish with a time of 3:12.36. After the prelims, a reporter told Reese that some French swimmers said his team was afraid of them. Bernard said France would "smash" the United States.
"I get scared before any of them race," Reese said. "I think that's a normal reaction. We're not scared of anybody. If you're good, everybody takes shots at you. It's good to be the person people want to be."
Phelps was safely tucked away at the athletes' village Sunday night while his teammates pushed to victory. His presence is everywhere, but the thought of being on the relay team that disrupts history isn't on the mind of any of his teammates.
They don't think of 2007, when a teammate's botched changeover in the medley relay kept Phelps from his eight golds at the world championships. They just see it as a chance to be a part of history, both his and theirs.
"You know, a lot of people said this was the weaker of the two relays," Jones said. "The four of us set to do something that not many people thought we could do. I know a lot of people on our team really stood behind us and really wanted us to do it. We set the goal, and we went after it.
"And weren't afraid to feel the pain, which is why I'm so dizzy right now."
They were spinning long after the flag wavers left the building Sunday night. Who really knows what they can do? Hours earlier, they watched Phelps dazzle in the 400 individual medley, a race Aaron Peirsol said "blew me away." Reese called it Phelps' best performance ever. Then he prefaced it. Best so far, he said.
"It's going to get hot," Reese said of Monday's relay.
"Phenomenal swimming up and down the line," Reese said. "It's why they call it the Olympics. I couldn't do this but every four years. I would've heart-attacked out."
Elizabeth Merrill writes for ESPN.com. She can be reached at merrill2323@hotmail.com.
Senior writer for ESPN.com
Formerly at "The Kansas City Star" and "The Omaha World-Herald"
PHELPS: THE GREAT 8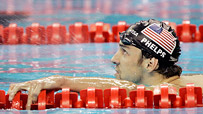 Michael Phelps has become the most decorated gold medalist in history, winning eight gold medals in a single Games. Here's a review of what we saw from this super American swimmer in Beijing:
• Coverage | Schedule | Results | Phelps news
RACE BREAKDOWN
•
Pat Forde's breakdown:
Phelps bettered Mark Spitz's record of seven gold medials, set at the 1972 Munich Games. Here is a review of Phelps' races at Beijing.
Story
• Race No. 1 -- 400-meter IM: Phelps kept pace with teammate Ryan Lochte and László Cseh in his weakest discipline, the breaststroke, before putting the hammer down in the freestyle to win his first gold of the Games. Story | Forde's take
• Race No. 2 -- 4x100 free relay: Phelps almost saw his run end, but Jason Lezak came back in the final leg to help the U.S. men edge France to win gold in one of the most memorable relay races in Olympic history. Story | Forde's take
• Race No. 3 -- 200 freestyle: Phelps easily won his third gold of the Games and ninth of his career in one of his strongest events. He also broke his own world record (1:42.96). Story | Caple's take
• Race No. 4 -- 200 butterfly: It wasn't even close, folks. Phelps controlled the race from the beginning to win, breaking his own world record and becoming the most decorated gold medalist in Olympic history. Story | Forde's take
• Race No. 5 -- 4x200 free relay: Phelps chose to swim the first leg of the relay and immediately set the tone. By the time Peter Vanderkaay swam the anchor leg, the Americans held a five-body-length lead. Story | Forde's take
• Race No. 6 -- 200 individual medley: Phelps dominated right from the start of the 200 IM and powered away to win in 1:54.23, another world record. Less than an hour later, Phelps won his 100 butterfly qualifier. Story | Forde's take
• Race No. 7 -- 100 butterfly: Just when you thought it couldn't get any better ... Phelps beat Milorad Cavic by a hundredth of a second to win the 100 fly and match Mark Spitz's record of seven golds in the same Games. Story | Forde's take
• Race No. 8 -- 4x100 medley relay: The relay team of Aaron Peirsol (back), Brendan Hansen (breast), Phelps (fly) and Jason Lezak (free) won, helping Phelps pass Mark Spitz for an unprecedented eighth gold medal in the same Olympics. Story
PREVIEW
•
Bowman on Phelps:
What makes Phelps so good? ESPN.com asked his coach, Bob Bowman, to break him down by each discipline.
Story
• ZOOM gallery: A look at Michael Phelps, stroke by stroke. Launch
• ESPN The Magazine: Once again, Michael Phelps is poised at a frontier of the impossible. Eric Adelson
WATCH
•
SportsCenter:
ESPN's Hannah Storm sits down with Phelps, who says this will be his last run at history.
Watch
• Outside The Lines: Eric Adelson gives us a behind-the-scenes look at Phelps' training regimen. Watch
MOST SENT STORIES ON ESPN.COM