Lezak runs down French to win relay gold for U.S.
Updated:
August 11, 2008, 12:44 PM ET
ESPN.com news services
BEIJING -- With history about to slip away and Michael Phelps cheering him on, Jason Lezak pulled up next to the lane rope and set out after hulking Alain Bernard, like a NASCAR driver drafting down the backstretch at Daytona.
Only 25 meters to go, half the length of the pool. Every stroke brought Lezak a little closer, a little closer, a little closer, his body seemingly carried along by the Frenchman's massive wake. The two lunged for the wall together. When the result flashed on the board, Phelps was still on course for his record eight gold medals.
By a fingertip.
Lezak, the oldest man on the U.S. swimming team, pulled off one of the great comebacks in Olympic history Monday morning, hitting the wall just ahead of Bernard in the 400 freestyle relay, a race so fast it actually erased two world records.
Few sporting events live up to the hype -- this one exceeded it. The 32-year-old Lezak was nearly a body length behind Bernard as they made the final turn, but the American hugged the lane rope and stunningly overtook him on the very last stroke.
Wow!
"This has been happening my whole career," Lezak said. "People have gotten on my lane line and sucked off of me, so I figured this is the one opportunity in my whole career to do that."
Watching on deck, Phelps let out a resounding "Yeaaaaaah!" and thrust both arms toward the roof of the Water Cube. His quest to break Mark Spitz's record of seven gold medals had survived what will likely be its toughest test -- and almost certainly its most thrilling.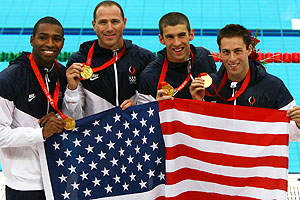 Shaun Botterill/Getty ImagesFrom left: Americans Cullen Jones, Jason Lezak, Michael Phelps and Garrett Weber-Gale pose with the gold medal during the medal ceremony for the men's 4x100 freestyle relay.
The race marked the pinnacle of a busy day for Phelps, now 2-for-2 in his bid to break Spitz's record of seven gold medals in a single games.
The Americans shattered the world record set by their "B" team the previous evening in the preliminaries, touching with a time of 3 minute, 8.24 seconds -- nearly 4 full seconds below the 15-hour-old mark of 3:12.23.
"Unbelievable," said Phelps, who swam the leadoff leg and then became the team's biggest cheerleader. "Jason finished that race better than we could even ask for. I was fired up. Going into that last 50, I was like, 'Aw, this is going to be a close race.' Jason's last 10 or 15 meters were incredible."
The Americans won the relay at seven straight Olympics, but watched the Australians and South Africans take gold at the last two games.
"You could tell I was pretty excited," Phelps said. "I lost my voice and I was definitely pretty emotional out there."
Bernard was the world record holder in the 100, but he surrendered that mark as well. Australia's Eamon Sullivan broke the individual record by swimming the leadoff leg in 47.24 -- ahead of Bernard's mark of 47.50.
Oh, by the way, Phelps set an American record leading off, 47.51. But it was Lezak's anchor that everyone will remember. He got down and back in a staggering 46.06, the fastest relay leg in history though it doesn't count as an official record.
"A fingertip did the victory," said Amaury Leveaux, one of the French swimmers. "It is nothing."
Lezak looked at the scoreboard, then leaped out of the water with an emphatic fist pump.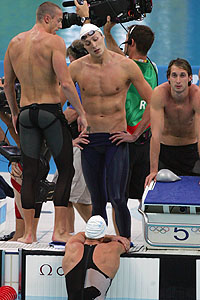 AP Photo/Greg BakerFrench relay team members show their dejection after finishing second by eight one-hundredths of a second.
"I knew I was going to have to swim out of my mind," Lezak said. "Still right now, I'm in disbelief."
Garrett Weber-Gale and Cullen Jones also did their parts on the middle legs of the relay, overcoming the enormous pressure of making sure they didn't mess up Phelps' attempt to take down the Holy Grail of Olympic records. Jones was the only holdover from the team that swam in the prelims.
Lezak should get a share of that $1 million bonus that Phelps has been promised if he goes on to beat Spitz's mark.
"I never lost hope," said Lezak, who trains alone but has been a longtime stalwart on the relay team. "I don't know how I was able to take it back that fast, because I've never been able to come anywhere near that for the last 50."
While the Americans whooped it up on deck, Bernard clung to the wall, his head down. The swimmer who had talked confidently of beating the Americans -- "smashing" them, some media reported -- was the last one to leave the pool.
"Alain is wounded. When you are the last swimmer in a relay and that you have the opportunity to bring a title of this importance to your country, you don't get out of this unhurt," said Claude Fauquet, France's team director. "But I don't think that Alain lost the race. It's Lezak who won it."
Though many countries save their best swimmers for the anchor leg, Phelps is more comfortable leading off -- especally swimming a distance that is not part of his individual schedule. Lezak is a sprint specialist, and it sure paid off having him in the last spot.
The French were second in 3:08.32 -- eight one-hundredths of a second behind. Australia took the bronze in 3:09.91. In fact, the top five all went below the record set Sunday.
"I felt I was in the lead," Bernard said. "I knew I had to accelerate, but it got harder."
President Bush was back at the Water Cube for the second day in a row, with wife Laura on one side, daughter Barbara on the other. Former Republican presidential candidate Mitt Romney and his wife were sitting in front of them, and Bill Gates was right behind.
Clearly, the swimming record book will need some heavy revisions by the time the Beijing Olympics are over.
Three more world marks fell Monday when Kosuke Kitajima of Japan finished off American Brendan Hansen's hopes of an individual medal, winning the 100 breaststroke in 58.91. Kitajima pounded the water defiantly and let out a scream after breaking Hansen's 2-year-old record of 59.13.
Hansen was left without a medal, fading to fourth behind silver medalist Alexander Dale Oen of Norway and Hugues Duboscq of France, who took bronze.
Kirsty Coventry didn't even bother waiting until a final to set a record in the 100 backstroke. The Zimbabwean won her semifinal heat in 58.77, taking down Natalie Coughlin's mark of 58.97 set at the U.S. trials last month.
They'll go head to head in Tuesday morning's final. Coughlin won her heat in 59.43.
And Federica Pellegrini of Italy set a world record in the 200-meter freestyle preliminaries.
She won her heat Monday night in 1 minute, 55.45 seconds, lowering the old mark of 1:55.52 set by Laure Manaudou of France in March 2007.
Manaudou, the current world champion, did not attempt to qualify for the event at the French trials.
Eight world records have been set through the first three days at the Water Cube.
Phelps had other races to care of, too, as he advanced to the final of the 200 free with the fourth-fastest time of the semis.
Trying to save as much energy as possible for the leadoff leg of the relay, the American touched in 1:46.28 to finish behind teammate Peter Vanderkaay (1:45.76) and South Korea's Park Tae-hwan (1:45.99).
Jean Basson of South Africa also went faster in the other heat, winning in 1:46.13.
Phelps also advanced to the semifinals of the 200-meter butterfly, winning his preliminary heat in 1 minute, 53.70 seconds Monday night, lowering his own Olympic record of 1:54.04 set four years ago in Athens.
Phelps was third after the first 100 meters, moved up to second at the 150, and then cruised home.
Information from The Associated Press was used in this report.
SPONSORED HEADLINES
MORE OLYMPICS HEADLINES
MOST SENT STORIES ON ESPN.COM
PHELPS: THE GREAT 8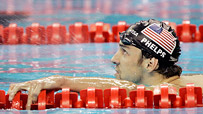 Michael Phelps has become the most decorated gold medalist in history, winning eight gold medals in a single Games. Here's a review of what we saw from this super American swimmer in Beijing:
• Coverage | Schedule | Results | Phelps news
RACE BREAKDOWN
•
Pat Forde's breakdown:
Phelps bettered Mark Spitz's record of seven gold medials, set at the 1972 Munich Games. Here is a review of Phelps' races at Beijing.
Story
• Race No. 1 -- 400-meter IM: Phelps kept pace with teammate Ryan Lochte and László Cseh in his weakest discipline, the breaststroke, before putting the hammer down in the freestyle to win his first gold of the Games. Story | Forde's take
• Race No. 2 -- 4x100 free relay: Phelps almost saw his run end, but Jason Lezak came back in the final leg to help the U.S. men edge France to win gold in one of the most memorable relay races in Olympic history. Story | Forde's take
• Race No. 3 -- 200 freestyle: Phelps easily won his third gold of the Games and ninth of his career in one of his strongest events. He also broke his own world record (1:42.96). Story | Caple's take
• Race No. 4 -- 200 butterfly: It wasn't even close, folks. Phelps controlled the race from the beginning to win, breaking his own world record and becoming the most decorated gold medalist in Olympic history. Story | Forde's take
• Race No. 5 -- 4x200 free relay: Phelps chose to swim the first leg of the relay and immediately set the tone. By the time Peter Vanderkaay swam the anchor leg, the Americans held a five-body-length lead. Story | Forde's take
• Race No. 6 -- 200 individual medley: Phelps dominated right from the start of the 200 IM and powered away to win in 1:54.23, another world record. Less than an hour later, Phelps won his 100 butterfly qualifier. Story | Forde's take
• Race No. 7 -- 100 butterfly: Just when you thought it couldn't get any better ... Phelps beat Milorad Cavic by a hundredth of a second to win the 100 fly and match Mark Spitz's record of seven golds in the same Games. Story | Forde's take
• Race No. 8 -- 4x100 medley relay: The relay team of Aaron Peirsol (back), Brendan Hansen (breast), Phelps (fly) and Jason Lezak (free) won, helping Phelps pass Mark Spitz for an unprecedented eighth gold medal in the same Olympics. Story
PREVIEW
•
Bowman on Phelps:
What makes Phelps so good? ESPN.com asked his coach, Bob Bowman, to break him down by each discipline.
Story
• ZOOM gallery: A look at Michael Phelps, stroke by stroke. Launch
• ESPN The Magazine: Once again, Michael Phelps is poised at a frontier of the impossible. Eric Adelson
WATCH
•
SportsCenter:
ESPN's Hannah Storm sits down with Phelps, who says this will be his last run at history.
Watch
• Outside The Lines: Eric Adelson gives us a behind-the-scenes look at Phelps' training regimen. Watch