Phelps sets world marks, becomes winningest Olympic athlete
Updated:
August 13, 2008, 4:47 PM ET
ESPN.com news services
BEIJING -- For Michael Phelps, it's not enough just to set a new standard. He has to demolish the old one.
Winningest Olympian ever? He's two golds past that already and not finished yet, just over halfway to his goal of breaking Mark Spitz's record seven in a single Olympics.
World records? In a sport measured down to the hundredths for a reason, Phelps sets a pace to crush one of them by more than four seconds.
Even when his goggles malfunctioned during the first race of a golden morning in China, the gangly, 23-year-old American squinted through water-filled lenses on the way to, yes, a world record. Of course, he was none too happy to beat it by only six-hundredths of a second.
So un-Phelps-like.
Rewriting The Books

Michael Phelps continued his march through the history books, winning his 10th and 11th career gold medals on Wednesday to become the winningest Olympic athlete in history.
Most Olympic Gold Medals
Athlete, Country
Sport
Medals
Michael Phelps, USA
Swimming
2004 (6); '08 (5)
11
Carl Lewis, USA
Track and field
1984 (4); '88 (2); '92 (2); '96 (1)
9
Mark Spitz, USA
Swimming
'68 (2); '72 (7)
9
Larysa Latynina, USSR
Gymnastics
'56 (4); '60 (3); '64 (2)
9
Paavo Nurmi, FIN
Track and field
'20 (3); '24 (4); '28 (2)
9
"In the circumstances, not too bad I guess," he said with a shrug. "I know I can go faster."
No wonder his competitors realize they're merely swimming for second.
Monumental challenges for mere mortals seem almost inconsequential to Phelps.
"He is just a normal person, but maybe from a different planet," said Russia's Alexander Sukhorukov, fresh off a thrashing by the Phelps-led Americans but still good enough to have a silver around his neck.
On Wednesday, Phelps swam into history as the winningest Olympic athlete ever with his 10th and 11th career gold medals -- and five world records in five events at the Beijing Games.
A day after etching his name alongside Mark Spitz and Carl Lewis with gold No. 9, Phelps set a standard all his own when he won the 200-meter butterfly. An hour later, he swam the leadoff of a runaway victory by the U.S. 800 freestyle relay team, which shattered the old world mark in becoming the first team to break the 7-minute barrier.
Seemingly impervious to fatigue, he set a blistering pace of 1 minute, 43.31 seconds that got the Americans rolling toward a winning time of 6:58.56.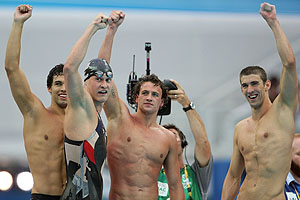 Nick Laham/Getty ImagesMichael Phelps, right, swam the leadoff leg of the 800 free relay and helped his U.S. teammates smash the old world record by 4.68 seconds.
"Come on! Come on!" he screamed at teammates Ryan Lochte, Ricky Berens and Peter Vanderkaay.
The previous record of 7:03.24 was set by the Americans at last year's world championships. Russia took the silver, more than five seconds behind the Americans, who mainly had to make sure they didn't get in the water too soon. Australia won the bronze.
"Safe start! Safe start!" Phelps yelled at Berens before he dove in.
Phelps ended his golden day by qualifying sixth-fastest in the 200-meter individual medley on Wednesday night. He won his preliminary heat in 1 minute, 58.65 seconds, good enough to move on to the semifinals.
After a six-gold performance at the 2004 Athens Games, Phelps needed only five days in Beijing to surpass Spitz, Lewis, Soviet gymnast Larysa Latynina and Finnish runner Paavo Nurmi as the winningest Olympian ever.
Best Ever
ESPN.com's Pat Forde has seen enough to make up his mind already -- Michael Phelps is the best Olympic athlete ever. Story
• Naber: Phelps trumps Spitz
"I'm almost at a loss for words," Phelps said. "Growing up I always wanted to be an Olympian. Now to be the most decorated Olympian of all time, it just sounds weird saying. It started setting in a little bit after the butterfly. I was just trying to focus on my next race, but I just kept thinking, 'Wow, greatest Olympian of all time.' It's a pretty cool title. I'm definitely honored."
Phelps has three more chances to stretch his lead before he leaves China. He'll swim in the 200 individual medley, 100 fly and 400 medley relay.
"There is still something left in the tank," Phelps said. "I've got three races left, so there had better be something left in the tank."
In his signature stroke, the butterfly, Phelps was second at the first flip, then pushed it into another gear, his long arms gobbling up huge chunks of water as he literally sailed along atop the surface. He finished in 1:52.03, breaking his mark of 1:52.09 from the 2007 worlds.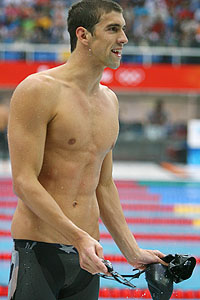 Nick Laham/Getty ImagesMichael Phelps had a problem with his goggles -- but that didn't keep him from touching first with a world record in the 200 butterfly.
Phelps barely smiled as he looked at the board, breathing heavily and hanging on the lane rope. Hungary's Laszlo Cseh really pushed it at the end, but settled for silver in 1:52.70. Japan's Takeshi Matsuda took the bronze in 1:52.97.
Phelps rubbed his eyes and said climbing from the pool, "I can't see anything." A pair of leaky goggles kept him from even seeing the wall as he touched.
"My goggles kept filling up with water during the race," Phelps said. "I wanted 1:51 or better."
Still, he had two more golds and two more records before lunchtime, leaving him just three wins away from beating Spitz's record in the 1972 Munich Games.
"There is nobody in our sport that can win like he wins," U.S. head coach Eddie Reese said. "He is not just winning, he is crunching world records."
British swimmer Simon Burnett provided his theory to Reese when they ran into each other in the cafeteria.
"He was saying to me, 'I think I've figured out Michael Phelps. He is not from another planet; he is from the future. His father made him and made a time machine. Sixty years from now he is an average swimmer, but he has come back here to mop up.'"
Phelps is also keeping pace with Spitz on the record front. Spitz set world standards in all his wins at Munich; Phelps is now 5-for-5 in China.
"I'm pumped about our relay," Phelps said. "It's the most fun thing to be in a team environment and be part of a relay. It's cool when you get four Americans who all swim well together. Everyone has to play their part or it's just not going to happen. We've been lucky that we've been able to do that."
More from ESPN Radio

Mike Greenberg and Buster Olney discuss the dominance of Michael Phelps at the Olympics and try to compare his achievements to other great athletes' throughout history. Podcast

The Americans are sure lucky to have Phelps, who is already recognized as the greatest swimmer ever -- sorry, Mark -- and plans to keep competing at least through the 2012 London Games.
After another trip to the medals podium, he flipped his flowers to mother, Debbie, tears pouring down her face as she proudly watched from a front-row seat with her two daughters.
Everyone wanted to get a look at history, including the U.S. men's basketball team. Kobe Bryant, LeBron James and Carmelo Anthony were among those cheering on Phelps from poolside seats. James posed for pictures with Phelps' mom.
Three worlds records fell before Phelps even walked on deck the first time. By the end of the morning, six new marks were set. It was impossible to win gold without putting up the fastest time in history.
So much for concerns that morning finals would hurt the competition.
Information from The Associated Press was used in this report.
PHELPS: THE GREAT 8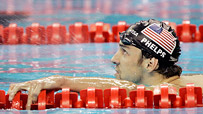 Michael Phelps has become the most decorated gold medalist in history, winning eight gold medals in a single Games. Here's a review of what we saw from this super American swimmer in Beijing:
• Coverage | Schedule | Results | Phelps news
RACE BREAKDOWN
•
Pat Forde's breakdown:
Phelps bettered Mark Spitz's record of seven gold medials, set at the 1972 Munich Games. Here is a review of Phelps' races at Beijing.
Story
• Race No. 1 -- 400-meter IM: Phelps kept pace with teammate Ryan Lochte and László Cseh in his weakest discipline, the breaststroke, before putting the hammer down in the freestyle to win his first gold of the Games. Story | Forde's take
• Race No. 2 -- 4x100 free relay: Phelps almost saw his run end, but Jason Lezak came back in the final leg to help the U.S. men edge France to win gold in one of the most memorable relay races in Olympic history. Story | Forde's take
• Race No. 3 -- 200 freestyle: Phelps easily won his third gold of the Games and ninth of his career in one of his strongest events. He also broke his own world record (1:42.96). Story | Caple's take
• Race No. 4 -- 200 butterfly: It wasn't even close, folks. Phelps controlled the race from the beginning to win, breaking his own world record and becoming the most decorated gold medalist in Olympic history. Story | Forde's take
• Race No. 5 -- 4x200 free relay: Phelps chose to swim the first leg of the relay and immediately set the tone. By the time Peter Vanderkaay swam the anchor leg, the Americans held a five-body-length lead. Story | Forde's take
• Race No. 6 -- 200 individual medley: Phelps dominated right from the start of the 200 IM and powered away to win in 1:54.23, another world record. Less than an hour later, Phelps won his 100 butterfly qualifier. Story | Forde's take
• Race No. 7 -- 100 butterfly: Just when you thought it couldn't get any better ... Phelps beat Milorad Cavic by a hundredth of a second to win the 100 fly and match Mark Spitz's record of seven golds in the same Games. Story | Forde's take
• Race No. 8 -- 4x100 medley relay: The relay team of Aaron Peirsol (back), Brendan Hansen (breast), Phelps (fly) and Jason Lezak (free) won, helping Phelps pass Mark Spitz for an unprecedented eighth gold medal in the same Olympics. Story
PREVIEW
•
Bowman on Phelps:
What makes Phelps so good? ESPN.com asked his coach, Bob Bowman, to break him down by each discipline.
Story
• ZOOM gallery: A look at Michael Phelps, stroke by stroke. Launch
• ESPN The Magazine: Once again, Michael Phelps is poised at a frontier of the impossible. Eric Adelson
WATCH
•
SportsCenter:
ESPN's Hannah Storm sits down with Phelps, who says this will be his last run at history.
Watch
• Outside The Lines: Eric Adelson gives us a behind-the-scenes look at Phelps' training regimen. Watch
MOST SENT STORIES ON ESPN.COM