U.S. women fail to win 800 relay for the first time since it began in 1996
Updated:
August 14, 2008, 1:27 PM ET
ESPN.com news service
BEIJING -- Led by Stephanie Rice, the Australians set the 18th world swimming record of the Beijing Olympics in the women's 800-meter freestyle relay, smashing the world record by nearly 6 seconds.
Rice, Bronte Barratt, Kylie Palmer and Linda Mackenzie touched in 7 minutes, 44.31 seconds Thursday, lowering the old mark of 7:50.09 set by the U.S. at last year's world championships in Australia.
The Americans had won the event all three times since it was added to the Olympic program in 1996, but they couldn't match the Aussies' blazing time. The Chinese team of Yang Yu, Zhu Qianwei, Tan Miao and Pang Jiaying held off the Americans to win silver.
The U.S. team of Allison Schmitt, Natalie Coughlin, Caroline Burckle and Katie Hoff earned the bronze in 7:46.33.
Rice, once again sporting large green earrings to match her country's colors, was the closest thing to Michael Phelps on the female side in Beijing. She won three gold medals -- all with world records.
[+] Enlarge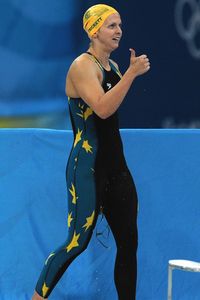 AP Image/Paul MillerWorld record-holder Libby Trickett would have been denied a spot in the 100 free finals if China's Pang Jiaying hadn't been DQ'd.
"What a great way to finish," she said after her final event. "For us to break the record by so far is amazing. … I really look forward to sitting back and cheering for the Aussies."
Then there's Hoff. The 19-year-old American again failed to win her first Olympic gold, having settled for one silver and two bronzes in five events.
"I did my best and ran out of room at the end," said Hoff, who swam the anchor leg.
But Thursday night, she failed to advance out of the 800-meter freestyle preliminaries, ending her second trip to the games without a gold.
Teammate and current world champion Kate Ziegler also missed out, a stunning result for the United States, which has won the event seven times since it was first contested at the 1968 games, including five straight from 1984 to 2000.
The Chinese crowd roared when Liu Zige won the women's 200-meter butterfly, setting a world record of 2:04.18. Jiao Liuyang also went under the previous best to give the teammates a 1-2 finish.
Liu was stunned by her triumph in the 200 fly, though she brushed off questions about whether the Chinese held her out of major meets so they could spring her on the world at Beijing.
Liu's time was more than a second below the previous record of 2:05.40 set two years ago by Australia's Jess Schipper, who could manage only a bronze against the two Chinese.
"I didn't expect that I could swim so fast," Liu said. "I've only improved in the last year."
Defending champion Otylia Jedrzejczak of Poland finished fourth. Americans Elaine Breeden and Kathleen Hersey were seventh and eighth.
Liu's celebration came after Chinese teammate Pang was disqualified after winning her semifinal heat of the women's Olympic 100-meter freestyle.
Pang touched first in 53.49 seconds, but was disqualified for flinching slightly at the start of the two-lap race.
That cleared the way for world record-holder Libby Trickett of Australia to get into the final. Trickett's time of 54.10 was good enough to secure the eighth and last spot, which she would have been denied if Pang hadn't been DQ'd.
On Thursday night, defending champion Kirsty Coventry of Zimbabwe led the 200 backstroke qualifying in 2:06.76, lowering the 16-year-old Olympic record.
Also advancing were Americans Elizabeth Beisel (sixth) and world record-holder Margaret Hoelzer (seventh).
Information from The Associated Press was used in this report.
MOST SENT STORIES ON ESPN.COM