Six down, 2 to go: Phelps smashes own WR in 200 IM
Updated:
August 15, 2008, 2:11 PM ET
Associated Press
BEIJING -- Michael Phelps collected the sixth gold medal and stuffed it in his warmup jacket. No time to even savor that one as he rushed off to swim again.
It was just No. 6, after all, equaling his haul from Athens in 2004.
The most important ones are still to come.
Phelps made it 6-for-6 at the Beijing Games with another world-record triumph Friday, his bid to take down Mark Spitz and the grandest of Olympic records looking less suspenseful by the day.
The American hung on the lane rope in a familiar pose after winning the 200-meter individual medley but showed little emotion other than raising his left arm when his time of 1 minute, 54.23 seconds flashed on the board -- more than two seconds ahead of the next guy.
With that, he quickly moved on.
"The next two races are pretty important," said Phelps, whose sixth world record in China erased his own mark of 1:54.80 at last month's U.S. trials. "I have to conserve as much physical and emotional energy as I can."
Phelps matched his wins from Athens, where he also collected two bronzes. He's already the winningest athlete in Olympic history with 12 golds, but his sights are on eight in Beijing.
Spitz won seven golds at the 1972 Munich Games. Phelps has two more events to leave any doubt he's the greatest Olympian ever.
Ryan Lochte tried to pull off a daunting double, going against Phelps just 29 minutes after winning the 200 backstroke. He couldn't keep up, though he did hold on for bronze. Laszlo Cseh of Hungary picked up his third silver of the games -- all of them trailing Phelps.
[+] Enlarge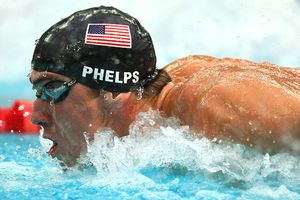 Baron/Bongarts/Getty ImagesMichael Phelps leaves rivals trailing in his wake on his way to smashing his own 200 IM world record and placing him within two gold medals of breaking Mark Spitz's record of seven at a single Games.
"It's not a shame," Cseh said, "to be beaten by a better one."
When the official times were posted, Phelps extended his right hand to Lochte in the next lane. The friends shook hands and patted each other on the head.
Later, they yukked it up on the medal stand before Phelps hustled off to grab his racing gear; he had to come right back for the semifinals of the 100 butterfly.
"I switched from my dress sweats to my parka, shoes, threw my cap and goggles on and then they pushed us on out. No time," he said. "The medal was in my warmup jacket."
History can't wait.
A half-hour after winning another gold, Phelps was second-fastest behind Milorad Cavic of Croatia in the 100 fly, setting himself up to tie Spitz's record in Saturday's final. World record-holder Ian Crocker of the U.S. bounced back from a disappointing swim in the prelims to post the third-fastest time.
"There wasn't much time," Phelps said, "but I think there's going to be a lot of time for me to rest over the next 18 hours or so, and I'll be able to be ready for tomorrow morning's 100."
Forde: Everybody else
Friday was full of great stories from the Water Cube. But all of them were overshadowed by one man. Chalk it up to bad timing, folks. You all were born at the wrong time, in the era of the Phelps Dynasty. Story
If all goes according to plan, Phelps will get No. 7 in the fly -- his signature stroke -- and have the coronation Sunday in the 400 medley relay. The Americans are always heavily favored for gold in that one.
Nevertheless, he's taking nothing for granted, especially in the fly. Crocker has the best time ever (though it was three years ago) and Cavic looked strong in both the preliminaries and semifinals.
"It's never a relief," he said. "Tomorrow is going to be a tough race. For me to be a player in that race, I have to be closer at the 50. If I'm not, then it will be tough. I was over a body length behind at the 50 in the prelims and came up a bit short, so I have to be there."
Still, he showed little signs of tiring from the grueling schedule. He's already raced 15 times and has two more left -- both going for gold.
"I actually don't feel too bad now," Phelps said.
That can't be encouraging for those swimmers who've come up with all sorts of amusing theories for Phelps' dominance. He's from outer space. He's come back from the future in a time machine. He's some sort of human rocket.
The official Xinhua News Agency dubbed Phelps "the American superfish."
For those who believe Phelps might be using more illicit methods to produce these times, he shot down any speculation about doping.
"Anybody can say whatever they want, but I know I'm clean," said Phelps, who took part in a special U.S. anti-doping program that subjected him to additional, more sophisticated testing. "People can question it all they want, but the facts are the facts. I have the results to prove it."
Phelps' win was the 21st world record set in swimming during the Olympics, with two days left.
Two days that could make history.

Copyright 2008 by The Associated Press
SPONSORED HEADLINES
MORE OLYMPICS HEADLINES
MOST SENT STORIES ON ESPN.COM
PHELPS: THE GREAT 8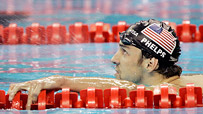 Michael Phelps has become the most decorated gold medalist in history, winning eight gold medals in a single Games. Here's a review of what we saw from this super American swimmer in Beijing:
• Coverage | Schedule | Results | Phelps news
RACE BREAKDOWN
•
Pat Forde's breakdown:
Phelps bettered Mark Spitz's record of seven gold medials, set at the 1972 Munich Games. Here is a review of Phelps' races at Beijing.
Story
• Race No. 1 -- 400-meter IM: Phelps kept pace with teammate Ryan Lochte and László Cseh in his weakest discipline, the breaststroke, before putting the hammer down in the freestyle to win his first gold of the Games. Story | Forde's take
• Race No. 2 -- 4x100 free relay: Phelps almost saw his run end, but Jason Lezak came back in the final leg to help the U.S. men edge France to win gold in one of the most memorable relay races in Olympic history. Story | Forde's take
• Race No. 3 -- 200 freestyle: Phelps easily won his third gold of the Games and ninth of his career in one of his strongest events. He also broke his own world record (1:42.96). Story | Caple's take
• Race No. 4 -- 200 butterfly: It wasn't even close, folks. Phelps controlled the race from the beginning to win, breaking his own world record and becoming the most decorated gold medalist in Olympic history. Story | Forde's take
• Race No. 5 -- 4x200 free relay: Phelps chose to swim the first leg of the relay and immediately set the tone. By the time Peter Vanderkaay swam the anchor leg, the Americans held a five-body-length lead. Story | Forde's take
• Race No. 6 -- 200 individual medley: Phelps dominated right from the start of the 200 IM and powered away to win in 1:54.23, another world record. Less than an hour later, Phelps won his 100 butterfly qualifier. Story | Forde's take
• Race No. 7 -- 100 butterfly: Just when you thought it couldn't get any better ... Phelps beat Milorad Cavic by a hundredth of a second to win the 100 fly and match Mark Spitz's record of seven golds in the same Games. Story | Forde's take
• Race No. 8 -- 4x100 medley relay: The relay team of Aaron Peirsol (back), Brendan Hansen (breast), Phelps (fly) and Jason Lezak (free) won, helping Phelps pass Mark Spitz for an unprecedented eighth gold medal in the same Olympics. Story
PREVIEW
•
Bowman on Phelps:
What makes Phelps so good? ESPN.com asked his coach, Bob Bowman, to break him down by each discipline.
Story
• ZOOM gallery: A look at Michael Phelps, stroke by stroke. Launch
• ESPN The Magazine: Once again, Michael Phelps is poised at a frontier of the impossible. Eric Adelson
WATCH
•
SportsCenter:
ESPN's Hannah Storm sits down with Phelps, who says this will be his last run at history.
Watch
• Outside The Lines: Eric Adelson gives us a behind-the-scenes look at Phelps' training regimen. Watch