Phelps trading card from 2004 now worth $500
Updated:
August 15, 2008, 4:53 PM ET
Associated Press
DALLAS -- Chalk up another remarkable feat for Michael Phelps: somehow making swimming trading cards popular.
An autographed 2004 trading card of the record-shattering Olympian was trading for as much as $500 on Thursday, just two weeks after industry experts say the collectible could be easily had for $25. "It's pretty good," a grinning Phelps said Friday when informed of the price in Beijing, where he won his sixth gold medal. The trading card is only a part of Phelps' long-stated effort to elevate interest in swimming to more than once every four years. "I heard the [TV] ratings are the highest back home for people watching the Olympics and watching swimming," he said. "My goal of raising the bar in the sport of swimming is coming along nicely, but it's still going to take time for me to really get it to where I want it to be." The market value could rise to $750 to $1,000 if Phelps breaks Mark Spitz's record of seven gold medals at a single Olympics this weekend, said Tracy Hackler, an associate publisher with Beckett Media LLP, a Dallas-based memorabilia company. "It's unlike anything we've seen in the trading card category," said Hackler, whose company is an industry leader in collectibles pricing. Arlington, Texas-based Donruss produced about 300 of the autographed Phelps cards in 2004 and about 5,000 "common" cards not bearing the American swimmer's autograph, Donruss spokesman Scott Prusha said. The non-autographed cards have enjoyed a spike in market value too, going from $2.50 to about $20, Hackler said. Phelps has won six gold medals, setting six world records in the process, at the Beijing Olympics. He picked up his 10th and 11th career gold medals Wednesday to become the winningest Olympian of all time. The card was part of a special "Fans of the Game" insert by Donruss that paired celebrities with their favorite teams. Phelps' card includes him next to the Baltimore skyline and a pennant of his favorite NFL team, the Ravens. Others cards in the set included actors John Travolta, James Gandolfini and Charlie Sheen. But none has gotten the response of Phelps' card. Hackler said Beckett listed the card at $150 on Wednesday and $350 on Thursday, when he said it was trading online for upward of $500. "We're kind of in uncharted waters here," Hackler said. "No pun intended."

Copyright 2008 by The Associated Press
PHELPS: THE GREAT 8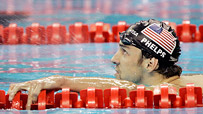 Michael Phelps has become the most decorated gold medalist in history, winning eight gold medals in a single Games. Here's a review of what we saw from this super American swimmer in Beijing:
• Coverage | Schedule | Results | Phelps news
RACE BREAKDOWN
•
Pat Forde's breakdown:
Phelps bettered Mark Spitz's record of seven gold medials, set at the 1972 Munich Games. Here is a review of Phelps' races at Beijing.
Story
• Race No. 1 -- 400-meter IM: Phelps kept pace with teammate Ryan Lochte and László Cseh in his weakest discipline, the breaststroke, before putting the hammer down in the freestyle to win his first gold of the Games. Story | Forde's take
• Race No. 2 -- 4x100 free relay: Phelps almost saw his run end, but Jason Lezak came back in the final leg to help the U.S. men edge France to win gold in one of the most memorable relay races in Olympic history. Story | Forde's take
• Race No. 3 -- 200 freestyle: Phelps easily won his third gold of the Games and ninth of his career in one of his strongest events. He also broke his own world record (1:42.96). Story | Caple's take
• Race No. 4 -- 200 butterfly: It wasn't even close, folks. Phelps controlled the race from the beginning to win, breaking his own world record and becoming the most decorated gold medalist in Olympic history. Story | Forde's take
• Race No. 5 -- 4x200 free relay: Phelps chose to swim the first leg of the relay and immediately set the tone. By the time Peter Vanderkaay swam the anchor leg, the Americans held a five-body-length lead. Story | Forde's take
• Race No. 6 -- 200 individual medley: Phelps dominated right from the start of the 200 IM and powered away to win in 1:54.23, another world record. Less than an hour later, Phelps won his 100 butterfly qualifier. Story | Forde's take
• Race No. 7 -- 100 butterfly: Just when you thought it couldn't get any better ... Phelps beat Milorad Cavic by a hundredth of a second to win the 100 fly and match Mark Spitz's record of seven golds in the same Games. Story | Forde's take
• Race No. 8 -- 4x100 medley relay: The relay team of Aaron Peirsol (back), Brendan Hansen (breast), Phelps (fly) and Jason Lezak (free) won, helping Phelps pass Mark Spitz for an unprecedented eighth gold medal in the same Olympics. Story
PREVIEW
•
Bowman on Phelps:
What makes Phelps so good? ESPN.com asked his coach, Bob Bowman, to break him down by each discipline.
Story
• ZOOM gallery: A look at Michael Phelps, stroke by stroke. Launch
• ESPN The Magazine: Once again, Michael Phelps is poised at a frontier of the impossible. Eric Adelson
WATCH
•
SportsCenter:
ESPN's Hannah Storm sits down with Phelps, who says this will be his last run at history.
Watch
• Outside The Lines: Eric Adelson gives us a behind-the-scenes look at Phelps' training regimen. Watch
MOST SENT STORIES ON ESPN.COM