Spitz hails Phelps' Beijing achievement as 'greatest'
Updated:
August 16, 2008, 2:49 AM ET
Associated Press
BEIJING -- Mark Spitz had one word for the performance that gave Michael Phelps his seventh gold medal of the Beijing Games and equaled his own Olympic record that had stood for 36 years.
"Epic," Spitz said Saturday morning when reached by The Associated Press in Detroit, where his youngest son was playing in a basketball tournament.
Moments earlier, Phelps came from behind to win the 100-meter butterfly, edging Croatia's Milorad Cavic by a hundredth of a second.
"It goes to show you that not only is this guy the greatest swimmer of all time and the greatest Olympian of all time, he's maybe the greatest athlete of all time," Spitz said. "He's the greatest racer who ever walked the planet."
With the victory, the 23-year-old from Baltimore pulled even with Spitz's seven-gold haul at the 1972 Munich Games. Phelps can break the record in his final race on Sunday, the 400 medley relay.
Spitz sounded almost giddy on the other end of the phone line.
"I'm ecstatic," he said. "I always wondered what my feelings would be. I feel a tremendous load off my back. Somebody told me years ago you judge one's character by the company you keep, and I'm just happy to be in the company of Michael Phelps. That's the bottom line."
"I'm so proud of what he's been able to do," Spitz added. "I did what I did and it was in my day in those set of circumstances. For 36 years it stood as a benchmark. I'm just pleased that somebody was inspired by what I had done. He's entitled to every second of what's occurring to him now."
Spitz said he had considered it a "foregone conclusion" that Phelps would equal his record, especially since he won six golds at the 2004 Athens Olympics.
And now he fully expects Phelps to make it 8-for-8 on Sunday with a win in the relay.
"The Americans have never lost that race since it's been an event in the Olympic Games," Spitz said. "You have to be very cautious on the relay exchanges and make sure nobody gets disqualified, but it should be just a matter of what the time is going to be and who's going to put the gold medal around their neck first."

Copyright 2008 by The Associated Press
PHELPS: THE GREAT 8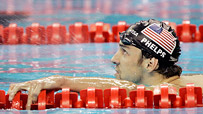 Michael Phelps has become the most decorated gold medalist in history, winning eight gold medals in a single Games. Here's a review of what we saw from this super American swimmer in Beijing:
• Coverage | Schedule | Results | Phelps news
RACE BREAKDOWN
•
Pat Forde's breakdown:
Phelps bettered Mark Spitz's record of seven gold medials, set at the 1972 Munich Games. Here is a review of Phelps' races at Beijing.
Story
• Race No. 1 -- 400-meter IM: Phelps kept pace with teammate Ryan Lochte and László Cseh in his weakest discipline, the breaststroke, before putting the hammer down in the freestyle to win his first gold of the Games. Story | Forde's take
• Race No. 2 -- 4x100 free relay: Phelps almost saw his run end, but Jason Lezak came back in the final leg to help the U.S. men edge France to win gold in one of the most memorable relay races in Olympic history. Story | Forde's take
• Race No. 3 -- 200 freestyle: Phelps easily won his third gold of the Games and ninth of his career in one of his strongest events. He also broke his own world record (1:42.96). Story | Caple's take
• Race No. 4 -- 200 butterfly: It wasn't even close, folks. Phelps controlled the race from the beginning to win, breaking his own world record and becoming the most decorated gold medalist in Olympic history. Story | Forde's take
• Race No. 5 -- 4x200 free relay: Phelps chose to swim the first leg of the relay and immediately set the tone. By the time Peter Vanderkaay swam the anchor leg, the Americans held a five-body-length lead. Story | Forde's take
• Race No. 6 -- 200 individual medley: Phelps dominated right from the start of the 200 IM and powered away to win in 1:54.23, another world record. Less than an hour later, Phelps won his 100 butterfly qualifier. Story | Forde's take
• Race No. 7 -- 100 butterfly: Just when you thought it couldn't get any better ... Phelps beat Milorad Cavic by a hundredth of a second to win the 100 fly and match Mark Spitz's record of seven golds in the same Games. Story | Forde's take
• Race No. 8 -- 4x100 medley relay: The relay team of Aaron Peirsol (back), Brendan Hansen (breast), Phelps (fly) and Jason Lezak (free) won, helping Phelps pass Mark Spitz for an unprecedented eighth gold medal in the same Olympics. Story
PREVIEW
•
Bowman on Phelps:
What makes Phelps so good? ESPN.com asked his coach, Bob Bowman, to break him down by each discipline.
Story
• ZOOM gallery: A look at Michael Phelps, stroke by stroke. Launch
• ESPN The Magazine: Once again, Michael Phelps is poised at a frontier of the impossible. Eric Adelson
WATCH
•
SportsCenter:
ESPN's Hannah Storm sits down with Phelps, who says this will be his last run at history.
Watch
• Outside The Lines: Eric Adelson gives us a behind-the-scenes look at Phelps' training regimen. Watch
MOST SENT STORIES ON ESPN.COM