Mission accomplished: Phelps earns eighth gold in medley relay
Updated:
August 18, 2008, 8:10 AM ET
Associated Press
BEIJING -- Michael Phelps locked arms with his three teammates, as though they were in a football huddle calling a play, then hugged each one of them.
It took a team to make him the grandest of Olympic champions. And one last big push from Phelps himself.
Going hard right to the end of a mesmerizing nine days in Beijing, Phelps helped the Americans come from behind Sunday in a race they've never lost at the Olympics, cheering from the deck as Jason Lezak brought it home for a world record in the 400-meter medley relay. It was Phelps' history-making eighth gold medal of these games.
"Everything was accomplished," he said. "I will have the medals forever."
Phelps sure did his part to win No. 8, eclipsing Mark Spitz's seven-gold performance at the 1972 Munich Games.
Aaron Peirsol got the Americans off to the lead in the backstroke, but Brendan Hansen -- a major disappointment in this Olympic year -- slowed them down with only the third-fastest breaststroke leg.
By the time Phelps dived in for the butterfly, the U.S. was trailing Australia and Japan.
More from ESPN.com
When you look back at all of Michael Phelps' performances in Beijing, you can come to this conclusion: He is the Olympic ideal and single-handedly just saved the Olympics. Pat Forde
• Forde: Ranking the Great 8
• Vote: Your take?
---

Michael Phelps won a record eight gold medals in a single Olympics in Beijing. Still doubt he's the best swimmer ever? Our numbers don't lie. Amy Rosewater
---
Jim Caple held Mark Spitz's record of seven gold medals so near and dear to his heart, he almost didn't want to see Michael Phelps break it. But it's hard not to be won over by such a feat. Story
That's when he really went to work.
With his long arms whirling across the water like propellers, Phelps caught the two guys ahead of him on the return lap and passed off to Lezak a lead of less than a second for the freestyle. The Australians countered with former world record-holder Eamon Sullivan as their anchor.
"I was thinking not to blow the lead," Lezak said. "I was really nervous."
Sullivan tried to chase down Lezak and appeared to be gaining as they came to the wall, but Lezak finished in 3 minutes, 29.34 seconds -- Phelps' seventh world record in his personal Great Haul of China.
The Aussies took silver in 3:30.04, also under the old world record of 3:30.68 set by the U.S. in Athens four years ago, while Japan held on for the bronze.
Phelps leaned over the blocks, looking to make sure Lezak touched first. Assured the Americans had won, he thrust both index fingers in the air, pumped his right arm and let out a scream. Peirsol also yelled and slapped Phelps in the chest.
Spitz's iconic performance was surpassed by a swimmer fitting of this generation: a 23-year-old from Baltimore who loves hip-hop music, texting with his buddies and wearing his cap backward.
"I don't even know what to feel right now," Phelps said. "There's so much emotion going through my head and so much excitement. I kind of just want to see my mom."

Nothing is impossible. With so many people saying it couldn't be done, all it takes is an imagination, and that's something I learned and something that helped me.
--Michael Phelps
Debbie Phelps was sitting in the stands at the Water Cube, tears streaming down her cheeks, her two daughters by her side. After getting his gold, Phelps quickly found his family, climbing through a horde of photographers to give all three a kiss.
Mom put her arm around his neck and gave him a little extra hug.
Her son sure earned it.
"The Beijing Olympics has witnessed the greatest Olympian of all time -- Michael Phelps of the USA," the announcer said as Phelps posed with his teammates.
The Americans still had to wait a couple of tantalizing minutes for the official results to be posted. Finally, it flashed on the board.
World record.
Gold medal No. 8.
"Nothing is impossible," Phelps said. "With so many people saying it couldn't be done, all it takes is an imagination, and that's something I learned and something that helped me."
President Bush called Phelps on Sunday morning from his ranch in Crawford, Texas, telling him, "If you can handle eight gold medals, you can handle anything."
A White House spokesman says Bush told Phelps that he and first lady Laura Bush were proud of the swimmer's achievements and that he handled himself with "humility."
And the president told Phelps to give his mom a big hug for him.
Phelps, who won three relays in Beijing along with five individual races, gave a shout-out to all his teammates for helping him take down Spitz.
"Without the help of my teammates this isn't possible," he said. "I was able to be a part of three relays and we were able to put up a solid team effort and we came together as one unit.
"For the three Olympics I've been a part of, this is by far the closest men's team that we've ever had. I didn't know everybody coming into this Olympics, but I feel going out I know every single person very well. The team that we had is the difference."
[+] Enlarge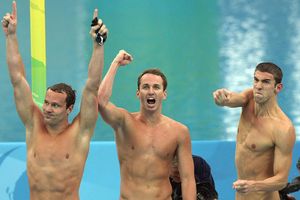 Carl Da Souza/Getty ImagesGolden record-breaker Michael Phelps, far right, and 400 medley relay teammates Brendan Hansen and Aaron Piersol celebrate winning the gold in Sunday's final. The U.S. men set a world-best time of 3:29.34.
Phelps set seven world records and one Olympic record, doing a personal best time in every event.
"It can't be described. We'll never, ever see it again," said Australian distance king Grant Hackett, who came up short in his bid to win a third straight 1,500 freestyle title.
Beforehand, Hackett figured Phelps was likely to win six golds, just as he did in Athens four years ago when the first attempt to beat Spitz's record came up just short.
"Everything lined up for him incredibly," Hackett said. "He's a nice guy, a good bloke, and the last few years I've never seen him change."
Back in Baltimore, some 10,000 fans hung around after an NFL preseason game to watch the relay on the stadium's big screen.
"I think he's going to be a legend forever," Ravens fan Ann Williams said.
Phelps won some races by ridiculously large margins, others with the closest of finishes -- most memorably, his seventh gold by one-hundredth of a second over Serbia's Milorad Cavic in the 100 fly. Along the way, he became the winningest Olympian ever and left China with 14 career golds -- five more than anyone else with at least one more Olympics to go.
"It's been nothing but an upwards roller-coaster and it's been nothing but fun," Phelps said.
Hackett failed to become the first man to win the same event at three straight Olympics.
The Aussie was upset in swimming's version of the mile by Ous Mellouli, who won Tunisia's first Olympic gold at the pool in 14:40.84.
"It's like 90 yards of a touchdown. It was so close, but I didn't have much of a response," Hackett said. "It's disappointing I didn't win. I have no regrets, it certainly was a close race."
Mellouli held off Hackett in the closing meters of the grueling race, swimming's version of the mile. Hackett earned the silver in 14:41.53, well off his 7-year-old world record of 14:34.56.
"He's never hung on like that in the past," Hackett said of the winner. "He was the better competitor."
Mellouli, who trains in Southern California, was coming off a suspension after testing positive for amphetamines.
Ryan Cochrane of Canada took the bronze in 14:42.69.
After receiving his eighth gold, Phelps received another award from FINA, the sport's governing body, as the best swimmer of the meet.
Make it the best ever.

Copyright 2008 by The Associated Press
SPONSORED HEADLINES
MORE OLYMPICS HEADLINES
MOST SENT STORIES ON ESPN.COM
PHELPS: THE GREAT 8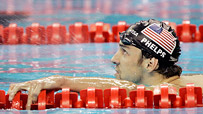 Michael Phelps has become the most decorated gold medalist in history, winning eight gold medals in a single Games. Here's a review of what we saw from this super American swimmer in Beijing:
• Coverage | Schedule | Results | Phelps news
RACE BREAKDOWN
•
Pat Forde's breakdown:
Phelps bettered Mark Spitz's record of seven gold medials, set at the 1972 Munich Games. Here is a review of Phelps' races at Beijing.
Story
• Race No. 1 -- 400-meter IM: Phelps kept pace with teammate Ryan Lochte and László Cseh in his weakest discipline, the breaststroke, before putting the hammer down in the freestyle to win his first gold of the Games. Story | Forde's take
• Race No. 2 -- 4x100 free relay: Phelps almost saw his run end, but Jason Lezak came back in the final leg to help the U.S. men edge France to win gold in one of the most memorable relay races in Olympic history. Story | Forde's take
• Race No. 3 -- 200 freestyle: Phelps easily won his third gold of the Games and ninth of his career in one of his strongest events. He also broke his own world record (1:42.96). Story | Caple's take
• Race No. 4 -- 200 butterfly: It wasn't even close, folks. Phelps controlled the race from the beginning to win, breaking his own world record and becoming the most decorated gold medalist in Olympic history. Story | Forde's take
• Race No. 5 -- 4x200 free relay: Phelps chose to swim the first leg of the relay and immediately set the tone. By the time Peter Vanderkaay swam the anchor leg, the Americans held a five-body-length lead. Story | Forde's take
• Race No. 6 -- 200 individual medley: Phelps dominated right from the start of the 200 IM and powered away to win in 1:54.23, another world record. Less than an hour later, Phelps won his 100 butterfly qualifier. Story | Forde's take
• Race No. 7 -- 100 butterfly: Just when you thought it couldn't get any better ... Phelps beat Milorad Cavic by a hundredth of a second to win the 100 fly and match Mark Spitz's record of seven golds in the same Games. Story | Forde's take
• Race No. 8 -- 4x100 medley relay: The relay team of Aaron Peirsol (back), Brendan Hansen (breast), Phelps (fly) and Jason Lezak (free) won, helping Phelps pass Mark Spitz for an unprecedented eighth gold medal in the same Olympics. Story
PREVIEW
•
Bowman on Phelps:
What makes Phelps so good? ESPN.com asked his coach, Bob Bowman, to break him down by each discipline.
Story
• ZOOM gallery: A look at Michael Phelps, stroke by stroke. Launch
• ESPN The Magazine: Once again, Michael Phelps is poised at a frontier of the impossible. Eric Adelson
WATCH
•
SportsCenter:
ESPN's Hannah Storm sits down with Phelps, who says this will be his last run at history.
Watch
• Outside The Lines: Eric Adelson gives us a behind-the-scenes look at Phelps' training regimen. Watch