Williams sisters net gold in doubles, beating Spaniards in final
Updated:
August 17, 2008, 9:49 AM ET
Associated Press
BEIJING -- Venus and Serena Williams kept up a family tradition Sunday, playing together in the Olympic doubles tournament and walking away with the gold medal.
Slugging winners from the baseline and slamming shots at the net, the American sisters overpowered Anabel Medina Garrigues and Virginia Ruano Pascual of Spain 6-2, 6-0.
[+] Enlarge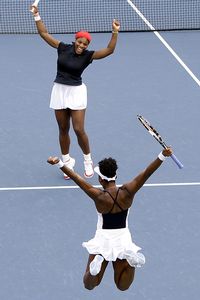 AP Photo/Charles KrupaSerena and Venus Williams celebrate Sunday after beating Spain's Anabel Medina Garrigues and Virginia Ruano Pascual
6-2, 6-0 in Beijing.
When Ruano Pascual sent the championship point long, the sisters shrieked in unison. Then they jumped for joy and hugged.
"I'm so excited, I can't even speak," said the 28-year-old Venus, who has already won seven doubles Grand Slam titles and a gold medal in Sydney alongside younger sister Serena.
The pair didn't enter the doubles competition in Athens four years ago because Serena was hurt at the time.
"To share this kind of moment with your sister," Venus said, "it never grows old."
It doesn't hurt when your sister is one of the best in the world.
"I don't know anyone out there who would get tired of playing with Venus Williams," said the 26-year-old Serena, who as a singles player is ranked eighth in the world, three spots behind No. 5 Venus.
Sunday's match pitted the second-seeded sisters, who also won the doubles title at Wimbledon and reached the singles final, against the seventh-seeded Spaniards, who are the reigning French Open doubles champions.
The Williamses never looked too taxed, racing through the match in 1 hour, 6 minutes.
Both sisters had pulled out of tournaments last month with knee injuries, but neither showed any sign of weakness. Together, they had six aces, including one that Serena whacked at 172 kph (107 mph) on a second serve.
The only tense moment came at 5-2 in the first set when the sisters squandered four set points before breaking Ruano Pascual's serve to win it.
"We were really focused from the first point. We really wanted to win," said Serena, whose trophy cabinet includes 30 singles titles, eight of them Grand Slams. "We feel like we've contributed to our country in a huge way. That's really what it's all about."
When the red carpet was rolled out on center court, the sisters climbed the medal podium together holding hands. A beaming Venus bobbed her head to the beat as "The Star-Spangled Banner" was played.
Both Venus and Serena were beaten in the quarterfinals of the singles tournament.
The bronze went to Yan Zi and Zheng Jie of China, who delivered the host country's only tennis medal by beating Alona and Kateryna Bondarenko of Ukraine 6-2, 6-2.
Zheng dedicated her win to the earthquake survivors to her native Sichuan province. The area was devastated by a May 12 earthquake that took nearly 70,000 lives and left more than 5 million people homeless.
"During the Olympic Games, we fought really hard and we want to show this Sichuan spirit -- that we are brave," Zheng said.
It's the second tennis medal in Olympic history for China, which won gold in women's doubles in 2004.
The match was the third for the eighth-seeded Yan and Zheng in barely 36 hours. They won a quarterfinal match that ended at 3:35 a.m. Saturday.

Copyright 2008 by The Associated Press
MOST SENT STORIES ON ESPN.COM