Campbell-Brown completes Jamaican sprint sweep with 200-meter gold
Updated:
August 21, 2008, 10:52 AM ET
Associated Press
BEIJING -- It was Jamaica Night again at the Bird's Nest, this time with Veronica Campbell-Brown doing the honors, easily winning the 200 meters Thursday to cap the first sweep of all four men's and women's Olympic sprints in 20 years.
The defending Olympic champion routed Allyson Felix of the United States in 21.74 seconds to win the gold by 0.19 second.
[+] Enlarge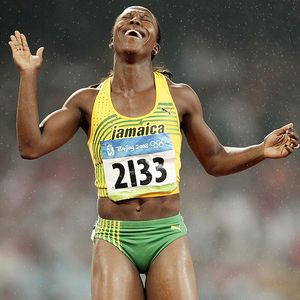 AP Photo/Itsuo Inouye Veronica Campbell-Brown's win in the 200 meters gave Jamaica the first sweep of all four sprint races at an Olympics since the United States did it in 1988.
Reggae music filled the stadium -- is the CD worn out yet? -- as Campbell-Brown celebrated with her country's flag, much the way Usain Bolt did with his world record-setting wins in the 100 and 200 and the way the Jamaican women did when they swept the 100.
This marked the first time one country swept all four races at an Olympics since the United States did it in 1988.
"Bolt set it off. After that, I just think the Jamaican camp went crazy," said Jamaican third-place finisher Kerron Stewart.
Fittingly, a few moments after Campbell-Brown's victory, Bolt accepted the gold medal he won the night before in a ceremony that was postponed a day because of protests over the second- and third-place finishers.
Jamaicans left no doubt about who's first in these races. They not only won, they won going away.
Campbell-Brown's blowout -- a two-body-length victory -- made her the first woman to win back-to-back 200s since 1980. No man has ever repeated in the 200. Campbell-Brown's 21.74 marked the fastest time in the women's 200 in a decade and the fastest time recorded at sea level since the 1992 Barcelona Games.
Thursday's track & field
•
Men's 400: Merritt stuns Wariner as U.S. sweeps
•
Women's 200: Jamaica's Campbell-Brown wins; Felix second
•
Men's, Women's 400 relay: U.S. drops baton, out of finals
•
Men's triple jump: Evora wins Portugal's first gold
•
Men's 110 hurdles: Robles tops pair of U.S. hurdlers
•
Women's javelin: Spotakova wins gold
"What can you say?" Felix said. "A phenomenal time."
Felix won her second Olympic silver in this, a carbon copy of the finish at the Athens Games.
"Deja vu, and not in a good way," she said.
Stewart finished third, adding to the silver medal she won when she tied Sherone Simpson in Jamaica's sweep of the 100.
Campbell-Brown came in as the defending world champion in the 100 but shockingly failed to qualify for that race, her spot instead going to Shelly-Ann Fraser, who won gold Sunday night.
It was yet another sign of the amazing depth being produced on the Caribbean island of 2.8 million people -- a country that has never had trouble producing great athletes but has often had trouble keeping them there. Campbell-Brown, in fact, trains in Florida, but still competes for her home country.
"They're dominating," Felix said. "They're running well all the way around. I wouldn't say I'm surprised because they've always been so strong."
Jamaica's win, of course, marked another big loss for the United States, which stayed stuck on three gold medals at this meet and hasn't yet seen one of its marquee stars come through.
Felix, who beat Campbell-Brown at world championships in the 200 last year, joined Tyson Gay, Bernard Lagat, pole vaulter Brad Walker and shot putter Reese Hoffa as world champions who have failed to win gold in their events this year. Lolo Jones and Sanya Richards were other American favorites who came up short.

Copyright 2008 by The Associated Press
SPONSORED HEADLINES
MORE OLYMPICS HEADLINES
MOST SENT STORIES ON ESPN.COM