Commentary
Phelps, Torres, Hoff lead field in big Beijing tuneup event
Updated:
February 15, 2008, 2:55 PM ET
By
Amy Rosewater
| Special to ESPN.com
Michael Phelps ... in a spacesuit.
As if his opponents weren't already impressed by the eight-time Olympic medalist, Phelps now says his new Speedo swimsuit makes him feel as if he is flying through space.
After modeling the new suit in New York City on Monday, Phelps is now prepared to wear it in the water this weekend at the Missouri Grand Prix.
[+] Enlarge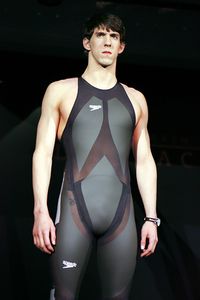 Mike Stobe/Getty ImagesMichael Phelps said these new Speedo swimsuits make him feel as if he is flying through space.
Although the Missouri Grand Prix is not the Olympic trials, the field that will be there has that feeling. Phelps, swimming's Rocket Man and soon-to-be star of the 2008 Olympics, is the event headliner. Making things all the more interesting is that, a year ago at this meet, Phelps shocked the swimming world by setting a world record in the 200-meter butterfly (1:53.71). And he did so without shaving off a goatee.
But 19 other Olympians in Columbia, Mo., are also expected to compete in what should be an interesting tuneup event as we approach the Summer Games in Beijing.
One of the other swimmers in the field to watch is four-time Olympian Dara Torres, who, at 40 and the mother of a toddler, is making a comeback after a seven-year hiatus. Torres has nine Olympic gold medals -- four gold -- but has yet to win a gold medal in an individual event. Her comeback has been incredible. At nationals last year, she won the 50 and 100 freestyle.
If she makes the Olympic team, she would be the first American -- male or female -- to compete in five Olympics.
Katie Hoff, 18, a world-record holder in the 400 individual medley, is impressed by Torres' prowess.
"She's old enough to be my mom," said Hoff with a laugh.
Yet both Hoff and Torres share the same goal -- to swim in five Olympics. Hoff made her Olympic debut in 2004 and, at 15, was the youngest member of the entire U.S. Olympic team in Athens.
"I've always said that's one of my goals, to make five Olympics," Hoff said. "But I won't take a seven-year break. I think it would be cool to have that kind of longevity."
Others to watch:
Ryan Lochte
Lochte was one of the big stars at the 2007 World Championships, where he won a gold medal and set a world record in the 200-meter backstroke. Even more impressive was that he beat Aaron Peirsol. Peirsol had not lost in the 200 back in an international meet since 2000. Lochte was also a part of the gold-medal winning 800 free relay. He competed in Athens, winning a gold in that event and a silver in the 200 IM.
[+] Enlarge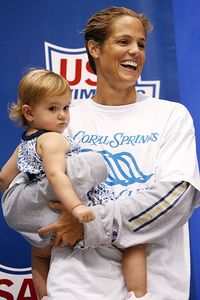 Nick Laham/Getty ImagesAfter a seven-year hiatus, Dara Torres is making a comeback and vying for a trip to Beijing.
Aaron Peirsol
Peirsol, who has dominated the backstroke since 2000, will try to reclaim that role in the 200 back. He broke his own world record in the 100 back at the 2007 World Championships.
Brendan Hansen
He hopes to win both the 100 and 200 breastroke gold medals in Beijing. Currently the world-record holder in both events, Hansen took the silver medal in the 100 and the bronze in the 200 in Athens.
Ian Crocker
He is one of the few swimmers who can give Phelps fits. Crocker holds the world record in the 100 fly, which he set at the 2005 World Championships, and nearly beat Phelps in that event at the 2004 Olympics. Phelps won the gold, however, beating Crocker by .04 seconds.
Peter Vanderkaay
A member of the gold-medal 800 freestyle relay team in Athens, Vanderkaay set an American record in the 500-yard free Saturday in the Michigan Open at Oakland University. He broke his own record by six one-hundredths of a second.
Natalie Coughlin
A five-time Olympic medalist (two gold), Coughlin also has 16 world medals to her name. Her main event is the 100 back. She broke her own world record in that event at the 2007 World Championships.
Katie Hoff
Hoff won three gold medals at the 2007 worlds and is one of the most complete American female swimmers. She has qualified in all 13 events on the schedule at the 2008 Olympic Trials this summer. She lives in Baltimore and trains at the same pool where Phelps got his start.
Kate Ziegler
How good is Ziegler? Think of American swimmers and the name Janet Evans is sure to come to mind. Ziegler broke Evans' oldest world record, besting the 1500 mark set back in 1988 by nearly 10 seconds.
Mary Descenza
Descenza was constantly on the medal podium at the Grand Prix opener in Long Beach, Calif., last month. She won the 200 fly and 100 back and finished second in the 100 free, 200 back and 200 free. Descenza has been preparing for this summer ever since she placed fourth in the 200 fly at the 2004 Olympic trials, just missing a spot on the U.S. team.
Amy Rosewater, a freelance writer based in Baltimore, is a frequent contributor to ESPN.com.
SPONSORED HEADLINES
ESPN TOP HEADLINES
MOST SENT STORIES ON ESPN.COM