American trio breaks marks at world championships
Updated:
March 27, 2007, 4:00 PM ET
Associated Press
MELBOURNE, Australia -- On a golden night in the pool for the Americans, no one was better than Michael Phelps.
World Championships Medals

Gold

Silver

Bronze

Total

U.S.

18

13

4

35

Russia

11

4

6

21

China

9

5

2

16

Australia

7

6

9

22

France

3

2

2

7

Germany

2

4

4

10

Japan

1

3

8

12

Through Saturday (in order of golds won)
Phelps became the first man in history to go under 1 minute, 44 seconds in the 200-meter freestyle at the world championships, breaking Ian Thorpe's revered world record on the home turf of the retired star.
"That was probably the single most incredible record in the books," American backstroker Aaron Peirsol said. "He put it to rest."
The crowd at Rod Laver Arena had barely caught its breath from Phelps' spectacular effort when five minutes later American Natalie Coughlin broke her own world mark in the 100 backstroke.
And that was just the beginning for the Americans, who won four of five golds and set three world records.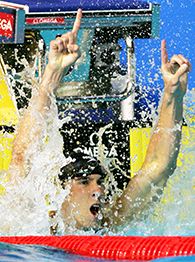 Ezra Shaw/Getty ImagesMichael Phelps' remarkable victory in the 200 free was just the start of the Americans' golden windfall Tuesday.
"I guess it's like a chain reaction," Phelps said. "One, then another, then another."
Phelps started it with a bang.
He defeated Pieter van den Hoogenband of the Netherlands by a whopping 2.42 seconds in their first duel since the 2004 Olympics, when the duo, along with Thorpe, made up the so-called "Race of the Century."
This time, the 21-year-old American led all the way and touched the wall in 1:43.86. Thorpe's mark was 1:44.06, set at the 2001 world meet in Fukuoka, Japan.
"I thought this 200 freestyle record by Ian would last for 10, maybe 20 years," van den Hoogenband said. "I was also next to him [Thorpe] when he set that record. But with somebody swimming this fast, I was more a spectator than a big challenge for Phelps."
It was Phelps' first individual gold of the meet. He led off the victorious 400 free relay Sunday.
"I'm 2-for-2. The ball is rolling," he said. "Let's keep everything rolling."
So the Americans did.
Peirsol won his third straight world championship in the 100 back, lowering his own world mark in the process.
"This is the most impressive team I've ever been on," Peirsol said. "What Michael did was absolutely incredible and certainly Natalie followed up well. I had to do something."
Federica Pellegrini of Italy got into the act, too, taking down the world record in the semifinals of the women's 200 free.
Teen Kate Ziegler won the women's 1,500 freestyle for the Americans' fourth gold of the night.
Leisel Jones of Australia kept the United States from a sweep, winning the 100 breaststroke. American Tara Kirk took the silver.
"I felt a lot of pressure because the U.S. already had two gold medals and two world records, so I had to do something for the Aussies," Jones said.
The United States has a leading 11 medals to Australia's seven after three days of swimming. The Americans have six golds to three for the Aussies.
Not known for going to the early lead, Phelps opened under world-record pace in the first 50 meters, with the Flying Dutchman close behind.
"I knew Pieter would be out and I wanted to be out ahead of him," Phelps said. "That was the strategy."
Phelps pulled away from van den Hoogenband coming off the wall at 150 meters, moving out to a full body-length lead.
"The last lap was the best I have ever seen," said Bob Bowman, Phelps' personal coach who is overseeing the U.S. men's team. "He can put the hammer down and go really fast."
In one motion, Phelps hit the wall and swept around, signaling No. 1 with his left index finger as van den Hoogenband was just pulling in. It was Phelps' record 12th world title and 15th medal overall.
"That's definitely how I wanted to swim it, definitely," he said. "It was all adrenaline the last 50."
Hoogie was again denied his first world title, taking the silver in 1:46.28. He finished second to Thorpe in 2001 and 2003. Park Tae-hwan of South Korea earned the bronze.
"I was swimming OK, but after every turn he was pushing off and kicking through the water so extremely fast," van den Hoogenband said. "I said, 'OK, let's see what he's got left the last 50, and he had a lot left.'"
Thorpe, van den Hoogenband and Phelps finished 1-2-3 in the 200 free at Athens, the only time all three of the swimming greats faced each other. The latest matchup was missing Thorpe, who retired in November at age 24.
The 200 free was a major test of Phelps' plans to challenge for eight gold medals at next year's Beijing Olympics.
At Athens, he settled for bronze in the fastest 200 ever, spoiling his bid to match Mark Spitz's record of seven gold medals.
Phelps returned to the pool about an hour and 45 minutes later for the 200 butterfly semifinals. He was fifth through 100 meters, moving up to second at 150 and winning in 1:55.13. That made him the leading qualifier for Wednesday night's final.
American Davis Tarwater -- the fastest morning qualifier -- failed to advance to the eight-man final, finishing 10th.
Coughlin won the 100 back in 59.44 seconds, bettering her old world mark of 59.58 set in 2002 at Fort Lauderdale, Fla.
"That's been a goal of mine for five years, and Michael got it started right," she said.
Laure Manaudou of France took the silver in 59.87. She and Coughlin were the only women to go under one minute in the final. Reiko Nakamura of Japan finished third.
Coughlin has broken the minute barrier five times in her career.
Peirsol, the world's dominant backstroker for the last seven years, lowered his world record in the 100 back. He hit the wall in 52.98 seconds, bettering his previous mark of 53.17 set in April 2005.
"I always thought of a good swimmer as someone who is consistent over their whole career and that's what I'm trying to do," he said.
American Ryan Lochte earned the silver in 53.50. Liam Tancock of Britain took the bronze in 53.61. The medalists were the only men to break one minute.
Ziegler won the 1,500 free after being under world-record pace through 1,000 meters.
She came home in 15:53.05, the second-fastest time in history behind American Janet Evans, whose 19-year-old record is the oldest in swimming.
"I felt really, really strong for the first 1,000, then I started hurting really, really bad," Ziegler said.
Flavia Rigamonti of Switzerland earned the silver. Ai Shibata of Japan finished third. American Hayley Peirsol was fifth.
Pellegrini swam the women's 200 free semifinals in 1:56.47, bettering the old world mark of 1:56.64 set by Germany's Franziska Van Almsick in August 2002 at Berlin. The final is Wednesday night.
Aussie Jones won the 100 breaststroke in a meet record 1:05.72. Kirk touched in 1:06.34. Anna Khlistunova of Ukraine was third. American Jessica Hardy, who set the meet record two years ago, was fourth.

Copyright 2007 by The Associated Press
SPONSORED HEADLINES
ESPN TOP HEADLINES
MOST SENT STORIES ON ESPN.COM