CSC brings cycling, new hope to these troubled kids
Updated:
July 16, 2007, 7:16 PM ET
By
Bonnie DeSimone
| Special to ESPN.com
VAL D'ISERE, France -- We interrupt our litany of stories about cycling's tarnished image to bring you the story of one wonderfully pure endeavor that uses two-wheelers as a means to an end.
Before the start of Tuesday's Stage 9 of the Tour de France in this posh ski resort, six young black South Africans will be officially introduced to the crowd with the CSC team at the riders' sign-in podium. At 12:30 p.m. sharp, they will be called to the front of the peloton and honored with the best in the sport.
These committed amateur riders and students are part of the four-year-old, Cape Town-based Life Cycling Academy, which recently began a partnership with CSC called Velokhaya -- a word combining the French word for bicycle and a traditional African term for "home."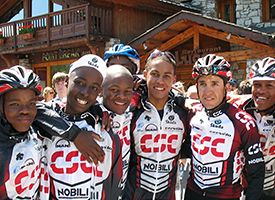 Bonnie DeSimone/ESPN.comTeam CSC's Carlos Sastre, second from right, will help the Tour honor these five Life Cycling Academy riders on Tuesday in France.
Before last week, the academy kids had never been out of their country. A few years ago, they could have never imagined a bike would take them out of their impoverished communities to another continent that might as well be another planet.
The program (www.velokhaya.com) offers a second home to black and mixed-race children in the still-segregated former townships in Cape Town, now officially called "previously disadvantaged communities," whose standard of living is still well below that of white South Africans. Computer Sciences Corporation, the El Segundo, Calif.-based information technology corporation that is the team's primary sponsor, is donating $4,000 to the academy for each Tour stage the team wins. That would be two so far, both by Fabian Cancellara, who wore the overall race leader's yellow jersey for the first seven days of the race.
It serves 500 children from 8 years old to college age and provides everything from snacks to educational support to life skills classes in etiquette and how to carry oneself in the wider world. They have to keep up their grades and stay out of trouble to keep riding.
Of course, the shiny road bikes and bright jerseys -- splashes of color in a physically and socially dreary landscape -- are what attract kids like 16-year-old Ronald Banda. He used to tool around on his beat-up BMX bike doing tricks, but when he saw the academy teams riding in formation through his neighborhood, he had an inkling there might be something worthwhile in tagging along.
"There are a lot of bad things happening, like crime, stealing, drugs and alcohol abuse, and there was nothing to keep me from them," said Banda, who has been in the program for three years. "Now I don't have time to hang around. I go straight from school to training."
Some of Banda's friends teased him for wearing tights and participating in this foreign pursuit -- i.e., a white man's sport -- rather than playing soccer or basketball. "I didn't care about them, because I knew what I wanted," he said.
Banda, who rides at least 30 miles on weekdays and twice as much on the weekends, aspires to be a mechanical engineer. Academy member Luthando Kaka, 21, is racing with a semi-pro club and working as an assistant editor at a cycling magazine. Soft-spoken Siyabonga Mnqwazi, 19, a talented climber, says he wants to be a pro cyclist, but intends to study law because he knows it's best to have options in life.
Focus, discipline and double-barreled ambition are exactly the message academy founder and CEO Glyn Broomberg wanted to impart when he took five kids under his wing in 2002. Broomberg, 37, a personal trainer by profession who describes himself as a "typical white South African male," saw cycling as the perfect vehicle to a better destination. He has since sold his gym and works full time for the program.
The academy has drawn up blueprints for a permanent center on donated land, but for now it operates out of private homes and garages Broomberg calls "clubhouses." He said the program runs on an annual budget of less than $300,000.
That's where CSC came in. Cycling team owner Bjarne Riis met Broomberg on a personal trip to South Africa two years ago and brought his entire squad down last December for its annual "survival camp," an Outward Bound-like experience Riis started as a unifying exercise. The team and the LCA kids connected, and now that relationship is starting to solidify.
Other projects are in the works, according to CSC's brand manager Theresa McDermit. The corporation's South African division paid for the eight-member academy delegation to travel to France.
Broomberg said he is intent on producing South Africa's first black cycling pro to serve as a role model for the academy. An academy cyclist, Emile Jacobs, recently won the national 14-and-under road championships.
But Broomberg's ultimate goals are off-road.
"I'm not saying they're all going to become professional cyclists," he said. "I'm saying they're all going to make something of their lives."
Bonnie DeSimone is a frequent contributor to ESPN.com.
MOST SENT STORIES ON ESPN.COM