Saunier-Duval team pulls out of Tour after Ricco tests positive for EPO
Updated:
July 17, 2008, 10:17 PM ET
Associated Press
NARBONNE, France -- Drugs hit the Tour de France again Thursday, the third doping bust in this race and netting the biggest name yet: Italy's Riccardo Ricco, a winner of two stages.
The disclosure came hours before the 12th stage, which was won by Britain's Mark Cavendish while Australia's Cadel Evans kept the yellow jersey.
But as is often the case in cycling, drugs overshadowed racing. This is the third straight year, the sport's showpiece event has been undercut by doping.
"May the cheaters get caught. May they go away," Tour president Christian Prudhomme said. "I said to the riders before the race, behind closed doors, that you have the key. ... Some didn't get the message."
"I'm glad they got caught. The Tour needs to continue and get to the finish in Paris," International Cycling Union president Pat McQuaid told The Associated Press. "It's another blow to the sport but I have to see it in light of the fact that they're getting caught and going to be thrown out."
Evans said he welcomed the drugs busts, and "that the sport is being cleaned up in serious, fair and transparent way. Our sport is being crucified for doing the right thing."
Ricco was detained by police and booed by spectators before the stage. He is the third rider in this race to test positive for the performance enhancer EPO, cycling's drug of choice. His Saunier-Duval team withdrew from the Tour and suspended all activities.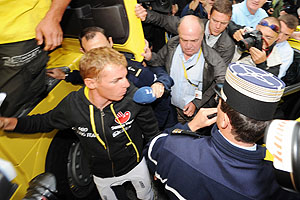 Lionel Bonaventure/Getty ImagesRiccardo Ricco won two stages in this year's Tour de France -- but his Tour ended with him surrounded by police and reporters.
Ricco, a 24-year-old rider who won two Tour stages this year, tested positive after the fourth stage, a time trial in Cholet.
"It's just amazing. It's irresponsible," British cyclist David Millar said. "This guy does not have any love or care for the sport."
Pierre Bordry, the head of the French anti-doping agency, announced the result shortly before the stage. Saunier Duval sporting director Matxin Fernandez said the team suspension will remain in place until it's clear precisely what happened.
"It's a team decision not to start the race," Fernandez said. "He's our leader. We can't act as if nothing happened."
Ricco, the Giro d'Italia runner-up, won the sixth and ninth stages of this Tour and was ninth overall entering Thursday. He was 2 minutes, 29 seconds behind Evans.
"We are learning that things that look too good to be true are too good to be true," Millar said.
Julich: Not again

Bobby Julich thought the worst was behind cycling. But he says Thursday's news serves as another wake-up call and no one, including young riders, is immune anymore. Story
• List of doping cases
Ricco had come under suspicion about what he says is his naturally high hematocrit level -- the volume of red blood cells. High hematocrit levels can suggest EPO use but do not confirm it.
Following his victory in the ninth stage, Ricco said he has had high hematocrit levels "ever since I was little," adding "I hope soon that everybody will stop speaking about that."
Ricco's popularity in Italy rocketed with his two stage wins, drawing front-page coverage in the soccer-focused Gazzetta dello Sport.
The rider has said his idol was Marco Pantani, who in 1998 became the last Italian to win the Tour. Pantani faced doping allegations throughout his career. He died of a cocaine overdose in 2004.
Ricco's ouster came as judicial officials continued to question Spanish rider Moises Duenas Nevado, who was expelled from the race Wednesday. Duenas Nevado was detained by police in Tarbes, at a hotel where his Barloworld team was staying. Police also searched his hotel room.
Gerard Aldige, the state prosecutor in Tarbes, told The Associated Press that police found "numerous small medical materials like syringes, needles, and medical drip bags, which theoretically a cyclist should not have in his room."
Aldige said Duenas Nevado faced preliminary criminal charges for "holding and using poisonous substances or plants" and "prohibited importing of merchandise."
Also found were capsules and gels, but their composition must be tested, Aldige said. He said one medicine not authorized for sale in France was uncovered, though he did not elaborate.
Liquigas team rider Manuel Beltran, a former teammate of seven-time Tour winner Lance Armstrong, was kicked out of the Tour and sent home to Spain on July 11.

Copyright 2008 by The Associated Press