Commentary
Stage set for Tour clash in mountains
BARCELONA -- The pot is primed to boil over in the Tour's prevailing mystery, as two protagonists wearing the same jersey finally may be forced to turn up the heat or step out of the kitchen.
Nineteen seconds in the standings and 11 years in birth order separate Lance Armstrong and Alberto Contador in the Tour de France. Friday's mountaintop finish on Arcalis in the tiny principality of Andorra will be about a more complex tale of the tape -- Contador's sheer explosiveness versus Armstrong's vast experience, and perhaps, their alliances with others on their Astana team and in the peloton.
[+] Enlarge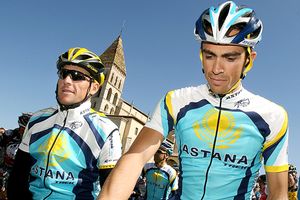 Jaime Reina/AFP/Getty ImagesLance Armstrong, left, sits 19 seconds ahead of Astana teammate Alberto Contador in the overall Tour standings.
It stands to reason the 26-year-old Spaniard will attack at some point, both to distance Armstrong and to fatally scald several other overall contenders whose hopes are already evaporating. "If they had said to me before the Tour started that I was going to come to Barcelona with the [time] differences that have been marked in the overall, I [wouldn't have] believed it," Contador said in comments translated by his webmaster and posted on his Web site.
There are only three uphill finishes in the race for Contador to exploit -- Arcalis on Friday; the short, spiky climb to Verbier, Switzerland, in Stage 15 when the race enters the Alps; and Mont Ventoux, the formidable bald mountain in Provence that lurks on the day before the finish in Paris.
The question is when and where Contador will launch on the 6-mile ascent up to the 7,349-foot summit of Arcalis, which will come after he and the rest of the peloton have already logged more than 132 miles and navigated another short but challenging climb midcourse on the longest day of the Tour.
"I know Alberto wants to assert himself in the race," said Armstrong, who remains 0.22 of a second behind race leader Fabian Cancellara in the overall standings. "I don't need a team meeting to know that. I know he's ready to go. If he goes and nobody can hang with him, then I'll just stay with the other leaders. I'll show up tomorrow, try to do my best, get to the top as quick as I can and then we'll see."
But Armstrong pointed out that Astana can afford to wait and let others take the initiative on the steeper portions of the climb near the base -- perhaps Cervelo's Carlos Sastre of Spain (2:44 shy of Armstrong), Silence-Lotto's Australian leader Cadel Evans (2:59), or the two-pronged Schleck brothers act (Andy and Frank) at Saxo Bank. Andy Schleck is 1:41 behind the leaders.
Left unsaid was that such a strategy would enable both Armstrong and Contador to save themselves for the final stretch, leaving the younger man a little less mileage to make a difference. The X factor is Astana director Johan Bruyneel, whose plan is ostensibly the only one that counts.
There are as many theories about what might happen as there are pundits, but one thing is certain: Armstrong is heading into this critical juncture in a different manner than ever before.
During Armstrong's run of seven consecutive Tour wins, the first uphill finish was traditionally where he lowered the hammer on his chief rivals -- even if he didn't win the stage. He had a fleet of escorts and no competition from within his own team, and engaged in obsessive preparation.
This time, Armstrong said he has not scouted the Pyrenees stages and described himself as "uneducated" about the next three days, although, of course, he has done some of the more famed climbs in the region dozens of times.
Contador said in comments on his Web site that he hoped Thursday would be "calm" ahead of Friday's likely competitive storm. He did not get his wish. Heavy rains made the course a skating rink, especially once riders entered Barcelona, where urban grime and grease mixed with moisture to create a treacherous glaze.
Columbia's George Hincapie posted a comment on his Twitter feed describing the day as the most frightening he's ever had on a bike, which is a significant statement from a man who is racing his 14th Tour and has been one of the steadiest riders in history on the killer cobblestones of Paris-Roubaix.
Amazingly, all 177 men who started the race finished it, but the medical report was nearly as long as the standings. One pileup involved Hincapie, Garmin's Christian Vande Velde and Tyler Farrar, and Columbia's Michael Rogers. Rogers appeared to be in severe distress when he finished, clutching his right elbow, but a team official said X-rays were negative and Rogers will likely start Friday.
Cervelo's brawny Thor Hushovd of Norway won the sprint finish where the last mile-plus, a leg-burning grind up to the park that hosted much of the competition in the 1992 Olympic Games, was made for him. But the most striking ride of the day was turned in by Garmin-Slipstream's David Millar, who was seeking his first stage win in the Tour since 2003 -- the year before his career seemingly crumbled in the wake of his doping confession.
Tour de France Tracker
Get all the information you need on every rider and team,
plus real-time results from every stage of the 2010 Tour de France. Launch »
Millar, 32, returned in 2006 after serving a two-year suspension and signed with Garmin before the 2008 season. He has raced with the delight and focus of a man liberated from a double life, has spoken his mind on and put his weight behind cycling's anti-doping efforts, and has compiled some impressive results. Winning another stage in the sport's biggest event is highest on his checklist of unfinished business.
Thursday, Millar initiated an early breakaway and briefly held the ephemeral "virtual yellow jersey" as the time gap by the three men in the break eclipsed the minute or so that Millar was down to race leader Fabian Cancellara.
With 18 miles to go, Millar took off solo and conducted a one-man time trial with his typical smooth form, aided by the wet roads and crashes behind him, even picking up time on a descent in the dicey conditions. But the sprinters' teams in the peloton, thwarted Wednesday when a breakaway stayed clear, were intent, and the broad, sweeping boulevards of Barcelona gave them the space and visual pacing ability to chase Millar down.
The Scottish rider never had more than a minute's margin. He knew his effort was doomed as he passed some of the city's most famous monuments, including the spectacular multidomed palace that houses the national museum of Catalonian art, but took a moment to enjoy the huge crowd and the scenery.
"Worth being off the front just for that," Millar said.
Bonnie D. Ford covers tennis and Olympic sports for ESPN.com. Follow her Twitter feed here or reach her at bonniedford@aol.com.
Enterprise and Olympic Sports
Bonnie D. Ford is a senior writer for ESPN.com.
MOST SENT STORIES ON ESPN.COM