Sanchez prevails; Lance stays with pack
Updated:
July 11, 2009, 8:41 PM ET
Associated Press
SAINT-GIRONS, France -- Lance Armstrong is trying not to let his rivalry with Alberto Contador distract him and the rest of the Astana team at the Tour de France.
On Saturday, the status quo between Contador and Armstrong prevailed as Luis Leon Sanchez of Spain won the eighth stage in the Pyrenees, while Italy's Rinaldo Nocentini retained the yellow jersey.
Contador eclipsed the seven-time Tour champion Armstrong a day earlier in the first Pyrenean ride, and trails the Italian, who is not seen as an overall title threat, by six seconds. Armstrong is eight seconds back.
Ford: Astana Flaunts Prowess

Alberto Contador and Lance Armstrong remained in second and third place as Astana did what it does so efficiently by maintaining the status quo, writes Bonnie D. Ford. Story
The Astana team, facing new questions about whether teamwork still trumps its brewing two-man rivalry, on Friday had a powwow on the team bus about the breakaway by Contador a day earlier.
"What's said in the bus, stays in the bus," said team sporting director Johan Bruyneel, confirming the breakaway was discussed but refusing to offer details to reporters.
Before the ride Saturday, when Versus' Frankie Andreu asked whether Astana was more divided now, after Contador's breakaway, Armstrong dodged the issue.
"I'm going to refuse to comment on that," Armstrong said. "At the end of the day, we're all professionals -- and even if there were some hurt feelings, we're going to do our job."
Armstrong didn't speak to reporters after Saturday's stage, a 110-mile trek along three big climbs from the Pyrenean principality of Andorra to Saint-Girons, France.
Armstrong posted on Twitter: "St8 done. Tough but not 2 challenging. Had anti-doping control AGAIN."
Cycling's governing body UCI and France's anti-doping agency have stepped up urine and blood tests this year in an effort to root out cheats who have marred cycling's premiere race in recent years. That means top performers like Armstrong face more checks.
[+] Enlarge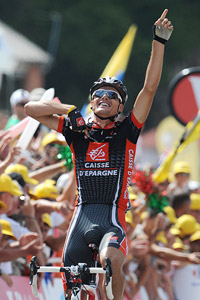 Patrick Hertzog/AFP/Getty ImagesSpain's Luis Leon Sanchez won Stage 8 in a sprint Saturday ahead of three other breakaway riders.
Contador, in a statement from his spokesman, didn't make any mention of relations within the team, and simply credited a strong effort from Astana riders to beat back rivals' attacks Saturday.
The 26-year-old Contador is already one of cycling's top riders, having won all three Grand Tours of France, Italy and Spain -- a feat accomplished only by five riders. Armstrong isn't one of them.
The race has shaped up as a two-man battle between the two Astana stars so far primarily because the other pre-race favorites lost key time in time trials, and are trailing badly.
In order to get back into contention, the rivals tried to attack during the Pyrenees -- the first big mountain challenges of the three-week race. So far, they've had no success against Astana.
The first salvo Saturday came from two-time Tour runner-up Cadel Evans, who burst out of the peloton on the first of the day's three climbs -- the Category 1 Envalira Pass -- at the 14.6-mile mark. He and others built a lead on the pack of about 2 minutes, but the Australian was reeled in after about 39 miles.
On the Agnes pass, the day's last big climb, Andy Schleck of Luxembourg led the attack -- but he too couldn't shake the Astana train.
Nocentini almost lost his yellow jersey when the main race favorites -- including Armstrong and Contador -- left him behind in the last of the climbs. He credited an escort from his AG2R La Mondiale teammate Stephane Goubert for helping him catch up.
Astana holds four of the top six spots. Levi Leipheimer of the United States is 39 seconds off the pace in fourth, while Andreas Kloeden is sixth, 54 seconds behind.
Tour de France Tracker
Get all the information you need on every rider and team,
plus real-time results from every stage of the 2010 Tour de France. Launch »
Some riders dreaded the steep opening to the stage.
"Today's stage starts off going uphill for 20 miles!!" Leipheimer tweeted. "That's a rude awakening, plenty of riders will be looking to get in the breakaway."
He was right.
Sanchez, who won the Paris-Nice stage race in March, led a four-person breakaway toward the finish line. He looked skyward and tapped his chest after crossing just ahead of France's Sandy Casar and Mikel Astarloza of Spain. They clocked 4 hours, 31 minutes, 50 seconds for the 110-mile trek.
The victory for Caisse d'Epargne rider Sanchez was a boost to his team. Oscar Pereiro, the 2006 Tour champion, quit the race due to fatigue and the team's star rider, Alejandro Valverde, is not in the Tour because of an Italian doping probe.
Even riders such as Sanchez, a friend of Contador, were making allusions to the duel within Astana -- as though many in the pack are sensing that the team could implode.
Sanchez said he hoped Contador would win the Tour, before adding: "I'm not going to get into the polemic in their team about who can win between him and Armstrong."
But he said Contador was dazzling in the final climb into the Arcalis ski station in Andorra on Friday -- the first big test of the race, and a clear sign that his legs are fresh.
In the last 1.2 miles, Contador burst ahead of Armstrong and other contenders and gained more than 20 seconds on them in a short span.
"It's true that compared to his other adversaries, he's really gotten a jump," Sanchez said.
Among the other favorites, Schleck is 1:49 back in ninth, defending Tour winner Carlos Sastre of Spain is 2:52 back in 16th, and Evans is 3:07 behind in 18th place.
Riders face a third and final day in the Pyrenees on Sunday, a 100-mile course from Saint-Gaudens to Tarbes via the Tourmalet Pass, one of the toughest climbs in cycling.
Monday is the race's first rest day. The race ends July 26 in Paris.

Copyright 2009 by The Associated Press