Commentary
Tour comes down to 'the race of truth'
BORDEAUX, France -- With less than 100 miles left in a 2,262-mile race, it may seem counterintuitive that mere seconds would decide first and second place in the Tour de France. Yet aficionados of the event know that the marathon often comes down to a dash -- not a sprint in traditional cycling terms, but the individual time trial traditionally held on the final weekend.
[+] Enlarge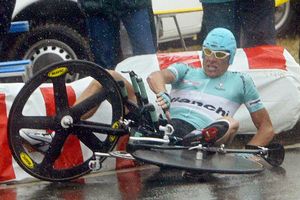 Paolo Cocco/AFP/Getty ImagesIn 2003, Jan Ullrich's yellow jersey dream ended abruptly when he crashed during the decisive individual time trial.
Alberto Contador, once considered only passable in the race against the clock, has become so proficient at it that he edged time trial world champion Fabian Cancellara of Switzerland by three seconds in the only long individual time trial of the 2009 Tour -- unusually placed on Thursday of the final week. Tour runner-up Andy Schleck finished 1:45 slower and was happy to limit his losses.
Saturday's 32.3-mile course from Bordeaux to Pauillac is frying-pan flat and thus different from the loop around Annecy where Contador prevailed, which included one substantial climb. Most observers think Contador will fatten his current eight-second lead over Schleck, but he has little margin for error -- and the history of Tour time trials tells us that the pressure can be suffocating.
Here are a few memorable moments from recent years in what some call "the race of truth":
2007: Three-way power struggle
Contador, Cadel Evans and Levi Leipheimer rolled down the start ramp in Cognac with just 2:49 separating first and third place in the 2007 Tour. Leipheimer, then riding for Discovery Channel, won the stage by covering the 34.5-mile course that ended in Angouleme 51 seconds faster than Evans; Contador, who had inherited the yellow jersey after Michael Rasmussen's shocking ouster by his own team, rode to survive rather than win, and finished 2:18 behind Leipheimer. The three men on the podium wound up just 31 seconds apart, the smallest spread in history.
2005: The Rasmussen follies
The Danish rider known as "The Chicken" had no illusions of being a good time trialer, but on the final Saturday of the 2005 Tour, he was wearing the best climber's polka dot jersey and harbored faint hopes of finishing on the podium. Rasmussen was sitting in third place overall, more than 2 minutes ahead of German star Jan Ullrich, when he set out on the rolling, technical loop that began and ended in St. Etienne. The voyage was not a smooth one. Two crashes and several mechanical problems later, he finished more than seven minutes slower than Ullrich and tumbled to seventh place. Lance Armstrong logged the best time to notch the last individual Tour stage victory of his career.
2003: Street smarts The best chance any rider had to dethrone Armstrong during his seven-year streak came in 2003, when various mishaps and mistakes left him just 65 seconds ahead of Ullrich heading into the final time trial from Pornic to Nantes on the Atlantic coast. Ullrich went for broke on the rain-slicked 30-mile course and saw his hopes disintegrate when he crashed in a roundabout, skidding on his side into a protective barrier. Armstrong sat up and rode conservatively as soon as he heard the news on his earpiece, but still finished 11 seconds ahead of Ullrich on the stage, which was won by David Millar. A split in the peloton on the Champs-Elysees the next day made Armstrong's eventual winning margin 61 seconds, his narrowest ever.
Tour de France Tracker
Get all the information you need on every rider and team,
plus real-time results from every stage of the 2010 Tour de France. Launch »
1997: Malfunction junction
Bjarne Riis' bid to repeat as Tour champion in 1997 went south early in the race, and he committed to working for his young Telekom teammate Ullrich -- who rode into Paris in the leader's yellow jersey. But Riis still didn't like embarrassing himself, so when he faltered badly in the 39-mile time trial at Euro Disneyland, he took it out on his Pinarello bike, dismounting and heaving it into a ditch. Riis ultimately finished more than nine minutes off the pace set by Spain's Abraham Olano.
1989: The mother of all races
It's unlikely that any time trial could rival the drama of the 1989 edition in which Greg LeMond overtook France's Laurent Fignon in the standings on the final day of the Tour. LeMond rode an average speed of almost 34 mph over the 15-mile course from Versailles to Paris, making up 58 seconds to win by an eight-second margin. LeMond's equipment innovations, including the then-novel aerodynamic handlebars that enabled him to take a more streamlined position on the bike, helped him best Fignon, who was in pain from saddle sores and collapsed from his effort after the stage. The final stage has not been a time trial since.
Bonnie D. Ford covers tennis and Olympic sports for ESPN.com. She can be reached at bonniedford@aol.com.
Enterprise and Olympic Sports
Bonnie D. Ford is a senior writer for ESPN.com.
MOST SENT STORIES ON ESPN.COM