Gatlin breaks world record held by Powell
Updated:
May 15, 2006, 12:00 PM ET
ESPN.com news services
DOHA, Qatar -- Olympic champion Justin Gatlin broke the 100-meter world record Friday with a time of 9.76 seconds at the Qatar Grand Prix.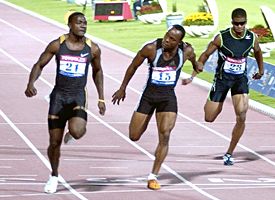 AP Photo/Abdul BasitJustin Gatlin, left, crossed the finish line first in record time Friday.
The American sprinter lowered the mark of 9.77 seconds set by Jamaica's Asafa Powell on June 14, 2005, in Athens, Greece.
Gatlin won the 100- and 200-meter titles at the world championships in Helsinki, Finland, last August. He said Monday he intended to break the record in Doha.
"It is amazing I did it. It took a lot of discipline and dedication," Gatlin said. "You will see many more performances like this from me in the future."
Gatlin was quick out of the starting blocks, but was even with American teammate Terrence Trammell halfway through the race. He surged into the lead in the final 40 meters. Olusoji Fasuban of Nigeria finished second Friday in 9.84 seconds, with Shawn Crawford of the United States third in 10.08.
Gatlin and Powell ran 9.95s in separate races last weekend and will face each other at the Gateshead meet in England on June 11.
Gatlin Biography
Born: Feb. 10, 1982, in Brooklyn, N.Y.
Starts off as hurdler at high school and goes on to win six NCAA sprint titles.
2003: Wins U.S. and world indoor 60 meters titles.
2004: Wins Athens Olympics 100 meters gold medal in 9.85 seconds, one-hundredth of a second ahead of Portugal's Francis Obikwelu; finishes third in the 200.
2005: Wins world 100 title in Helsinki, Finland, in 9.88 seconds by the biggest margin (0.17) in the history of the championships; leads U.S. clean sweep in the 200, winning in 20.04 to become only the second man after compatriot Maurice Greene to complete the double.
2006: Runs 9.76-second 100 meters in Doha, Qatar, to shave 0.01 off Jamaican Asafa Powell's world record, but later has to share record because of timing error.
2006: Admits to failed test for testosterone at race in Kansas City. Avoids lifetime ban from track and field by accepting eight-year ban and agreeing to cooperate with doping officials.
The American said the world record could go again later in 2006.
"The timings could be further improved this year, probably in Europe," said Gatlin, who dedicated his record to God and his parents.
When Powell set the record last year, he bettered the mark of 9.79 set by Maurice Greene in Athens in June 1999. Tim Montgomery's mark of 9.78, set in Paris in 2002, was wiped off the books after he was banned for two years in the BALCO doping scandal.
Previous recent 100-meter record-hrolders included Donovan Bailey (9.84), Leroy Burrell (9.85) and Carl Lewis (9.86).
Gatlin's previous best was the 9.85 he ran in winning the Olympic gold in Athens in 2004. His time was 9.88 when he won the world title last year.
Gatlin, a native of Brooklyn, N.Y., and a former NCAA 100 and 200 champion at Tennessee, is coached by Trevor Graham, the former coach of Montgomery and Marion Jones.
At least six of Graham's athletes have tested positive for banned substances and Graham acknowledged he was the coach who anonymously sent a syringe of THG to the U.S. Anti-Doping Agency, a key piece of evidence in the BALCO case.
Gatlin never has been linked to steroids, but he received a two-year suspension after testing positive for an amphetamine at the 2001 U.S. junior championships. The drug was contained in prescription medication Gatlin had been taking for 10 years to treat a form of attention deficit disorder.
The Associated Press and Reuters contributed to this report.
SPONSORED HEADLINES
ESPN TOP HEADLINES
MOST SENT STORIES ON ESPN.COM