Hayward Field is as storied as Prefontaine himself
When the 33rd Prefontaine Classic is held Sunday in Eugene, Ore., the world's track and field royalty will share the spotlight with the stage itself -- Hayward Field.
It's the most prominent track-only venue in the United States, but the field's aura goes beyond that. In track and field terms, combine the history of Yankee Stadium, the intimacy of Wrigley Field and the tradition of Lambeau Field, and you have Hayward.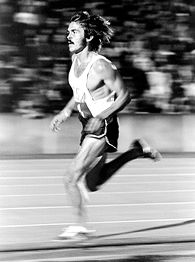 Tony Duffy/Getty imagesHayward Field has been home to the Pre Classic since 1975, shortly after Steve Prefontaine was killed in a car accident at age 24.
Built in 1919 as a football stadium, the field is named for Bill Hayward, who coached the University of Oregon's track team from 1904 to 1947. Hayward Field is known as the place where Steve Prefontaine became a legend and his coach, Bill Bowerman, sparked the running boom of the 1970s and planted a seed for eventual corporate giant Nike. (Bowerman, an inveterate tinkerer, used the family waffle iron to melt rubber soles, creating the light, springy running shoe that would launch the company.)
These days, Hayward Field suddenly has new relevancy. Home to the Pre Classic since 1975, shortly after Prefontaine was killed in a car accident at age 24, Hayward Field was last year named host for the U.S. Olympic trials. The trials, set for June 27-July 8, 2008, will determine the team for the 2008 Olympics in Beijing.
It's the first time Hayward Field will host the trials since the venue's heyday, when it held the trials in 1972, 1976 and 1980. Eugene beat out Sacramento, Calif., which hosted the trials in 2000 and 2004.
Some of the nation's greatest meets and performances have happened at Hayward, a place Marty Liquori, the world-class runner and TV commentator, dubbed track's Carnegie Hall.
"It's a concert hall for track and field," said Blaine Newnham, who covered decades of events there as a columnist for the Eugene Register-Guard and Seattle Times. "Everyone knows the music. Everyone knows what to look for, what to expect. It's confined."
In 1967, the field became track-only when Autzen Stadium was built for football. Located on the University of Oregon campus, Hayward Field is famed for its fans. The west grandstand is newer, but the rowdiest fans cheer on runners from the wooden east grandstand, built in 1925, stomping their feet to add rumble to their roars. More sedate fans choose terraced seating built into a grassy embankment at the top of the north turn.
"I love Hayward Field," said Adam Goucher, who is entered in the 2-mile in the Prefontaine Classic, where he ran just 1 second off the American record of 8:11.48 last year in his first try at the distance. "When the race gets pumping and people get crazy, it's hard to say if it's one side or the other" that's louder.
"Coming down the homestretch toward the end of the race is pretty deafening at times. It is loud. Talk about the energy people are pushing off on you -- it's a great feeling. It's pretty impressive."
Frank Shorter, the 1972 Olympic gold medalist and 1976 silver medalist in the marathon, grew up and attended college in the East, but fell in love with the field on the far coast.
"Hayward Field was absolutely my favorite place to run," said Shorter, friend and training partner of Prefontaine, and one of the last to see Prefontaine before the icon's fatal car wreck less than a mile from the stadium. "I felt like an adopted son. I spent a lot of time there, have a lot of friends there."
Former world-class runner Kenny Moore, fourth in the 1972 Olympic marathon and author of "Bill Bowerman and the Men of Oregon," lives in Eugene and watched Alan Webb run a 3:53.43 at Hayward in 2001 to break Jim Ryun's schoolboy mile record (3:55.3).
"I remember him saying he was still deafened after," Moore said. "The crowd knew the splits. They were following him entirely."
On June 11, the day after the Pre concludes, workers will begin readying the 88-year-old venue for the trials. Renovation plans call for permanent lights -- TV plans to broadcast the trials live on weeknights -- lowering the field, building a walkway behind the west grandstand and redesigning the track's infield to allow for multiple shot put rings and high jump areas.
Sunday's Prefontaine Classic, a one-day invitational that requires competitors to be ranked in the world's top 50 in their event, will give U.S. fans a sneak preview of the run-up to the Olympics 14 months from now and a look at who's in form for the World Championships, set for Aug. 25-Sept. 2 in Osaka, Japan.
The event's glitzy field includes 100-meter world-record holder Asafa Powell of Jamaica, Olympic 200 champion Shawn Crawford, Olympic 400 gold medalist Jeremy Wariner, and Xavier Carter, who ran the 200 in 19.63 seconds, the second-fastest time in history, at last year's Athletissima Super Grand Prix.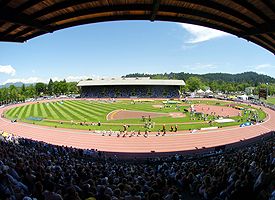 Kirby Lee/WireImage.comOriginally built as a football field, Hayward Field became a track-only venue in 1967.
But the Hayward crowd, which loves the agony and drama of distance events, will be especially keyed up for the 2-mile. American distance runners Webb, Dathan Ritzenhein and Goucher will square off after Ethiopian star Kenenisa Bekele, the 10,000-meter Olympic gold medalist, 5,000-meter silver medalist and world-record holder in both, pulled out of the event Friday.
"In the case of the Pre meet, it's 11 or 12,000 people who absolutely understand. It's not an academic understanding, it's an emotional understanding, a joining-in and screaming people on to goodness," said Moore, who graduated from Oregon in 1966 and helped write the screenplay for "Without Limits," a film starring Billy Crudup as Prefontaine. Hayward Field is a fixture in the movie.
"Ever since Bill Bowerman taught them to do this in the '50s, they have forced their will on people to run their best. They get very loud, and the nature of the stands plays into it, too. The overhanging roof makes it like an indoor thing. There's only one place for that sound to go and that's out there, where it really works. And having felt it and been propelled to run faster than I believed possible, it's an emotional thing. It's not that it's only here. It's a question of degree. You feel the same thing in Oslo and Stockholm and Berlin."
Other notables entered in Sunday's meet include Bernard Lagat, Sanya Richards, Wallace Spearmon, Maria Mutola, Olympic hurdles champion Liu Xiang from China, Allen Johnson, decathlete Bryan Clay, and shot-putters Christian Cantwell, John Godina and Reese Hoffa.
This year's Prefontaine meet could add to Hayward's legacy of memorable moments:
• U.S. Olympic trials, 1972: Some consider it the greatest track meet ever. Jim Ryun won the 1,500 after being flown in by helicopter because he was allergic to Eugene's grass seed pollen; Prefontaine beat George Young to win the 5,000; Shorter won the 10,000 and shared the marathon title with Moore; Dave Wottle won the 800; Wayne Collett won a star-studded 400; pole-vaulter Bob Seagren also won.
• Prefontaine vs. Shorter, 3-mile, 1974: The training partners and friends, two of the biggest names in the sport, decided to trade laps. "I jumped him with a lap to go," Shorter said. Shorter opened a 15-yard lead with 200 yards left on Pre, who held every American record from 2K to 10K. "When I got down the backstretch and I had that lead, the crowd went crazy. It was quite possibly the first time he would be beaten [at the distance]." But Prefontaine stalked Shorter, then caught him. "I got goose bumps, but I couldn't hold it," Shorter said. He lost by a step. Both broke the American record.
• Alberto Salazar and Henry Rono, 10K, 1982: They opened a 100-meter lead on the rest of the field and exchanged leads, putting on "a show like two roosters fighting," Rono wrote on his Web site. Rono, who called it the "most incredible race I ever ran in my life," nipped Salazar by a fraction of a second.
• Suzy Favor Hamilton vs. Gabriela Szabo, 2000 Prefontaine Classic: Hamilton led by 30 meters on the final-lap backstretch of the 1,500 race as the announcer mentioned Szabo, from Romania, had not lost a race in almost two years. Szabo did not speak English. "At the instant he said that, she took off, charged around the last curve, fought down the last stretch and won by a step," said meet director Tom Jordan. Favor Hamilton left her feet and dived across the finish in a futile attempt to win. Szabo's time was 4:00.73 and Favor Hamilton finished in 4:00.79.
Meri-Jo Borzilleri, a freelance writer based in Bellingham, Wash., is a contributor to ESPN.com.
Contributor, espnW.com
Meri-Jo Borzilleri has been a journalist for more than 20 years, most recently for the Colorado Springs Gazette, where she covered the U.S. Olympic Committee and three Olympics before resigning to freelance in 2007. Her work has appeared in The Seattle Times, USA Today, ESPN.com, nbcolympics.com, universalsports.com and The Associated Press. She works and lives in Bellingham, Washington.
SPONSORED HEADLINES
ESPN TOP HEADLINES
MOST SENT STORIES ON ESPN.COM