French long jumper Sdiri hit by errant javelin throw
Updated:
July 13, 2007, 6:12 PM ET
ESPN.com news services
ROME -- French long jumper Salim Sdiri suffered a one-inch wound to his side when he was hit by a javelin during the Golden Gala on Friday.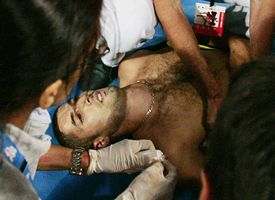 AP Photo/Gregorio BorgiaFrench long jumper Salim Sdiri was struck by a javelin in his right side while waiting in a designated warm-up area at the Golden League meeting in Rome Friday.
The incident occurred midway through the evening when Finnish thrower Tero Pitkamaki slipped at the end of his run-up, hurling the javelin out to the left of the landing area and spearing Sdiri in his right side as he crouched in the long jump warm-up section.
Sdiri suffered no internal damage, Italian athletics federation spokesman Marco Sicari said, adding that Sdiri never lost consciousness but does not remember the accident because he went into shock.
A shocked-looking Pitkamaki held his head in his hands after the incident but took his next throw in the javelin competition.
The Associated Press and Reuters contributed to this report.
MOST SENT STORIES ON ESPN.COM