Felix to concentrate on 200 meters at worlds
Updated:
August 24, 2007, 11:46 AM ET
ESPN.com news services
OSAKA, Japan -- Allyson Felix has withdrawn from the 100 meters at the world track and field championships to concentrate on the 200, where she is the defending champion.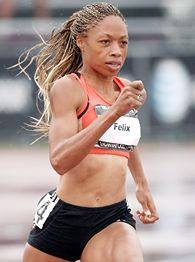 Kirby Lee/WireImageAllyson Felix holds the world's fastest time in the 200 meters this season at 22.18.
Mechelle Lewis will take Felix's spot in the 100. Lewis joins defending world champion Lauryn Williams, 2003 world champion Torri Edwards and Carmelita Jeter as the U.S. contingent in the race.
Lewis, the Pan American Games silver medalist, finished fifth at the U.S. championships, just behind Felix. The United States has four in the event because Williams has an automatic berth as defending champion.
Felix said her coach Bob Kersee made the decision to keep her out of the 100.
She has a best of 11.01 seconds in the 100 this year. Only three runners in the world have gone faster this season -- Jamaican Veronica Campbell, Edwards and American Me'Lisa Barber, who did not qualify for the event.
Felix has the world's fastest 200 time this season at 22.18.
"I'm going to be extremely ready for that race," she said.
Other women's races to watch:
• In the 100, American champion Lauryn Williams should receive strong competition from Olympic 200 gold medalist Veronica Campbell of Jamaica and 2003 world champion Torri Edwards of the United States.
• Defending champion Michelle Perry of the United States ranks favorite in the 100 hurdles.
• The reigning 400 hurdles champion, Yuliya Pechonkina of Russia, also returns but could face a tough race from 2003 winner Jana Rawlinson of Australia.
• German Franka Dietzsch will seek a third discus title, having won in 1999 and 2005. Compatriot Christina Obergfoll tops the world list in the javelin.
• Russian pole vaulter Yelena Isinbayeva, who holds 20 world records including 11 outdoors, has set world standards in each of her previous global titles. She cleared 4.91 meters to win 2004 Olympic gold and 5.01 meters -- the current record -- for her 2005 world crown.
• Croatian Blanka Vlasic will have world record on her mind in the high jump. The 23-year-old has soared a dominant 2.07 meters this season, putting her within grasp of Bulgarian Stefka Kostadinova's 2.09 meters world record, set at the 1987 world championships.
• Tirunesh Dibaba, the first woman to win the 5,000 and 10,000 in the same championships two years ago in Helsinki, will try for a repeat double. Victory in the 5,000 would make her the first woman to win the event three times. A triumph in the 10,000 would be equally impressive. No female has defended her world title in the event.
Her biggest competition may come from her fellow countrywomen -- 5,000 world-record holder and Olympic champion Meseret Defar and, in the 10,000, older sister Ejegayehu Dibaba and Mestawet Tufa.
• Two-time 1,500 champion Tatyana Tomashova of Russia will miss Osaka with a foot injury. Compatriot Yelena Soboleva is the world leader.
Information from The Associated Press and Reuters was used in this report.
SPONSORED HEADLINES
ESPN TOP HEADLINES
MOST SENT STORIES ON ESPN.COM
WORLD TRACK AND FIELD CHAMPIONSHIPS
Fourteen Olympic medalists are set to lead Team USA at 2007 World Championships in Osaka, Japan (Aug. 25-Sept. 2):
FACTS AND FIGURES
•
Where:
Nagai Stadium
•
Participants:
3,200
•
Countries/territories:
203
•
Events:
24 for men, 23 for women
•
Total prize money:
$7.194 million
•
Winners:
$60,000 individuals, $80,000 relays
•
World-record bonus:
$100,000
NEWS
•
Felix earns third gold at worlds with relay victory
•
Lagat earns historic double with win in 5,000
•
U.S. men, women take relay golds at worlds
•
Quad injury forces Clay out of decathalon worlds
•
Wariner leads U.S. sweep in 400
•
Gay wins second gold, takes 200 title
•
Lagat ends American drought in 1,500 meters
•
U.S. hurdler Arnold out of worlds with injury
•
100 meters champ Gay goes after 200M gold
•
Campbell wins women's 100 in photo finish
•
Gay grabs gold in 100-meter final
•
Dibaba rallies to take 10,000 meters title
•
Kenya's Kibet ends country's marathon gold skid
•
Despite the heat, worlds to start on schedule
RESULTS
•
Sept. 2: World Track and Field Championships
•
Sept. 1: World Track and Field Championships
•
Aug. 31: World Track and Field Championships
•
Aug. 30: World Track and Field Championships
•
Aug. 29: World Track and Field Championships
•
Aug. 28: World Track and Field Championships
•
Aug. 27: World Track and Field Championships
•
Aug. 26: World Track and Field Championships
•
Aug. 25: World Track and Field Championships
PREVIEWS
•
Team USA tentative roster
•
Powell vs. Gay: Who will be 'The Man in Japan'?
•
Women: Felix won't go for worlds double
•
The Magazine: Q&A with Powell and Gay
•
The Magazine: Lagat runs for love of country