Ramzi loses Beijing gold, 4 others DQ'd
Updated:
November 19, 2009, 8:39 AM ET
Associated Press
LONDON -- Fifteen months after the Beijing Olympics, Bahraini middle-distance runner Rashid Ramzi was stripped of his 1,500-meter gold medal Wednesday and four other athletes were disqualified because of doping at the Games.
[+] Enlarge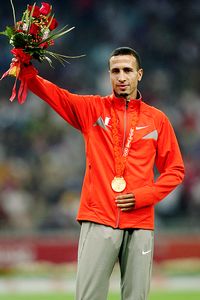 Lars Baron/Bongarts/Getty ImagesRashid Ramzi had given Bahrain its first Olympic track and field medal before being stripped of his gold Wednesday.
The International Olympic Committee took action against the five athletes who tested positive in April in retroactive tests for CERA, an advanced version of the blood-boosting drug EPO.
The Moroccan-born Ramzi was the only gold medalist from Beijing caught using performance-enhancing drugs. He had given Bahrain its first Olympic track and field gold medal by winning the 1,500, one of the most prestigious events in the sport.
The athletes' samples were collected and tested at the Beijing Games in August 2008. They tested negative at the time, but the IOC reanalyzed the samples this year when a fully validated test for CERA became available.
Ramzi can appeal the decision to the Court of Arbitration for Sport.
The IOC also stripped Italian cyclist Davide Rebellin of his silver medal in the Beijing road race, a decision announced Tuesday by the Italian Olympic Committee.
Also disqualified Wednesday were German cyclist Stefan Schumacher, Croatian 800-meter runner Vanja Perisic and Greek race walker Athanasia Tsoumeleka. They did not win medals in Beijing.
All five athletes face possible two-year bans from their international sports federations. Under IOC rules, they are ineligible for the 2012 London Olympics.
Rebellin plans to appeal to the Court of Arbitration for Sport. His lawyer, Fausto Pavone, told the Gazzetta dello Sport on Thursday that they would wait the required three weeks before bringing their case to the Swiss court.
The IOC stores Olympic doping samples for eight years with the option of reanalyzing them once new testing methods are developed. IOC medical commission chairman Arne Ljungqvist said Wednesday's decision shows the Olympic anti-doping effort is working.
"It is a very good message," he told The Associated Press. "We do have this type of possibility to go back and make use of the eight-year statute of limitation. This sends a very serious warning to people. Even though you may not be caught at the competition today, you may be identified tomorrow. That is a deterrent, for sure."
The IOC ordered Bahrain's national Olympic committee to return his gold medal "as soon as possible" and asked the International Association of Athletics Federations to modify the 1,500 results and consider further action against Ramzi.
Asbel Kipruto Kiprop of Kenya stands to be upgraded from silver to gold in the 1,500. Nicolas Willis of New Zealand could go from bronze to silver, and fourth-place finisher Mehdi Baala of France would get the bronze.
"We are entering the era where athletes can be confident that those that are considering taking alternate routes -- like performance-enhancing drugs -- they're going to be looking over their shoulders," said Willis, who trains in Ann Arbor, Mich. "They might not get caught today, but down the line ... This has maybe brought some aches and pains, but it's an important part to shake some of those cobwebs free so we can enter the new era of the sport."
Sebastian Coe, the winner of 1,500 Olympic titles in 1980 and 1984, is an IAAF vice president. He praised the stripping of Ramzi's medal because of doping, the latest in a string of drug scandals in track and field.
"That was the right decision," Coe told the AP. "Cheats cannot prosper in our sport and people will realize that sooner or later. ... Unfortunately, that was high-profile and we can do without it, but it also shows the quality of our testing procedures now."
Rebellin, the cyclist, was the only other medalist caught up in the retesting cases. He is the first Italian athlete stripped of an Olympic medal for doping.
Samuel Sanchez of Spain won the road race in Beijing. Fabian Cancellara of Switzerland is set to move from bronze to silver and Alexander Kolobnev of Russia from fourth to bronze.
Schumacher was stripped of his 13th-place finish in the Olympic individual time-trial cycling race; Tsoumeleka lost her ninth-place in the women's 20K walk; and Perisic was removed of her sixth-place in a heat of the women's 800.
A sixth athlete was found positive in the retesting process, but women's weightlifter Yudelquis Contreras was cleared by the Dominican Olympic Committee after the "B" sample came back negative.
The IOC said Wednesday that it reserves the right to reopen disciplinary procedures against Contreras "in the event that new evidence comes to light."

Copyright 2009 by The Associated Press
SPONSORED HEADLINES
ESPN TOP HEADLINES
MOST SENT STORIES ON ESPN.COM