U.S. cruises past Slovenia, improves to 3-0
Updated:
August 22, 2006, 4:08 PM ET
Associated Press
SAPPORO, Japan -- After the United States whipped Slovenia 114-95 Tuesday night, LeBron James was asked if he would guarantee a world championship.
Chris Sheridan:
Looking ahead to Italy
Wednesday's game against Italy will pit the Americans against the best 3-point shooting team they will have seen to date, but they're not going into this match blindly as they did two years ago. Italy surprised Team USA in a tuneup match in Cologne, Germany, before the Athens Olympics when Italy's shooters drained 17 3s and embarrassed the Americans in a precursor of what was to come.

This time against Italy, defending the 3-point will be a primary focus. Also, though, since Italy does not have the caliber of guards that Slovenia has, we may see a return to more of the fullcourt trapping and gambling for steals than we saw against Puerto Rico and China.

• For more of Chris Sheridan's analysis, Click here.
USA vs. Italy, ESPN2
Wednesday, 6:30 a.m. ET Live
Wednesday 10 p.m. ET Replay
"No way," James said with a chuckle. "It's too far away."
But after three double-digit victories, the idea of the U.S. winning its first FIBA World Championship since 1994 isn't far-fetched.
The U.S. has won its first three Group D games -- against Puerto Rico, China and Slovenia -- by an average of 20.3 points. It hasn't trailed after halftime.
The Americans face their sternest test in group play Wednesday night against Italy, which improved to 3-0 with a comeback victory over Senegal on Tuesday.
"We're improving every game," forward Shane Battier said. "If we can continue to play the defense we've shown in stretches for longer stretches, we're going to be in very good shape for this championship."
The victory over Slovenia clinched a trip to the second round, which was seen as a foregone conclusion.
Captain Dwyane Wade had 20 points to lead the U.S. in scoring for the second game in a row. Wade is the team's top scorer, averaging 19.7 points per game.
LeBron James added 19 points, Elton Brand 16 and Carmelo Anthony 14 for the Americans, who shot 56 percent from the floor.
Point guard Chris Paul had nine assists and two turnovers. Kirk Hinrich led the U.S. with seven rebounds.
Sani Becirovic scored 18 points to lead Slovenia, which had five players in double figures.
The U.S. used a potent combination of defense and 3-point shooting to blow the game open.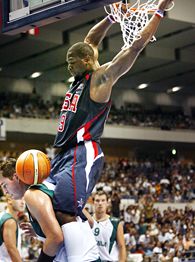 AP Photo/David GuttenfelderDwyane Wade scored 20 points as Team USA punched its ticket to the second round.
Three-point shooting had been one of Team USA's few flaws in the first two games. The Americans shot 33 percent from beyond the arc against Puerto Rico and 30 percent against China.
On Tuesday night, their long-range shots finally started to fall. The U.S. went 7-for-11 on 3-point shots (64 percent) in the first half and finished 10-for-20 (50 percent).
Battier went 3-for-3 from beyond the arc and James and Antawn Jamison each hit two of four.
"It's a totally different thing when they're hitting 3-point shots," Slovenian swingman Bostjan Nachbar said. "When they make 3s, you can't pull the defenders in and hope for rebounds. That opens the lane, and then they're really tough to stop."
At the defensive end, the U.S. struggled to stop the Slovenians in the early going but quickly adjusted. Slovenia had its biggest lead -- 21-16 -- with 2:45 to play in the first quarter when the Americans went on an 11-0 run. During the spurt, the U.S. forced three turnovers in less than two minutes.
With four NBA players, the Slovenians weren't awed by Team USA. But they needed to take better care of the ball to have any hopes for a massive upset. They also needed to hit 3-point shots to stretch the American defense.
Slovenia made only two of six 3-point shots in the first half and finished 6-for-15 (40 percent).
"Tonight in the first half, our defense was the best it's been," U.S. assistant coach Jim Boeheim said. "We held them to two 3-point shots in the first half. That's a big statistic, I think, for us. That and forcing turnovers. Those two things are why we were ahead at halftime. And when you force turnovers you get easier shots at the other end."
The U.S. harried Slovenia into 16 first-half turnovers, which led to 22 points, many of them on dunks. Slovenia finished with 25 turnovers.
In the first three games here, the Americans have forced 64 turnovers.
The Americans led Slovenia by 29 points in the second half before falling asleep and letting the Slovenians pull within 105-94 with 2:15 to go. Wade's putback ended the run.
"They didn't go away," Battier said. "There's something to be said for that."

Copyright 2006 by The Associated Press
SPONSORED HEADLINES
MORE OLYMPICS HEADLINES
MOST SENT STORIES ON ESPN.COM
FIBA World Championship
Co-captains Carmelo Anthony, LeBron James and Dwyane Wade and coach Mike Krzyzewski lead a U.S. team trying to end several years of disappointing results and bring home the world title.
When: Aug. 19-Sept. 3
Where: Japan
Schedule | Standings | Scoreboard
MEDAL ROUND
• Spain routs Greece for gold medal
• Lithuania beats Germany for seventh place
• Sheridan: Team USA rebounds

• U.S. beats Argentina, wins bronze
• Gasol out with partial fracture
• France beats Turkey, finishes fifth
• Sheridan: U.S. fails at worlds, again

• Broussard: U.S. has lost grip on game

• Greece beats Team USA 101-95
• Spain beats Argentina, will play for gold
• Sheridan: Coach K's Greek tweak
• Fraschilla breaks down final four
• Sheridan: Things to dislike about win

• U.S. beats Germany 85-65 with D
• Greece beats France, awaits U.S.
• Spain, Argentina bring similarities to semi
• Turkey, France will play for fifth
• Sheridan: U.S. ready for Dirk attack

• Sheridan: U.S. will win silver

• Spain, Argentina win, set up showdown
• Sheridan: World media likes U.S. chances

• U.S. routs Australia, 113-73
• Roundup: Nowitzki saves Germany
• Roundup: Argentina, Lithuania win
• Sheridan: Bizarre Lithuania ending
• Scoop: If all else fails, pray
• Fraschilla breaks down round of 16
• Sheridan: U.S. braces for medal round

• Sheridan blog: U.S.-Australia anecdotes
TEAM USA: PRELIMS
• U.S. rests Wade in easy win over Senegal
• Sheridan: Bittersweet for Bosh

• Melo scores 35 as U.S. wins group
• Sheridan: Wake-up call

• Rules: FIBA vs. NBA

• Sheridan: U.S. finding form

• U.S. cruises past Slovenia 114-95
• Sheridan: Battier survives Yao
• USA blows out China 121-90
• U.S. 111, Puerto Rico 100
• Sheridan: Mixed grades for opener

OTHER TEAMS: PRELIMS
• Aug. 24: Nowitzki's 47 fuel Germany in 3 OTs
• Aug. 23: Argentina, Spain win groups
• Aug. 22: Yao can't save China in OT
• Aug. 21: Argentina, Angola reach Sweet 16
• Aug. 20: Puerto Rico gets win
• Aug. 19: Germany, Argentina win

OTHER STORIES
• Wade likes coming off bench
• New Zealand coach resigns
• Battier wears U.S. colors with pride
• Paul dishes on (or to) U.S. stars
• Ginobili doesn't mind sharing minutes
• Angola no longer sacrificial lamb
• Stiebing resurrects career as coach of Qatar

PREVIEW
• Sheridan: U.S. won't win tourney

• Fraschilla: Argentina formidable in Group A
• Fraschilla: Nowitzki, Gasol in Group B
• Fraschilla: Greece, Brazil highlight Group C
• Fraschilla: U.S. favored in Group D