Worlds roundup: Argentina, Spain win groups
Updated:
August 23, 2006, 12:01 PM ET
ESPN.com news services
Only one group winner is undecided after play Wednesday at the FIBA World Championship. Argentina finishes first in Group A, Spain in Group B and the United States in Group D. The Turkey-Greece game will determine the top team in Group C.
Group A
Argentina 98, Nigeria 64
SENDAI, Japan -- Andres Nocioni scored 23 points as Argentina secured first place in Group A.
Nocioni, the Chicago Bulls forward who hurt his left ankle in the third quarter of Monday's game against Venezuela, didn't miss a shot Wednesday. He was perfect from the field and was 5-for-5 from the 3-point line.
"I don't remember ever having a game where I didn't miss a shot," Nocioni said. "We played with a lot confidence in our shooting today."
Argentina, runner-up at the 2002 worlds in Indianapolis, improved to 4-0. Nigeria dropped to 1-3.
Lebanon 74, France 73
SENDAI, Japan -- Joseph Vogel's free throw with 23 seconds left lifted Lebanon to a stunning 74-73 win over France.
Vogel, who was born in the United States but has Lebanese citizenship, made a hook shot and was fouled. His free throw gave Lebanon a 74-72 lead.
Fadi El Khatib led Lebanon (2-2) with 29 points. Boris Diaw, who played 29 minutes, led France with 14 points and Florent Pietrus had 14.
Lebanon lost all five games and finished in last place at the 2002 worlds in Indianapolis. They beat Venezuela in their first game and could advance with a win over Nigeria on Thursday.
They had to play Wednesday without American coach Paul Coughter, who was ill with the flu and stayed at the team hotel.
France will face Venezuela on Thursday.
Serbia-Montenegro 90, Venezuela 65
SENDAI, Japan -- Igor Rakocevic scored 26 points and Darko Milicic added 18 as defending champion Serbia and Montenegro cruised to a 90-65 victory over Venezuela.
Milicic, a center for the NBA's Orlando Magic, had six blocked shots, 11 rebounds and was 8-for-16 from the field.
"We played a good game," Milicic said. "After we lost the first two games, we've started playing with more confidence and all the guys hustled today."
Serbia-Montenegro improved to 2-2 in Group A and is virtually assured of a place in the second round. Venezuela dropped to 1-3.
Group B
Spain 93, Angola 83
HIROSHIMA, Japan -- Spain's big game in the opening round of the worlds was against Germany. Angola turned out to be its toughest.
Two days after beating its fellow European power by 21 points, Pau Gasol scored 28 points to lead Spain to a victory over Angola, the African champions' first loss of the tournament.
The win guaranteed Spain (4-0) the top spot in the six-team group. Both teams had already advanced to the 16-team second round, but Angola (3-1) continued its impressive tournament run by staying with Spain until the final minutes.
"Angola's been a real tough opponent for everybody and we knew they would be tough," said Spain reserve guard Rudy Fernandez, who finished with 16 points. "We are very happy to secure first in the group. Angola can be very dangerous for any team and they could have a high-quality finish."
Germany 81, Panama 63
HIROSHIMA, Japan -- Dirk Nowitzki shook off a poor shooting first half to finish with 25 points and Germany advanced to the second round with an 81-63 victory over Panama.
Germany (3-1) plays Angola (3-1) on Thursday with the winner finishing second in the six-team group behind Spain (4-0).
Nowitzki, who led the Dallas Mavericks to the NBA Finals last season, was 4-for-10 from the field in the first half as Panama (0-4) took a 38-33 lead with 1:29 left in the second quarter.
But Germany scored the final four points of the first half and then opened the second half with a 16-0 run to take a 53-38 lead with 5:33 left in the second quarter.
New Zealand 60, Japan 57
HIROSHIMA, Japan -- Kirk Penney's 3-pointer with 31 seconds to play capped New Zealand's comeback from an 18-point halftime deficit and gave it a 60-57 victory over Japan in the opening round of the worlds.
New Zealand (1-3) was on the verge of being eliminated from advancing to the second round, in what would have been a bitter disappointment after finishing fourth in 2002.
But led by Pero Cameron, who had all but two of his 23 points in the second half, New Zealand is still alive in the tournament with one game to play. A victory over Panama (0-4) on Thursday would guarantee New Zealand moving on and it could also happen with a loss in a three-team tiebreaker with Japan (1-3) and Panama.
The sellout crowd in 10,000-seat Green Arena was celebrating the host country moving on as the home team took a 38-20 halftime lead by way of its quickness and using most of the 24-second shot clock.
Group C
Greece 91, Brazil 80
HAMAMATSU, Japan -- Nikos Hatzivrettas scored 14 points Wednesday to lead Greece to its fourth straight win, beating Brazil 91-80 and setting up a final-day showdown with rival Turkey for first place in Group C.
Marcelinho Machada scored 25 for Brazil and Alex Garcia added 17.
Brazil staged a comeback in the fourth quarter with a 21-2 run, rallying within a point before Greece took back the advantage.
Brazil (1-3) plays Lithuania on Thursday in its final game and could fail to qualify for the second round, depending on the result of other matches involving Australia (1-3) and Lithuania (2-2).
Turkey 76, Qatar 69
HAMAMATSU, Japan -- Engin Atsur scored 12 points and Turkey, which has already qualified for the second round, beat winless Qatar 76-69.
Turkey (4-0) used its key players sparinging with 10 of its 12 players seeing action.
Ali Saeed led Qatar (0-4), with 20 points while Abdul Ali added 15.
Qatar trailed 65-49 at the end of the third quarter but made a game of it in the fourth, outscoring Turkey 20-11 and pulling to within five points with two minutes to go.
Lithuania 78, Australia 57
HAMAMATSU, Japan -- Guard Aryvdas Macijauskas scored 20 points to lead Lithuania to a victory over Australia.
Darius Songaila, who signed with the Washington Wizards last month, added 14 points for Lithuania (2-2).
Brad Newley scored 15 points for Australia (1-3) and Milwaukee Bucks center Andrew Bogut added 12. Australia played poorly throughout the game and will have a tough time advancing to the second round from Group C. It plays its final group game Thursday against winless Qatar.
The lopsided score won't help Australia -- if teams finish with identical records, point differentials are used to help break the tie.
Group D
China 100, Senegal 83
SAPPORO, Japan -- Yao Ming scored 26 points, right at his tournament-best average, and China beat winless Senegal.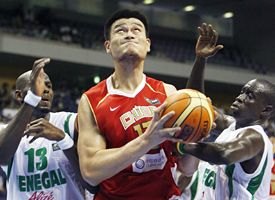 AP Photo/David GuttenfelderYao Ming scored 26 and China won but needs help to advance beyond pool play.
Former NBA player Wang Zhizhi added 19 points and Wang Shipeng had 17, including three big 3-pointers in the fourth quarter, for China (1-3). The Chinese, who close Group D play against Slovenia, kept alive their hopes of reaching the round of 16 but still needed help.
Jules Aw scored 19 points for Senegal (0-4), which is all but certainly headed for a winless stay in Japan. Senegal closes its tournament against the United States on Thursday night.
Yao, who came in averaging 26.7 points, had 10 in the first 5:03. But he managed only two more the rest of the first half, and Senegal led 49-45 at the break.
Senegal pushed the lead to 55-47 early in the third quarter before Yao scored eight straight points to tie the game. His two free throws with 4 seconds left gave China a 71-68 advantage heading to the fourth.
The game was tied at 73 before Wang Shipeng hit a 3-pointer and Wang Zhizhi followed with a bucket. Senegal was still within four midway through the period, but Wang Shipeng nailed consecutive 3-pointers as China pushed its lead to 90-80 with under 3 minutes to go and cruised from there.
Slovenia 90, Puerto Rico 82
SAPPORO, Japan -- Jaka Lakovic scored 24 points, and Slovenia contained Puerto Rico's high-scoring backcourt while building a big first-half lead in a 90-82 victory at the worlds.
Beno Udrih added 16 points and Primoz Brezec had 14 for the Slovenians, who tied Puerto Rico for third place in Group D at 2-2. The top four teams in each group advance to the round of 16.
Carlos Arroyo scored 17 of his 21 points in the second half and Elias Ayuso added 20 for the Puerto Ricans. They came in averaging 46 points between them, with Arroyo second in the tournament with 25.7 per game and Ayuso third at 20.3. Ayuso was leading the field in 3-point percentage at 76.2 percent (16-of-21).
But Arroyo was scoreless for the first 16½ minutes and had only four points in the first half, when Slovenia led by as much as 22. Ayuso had seven points and only one 3-pointer at halftime.
Information from The Associated Press and Reuters was used in this report.
FIBA World Championship
Co-captains Carmelo Anthony, LeBron James and Dwyane Wade and coach Mike Krzyzewski lead a U.S. team trying to end several years of disappointing results and bring home the world title.
When: Aug. 19-Sept. 3
Where: Japan
Schedule | Standings | Scoreboard
MEDAL ROUND
• Spain routs Greece for gold medal
• Lithuania beats Germany for seventh place
• Sheridan: Team USA rebounds

• U.S. beats Argentina, wins bronze
• Gasol out with partial fracture
• France beats Turkey, finishes fifth
• Sheridan: U.S. fails at worlds, again

• Broussard: U.S. has lost grip on game

• Greece beats Team USA 101-95
• Spain beats Argentina, will play for gold
• Sheridan: Coach K's Greek tweak
• Fraschilla breaks down final four
• Sheridan: Things to dislike about win

• U.S. beats Germany 85-65 with D
• Greece beats France, awaits U.S.
• Spain, Argentina bring similarities to semi
• Turkey, France will play for fifth
• Sheridan: U.S. ready for Dirk attack

• Sheridan: U.S. will win silver

• Spain, Argentina win, set up showdown
• Sheridan: World media likes U.S. chances

• U.S. routs Australia, 113-73
• Roundup: Nowitzki saves Germany
• Roundup: Argentina, Lithuania win
• Sheridan: Bizarre Lithuania ending
• Scoop: If all else fails, pray
• Fraschilla breaks down round of 16
• Sheridan: U.S. braces for medal round

• Sheridan blog: U.S.-Australia anecdotes
TEAM USA: PRELIMS
• U.S. rests Wade in easy win over Senegal
• Sheridan: Bittersweet for Bosh

• Melo scores 35 as U.S. wins group
• Sheridan: Wake-up call

• Rules: FIBA vs. NBA

• Sheridan: U.S. finding form

• U.S. cruises past Slovenia 114-95
• Sheridan: Battier survives Yao
• USA blows out China 121-90
• U.S. 111, Puerto Rico 100
• Sheridan: Mixed grades for opener

OTHER TEAMS: PRELIMS
• Aug. 24: Nowitzki's 47 fuel Germany in 3 OTs
• Aug. 23: Argentina, Spain win groups
• Aug. 22: Yao can't save China in OT
• Aug. 21: Argentina, Angola reach Sweet 16
• Aug. 20: Puerto Rico gets win
• Aug. 19: Germany, Argentina win

OTHER STORIES
• Wade likes coming off bench
• New Zealand coach resigns
• Battier wears U.S. colors with pride
• Paul dishes on (or to) U.S. stars
• Ginobili doesn't mind sharing minutes
• Angola no longer sacrificial lamb
• Stiebing resurrects career as coach of Qatar

PREVIEW
• Sheridan: U.S. won't win tourney

• Fraschilla: Argentina formidable in Group A
• Fraschilla: Nowitzki, Gasol in Group B
• Fraschilla: Greece, Brazil highlight Group C
• Fraschilla: U.S. favored in Group D