Battier wears U.S. colors -- black and blue -- with pride
Updated:
August 25, 2006, 10:16 AM ET
Associated Press
SAPPORO, Japan -- Shane Battier had a quick response when he was asked to define his role on Team USA.
Sheridan: Challenges ahead
The U.S. made it through the preliminary round unscathed, learning a lesson to take no one lightly after having a much tougher time than any of them had expected in defeating Italy -- a team with no NBA players -- during opening round play in Sapporo, Japan.

The chances are extremely remote that the Americans will see another opponent without an NBA player on its roster, and for their first challenge they'll go up against a former overall No. 1 NBA draft pick in Andrew Bogut, a guy who had plenty to say a while back about the state of the U.S. national team.

• To read more of Chris Sheridan's analysis from the FIBA World Championship, click here.
• U.S.-Australia anecdotes
"See these floor burns?" he said, motioning to a nasty red spot on his forearm. "That's my role."
Battier doesn't make many highlight shows. But he's become an important part of the U.S. team as it prepares for the second round of the FIBA world championships.
The U.S. completed a five-game sweep of Group D with a 103-58 victory over Senegal on Thursday night. The Americans face Australia in the second round Sunday in Saitama. A victory in that game could set up a showdown with Germany and Dirk Nowitzki in the quarterfinals.
Battier is averaging 5.8 points per game through five games, all victories. He has 11 rebounds, five assists and three steals.
Those numbers don't jump off the stat sheet. But numbers don't begin to tell the story of the 27-year-old's contribution -- unless they start tallying bruises.
On a star-laden team, Battier is the guy most likely to incur bodily harm.
The Americans' 121-90 victory over China here this week featured a typical Battier performance. He scored the U.S.' first five points and didn't make another bucket the rest of the night.
But afterward, his teammates were buzzing about how Battier stood his ground when China's Yao Ming barreled through him. Yao, who was called for a charge, and Battier will be teammates with the Houston Rockets next season.
"I love playing with Shane because he does all the little things, like taking charges, chasing the ball, playing great defense," U.S. forward Elton Brand said. "When you look at this guy, he may be scoring seven, but he's responsible for numerous points as well as good defense. I really appreciate what he does."
Brand played with Battier at Duke in 1998 and 1999. Back then, Battier was more star than the workman. In 2000-01, he was the consensus National Player of the Year after leading Duke to the national title.
Battier's scoring average increased each season in Durham, peaking at 19.9 points per game his senior year. Vancouver picked him sixth overall in the 2001 draft. After he averaged 14.4 points per game in his rookie season, Battier's scoring average dropped in his second and third years, to a career low of 8.5 points per game in 2003-04.
A role player was born.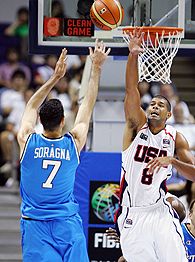 AP Photo/Mark J. TerrillShane Battier, right, contests a shot by Italy's Matteo Soragna.
No longer considered a scorer, the 6-8 Battier found other ways to make himself useful. And that got the attention of U.S. coach Mike Krzyzewski, who loved to rave about Battier when he coached him at Duke.
"Shane is the ultimate role player," Krzyzewski said here this week.
Even on the talented U.S. team, which features star captains LeBron James, Dwyane Wade and Carmelo Anthony, there's a place for a guy who knows his role.
Battier, who has represented the U.S. in four other competitions, is enjoying every minute of the experience.
"It probably has been one of the best basketball experiences I've had in my life," he said. "Unbelievable opportunity. A chance to play with some great players and be around some great people for a great country. The pictures I've taken on this trip and the memories I have will be with me forever."
Although Anthony and Wade have dominated the spotlight in the group play, Battier has provided a few snapshots of his own.
On a team that has struggled with long-range shooting, Battier is 6-for-10 from beyond the 3-point arc.
But his defense may be his most valuable asset, especially after Krzyzewski cut Bruce Bowen, widely considered the Americans' best defender.
"Well, I try," Battier said. "I'm trying to earn my hotel room, my uniform somehow. If I can just run around, get a couple of loose balls, make some shots, that's my job."
Battier's made a career of it. And now he's helping U.S. make a run for its first world championship since 1994, one little play at a time.
"There are a bunch of small plays that end up becoming big plays," Battier said. "Small plays are not something that you can turn on and off. You have to do those things every chance you get. For me, that's what I've been able to build a career out of."

Copyright 2006 by The Associated Press
FIBA World Championship
Co-captains Carmelo Anthony, LeBron James and Dwyane Wade and coach Mike Krzyzewski lead a U.S. team trying to end several years of disappointing results and bring home the world title.
When: Aug. 19-Sept. 3
Where: Japan
Schedule | Standings | Scoreboard
MEDAL ROUND
• Spain routs Greece for gold medal
• Lithuania beats Germany for seventh place
• Sheridan: Team USA rebounds

• U.S. beats Argentina, wins bronze
• Gasol out with partial fracture
• France beats Turkey, finishes fifth
• Sheridan: U.S. fails at worlds, again

• Broussard: U.S. has lost grip on game

• Greece beats Team USA 101-95
• Spain beats Argentina, will play for gold
• Sheridan: Coach K's Greek tweak
• Fraschilla breaks down final four
• Sheridan: Things to dislike about win

• U.S. beats Germany 85-65 with D
• Greece beats France, awaits U.S.
• Spain, Argentina bring similarities to semi
• Turkey, France will play for fifth
• Sheridan: U.S. ready for Dirk attack

• Sheridan: U.S. will win silver

• Spain, Argentina win, set up showdown
• Sheridan: World media likes U.S. chances

• U.S. routs Australia, 113-73
• Roundup: Nowitzki saves Germany
• Roundup: Argentina, Lithuania win
• Sheridan: Bizarre Lithuania ending
• Scoop: If all else fails, pray
• Fraschilla breaks down round of 16
• Sheridan: U.S. braces for medal round

• Sheridan blog: U.S.-Australia anecdotes
TEAM USA: PRELIMS
• U.S. rests Wade in easy win over Senegal
• Sheridan: Bittersweet for Bosh

• Melo scores 35 as U.S. wins group
• Sheridan: Wake-up call

• Rules: FIBA vs. NBA

• Sheridan: U.S. finding form

• U.S. cruises past Slovenia 114-95
• Sheridan: Battier survives Yao
• USA blows out China 121-90
• U.S. 111, Puerto Rico 100
• Sheridan: Mixed grades for opener

OTHER TEAMS: PRELIMS
• Aug. 24: Nowitzki's 47 fuel Germany in 3 OTs
• Aug. 23: Argentina, Spain win groups
• Aug. 22: Yao can't save China in OT
• Aug. 21: Argentina, Angola reach Sweet 16
• Aug. 20: Puerto Rico gets win
• Aug. 19: Germany, Argentina win

OTHER STORIES
• Wade likes coming off bench
• New Zealand coach resigns
• Battier wears U.S. colors with pride
• Paul dishes on (or to) U.S. stars
• Ginobili doesn't mind sharing minutes
• Angola no longer sacrificial lamb
• Stiebing resurrects career as coach of Qatar

PREVIEW
• Sheridan: U.S. won't win tourney

• Fraschilla: Argentina formidable in Group A
• Fraschilla: Nowitzki, Gasol in Group B
• Fraschilla: Greece, Brazil highlight Group C
• Fraschilla: U.S. favored in Group D

MOST SENT STORIES ON ESPN.COM