Undefeated Greece beats France, reaches semis
Updated:
August 30, 2006, 2:38 PM ET
Associated Press
SAITAMA, Japan -- Greece has been the forgotten of the unbeaten teams at the FIBA World Championship.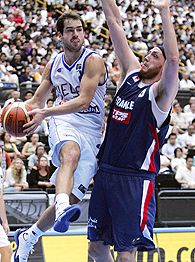 Junko Kimura/Getty ImagesVassilis Spanoulis, left, and Greece flew past France into the semis.
Now it's in the semifinals with another strong defensive effort and more balanced offense.
Greece held France to its lowest point total of the tournament in a 73-56 victory Wednesday that moved it into the semifinals for the third time in the last four worlds.
Greece (7-0) advanced to the final four and will meet the United States on Friday.
Entering the quarterfinals, Spain, Argentina and the United States were the undefeated teams garnering almost all of the attention. Like them, Greece didn't lose any of its first six games, and its seventh win may have been its most impressive.
"This game showed our team can control the games and play the way we need to play to win games," Greece coach Panagiotis Yannakis said. "Basketball is not only dribbling and shooting. It is about defense. My team can put ego out of the team."
Antonis Fotsis had 14 points, including two big jumpers midway through the second half. Greece, which finished fourth in 1994 and 1998 and didn't qualify in 2002, has been one of the better defensive teams in the tournament.
France (4-3), which came in averaging 70 points per game, struggled from the start against Greece, managing only 24 points in trailing by 10 at halftime.
"We were careless at the beginning of the game but we were not by ourselves," France coach Claude Bergeaud said. "With their pressure they found easy shots. I was surprised to see my team, which plays so easy, play with that pressure."
Boris Diaw, who plays for the Phoenix Suns, was 3-for-8 for the field and had nine points in 36 minutes for France. He was covered for the most part by Theodoros Papaloukas when Greece was in a man-to-man defense, but none of the French players were able to generate any kind of offense.
France, which had 64 points in an 11-point win over Nigeria in the opening round, finished 21-for-60 from the field (35 percent) and had 19 turnovers.
"We knew if we play hard defense and good defense, the French team, I don't think they could stay in the game more than 30, 35 minutes," Papaloukas said. "I think we wanted more to get to the semifinals and I think we deserved it."
FIBA World Championship
SEMIFINALS
Friday, Sept. 1
• Greece vs. USA, 3:30 a.m. ET, ESPN2
• Argentina vs. Spain, 6:30 a.m. ET, ESPN2
CHAMPIONSHIP
Sunday, Sept. 3
• Semifinal winners, 6:30 a.m. ET, ESPN2
• Full schedule
• Vote on the matchups

Greece was awarded the ball out of bounds with .9 seconds left in the third quarter, holding a 51-43 lead. Yannakis called a timeout and on the inbounds play, Fotsis hit a jumper from the right side as the buzzer sounded.
Fotsis hit a 3-pointer from the same side only a little deeper to open the fourth quarter and Greece was never threatened the rest of the way.
Lazaros Papadopoulos had 14 points for Greece, which beat France in the semifinals of last year's European championships on a 3-pointer by Dimitris Diamantidis in the final seconds. Diamantidis was 3-for-5 on 3s Wednesday and had 13 points and eight rebounds.
"We've been playing with confidence and we know for us the key is defense and as players we know we must start the game way," Diamantidis said. "We put our rhythm on the game from the beginning. We forced them to make turnovers and then we made shots and it was an easy game."
Mickael Gelabale had 12 points for France, which last reached the semifinals in 1954.
France's run to the quarterfinals was unexpected following the loss of star guard Tony Parker just days before the tournament. Parker, who plays for the San Antonio Spurs, broke a finger in the team's final exhibition game.
Bergeaud was asked if the outcome would have been different with Parker available.
"It is impossible to know," he said. "When Tony Parker got hurt we knew we had to build without him. Last year we played Greece with Tony Parker and it was no solution. Perhaps it is possible to change something such as control of the ball with him, but Greece is so strong not one player could change that."

Copyright 2006 by The Associated Press
FIBA World Championship
Co-captains Carmelo Anthony, LeBron James and Dwyane Wade and coach Mike Krzyzewski lead a U.S. team trying to end several years of disappointing results and bring home the world title.
When: Aug. 19-Sept. 3
Where: Japan
Schedule | Standings | Scoreboard
MEDAL ROUND
• Spain routs Greece for gold medal
• Lithuania beats Germany for seventh place
• Sheridan: Team USA rebounds

• U.S. beats Argentina, wins bronze
• Gasol out with partial fracture
• France beats Turkey, finishes fifth
• Sheridan: U.S. fails at worlds, again

• Broussard: U.S. has lost grip on game

• Greece beats Team USA 101-95
• Spain beats Argentina, will play for gold
• Sheridan: Coach K's Greek tweak
• Fraschilla breaks down final four
• Sheridan: Things to dislike about win

• U.S. beats Germany 85-65 with D
• Greece beats France, awaits U.S.
• Spain, Argentina bring similarities to semi
• Turkey, France will play for fifth
• Sheridan: U.S. ready for Dirk attack

• Sheridan: U.S. will win silver

• Spain, Argentina win, set up showdown
• Sheridan: World media likes U.S. chances

• U.S. routs Australia, 113-73
• Roundup: Nowitzki saves Germany
• Roundup: Argentina, Lithuania win
• Sheridan: Bizarre Lithuania ending
• Scoop: If all else fails, pray
• Fraschilla breaks down round of 16
• Sheridan: U.S. braces for medal round

• Sheridan blog: U.S.-Australia anecdotes
TEAM USA: PRELIMS
• U.S. rests Wade in easy win over Senegal
• Sheridan: Bittersweet for Bosh

• Melo scores 35 as U.S. wins group
• Sheridan: Wake-up call

• Rules: FIBA vs. NBA

• Sheridan: U.S. finding form

• U.S. cruises past Slovenia 114-95
• Sheridan: Battier survives Yao
• USA blows out China 121-90
• U.S. 111, Puerto Rico 100
• Sheridan: Mixed grades for opener

OTHER TEAMS: PRELIMS
• Aug. 24: Nowitzki's 47 fuel Germany in 3 OTs
• Aug. 23: Argentina, Spain win groups
• Aug. 22: Yao can't save China in OT
• Aug. 21: Argentina, Angola reach Sweet 16
• Aug. 20: Puerto Rico gets win
• Aug. 19: Germany, Argentina win

OTHER STORIES
• Wade likes coming off bench
• New Zealand coach resigns
• Battier wears U.S. colors with pride
• Paul dishes on (or to) U.S. stars
• Ginobili doesn't mind sharing minutes
• Angola no longer sacrificial lamb
• Stiebing resurrects career as coach of Qatar

PREVIEW
• Sheridan: U.S. won't win tourney

• Fraschilla: Argentina formidable in Group A
• Fraschilla: Nowitzki, Gasol in Group B
• Fraschilla: Greece, Brazil highlight Group C
• Fraschilla: U.S. favored in Group D

MOST SENT STORIES ON ESPN.COM