On poor shooting night, U.S. beats Germany with D
Updated:
August 30, 2006, 7:12 PM ET
Associated Press
SAITAMA, Japan -- So far, no one at the FIBA World Championship has figured out how to counter Team USA's superior skills, athleticism and depth. Germany provided a clue Wednesday night.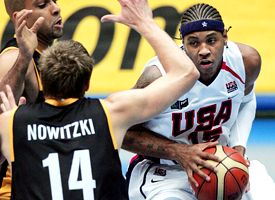 AP Photo/Itsuo InouyeDirk Nowitzki, left, couldn't stop Carmelo and the U.S. by himself.
The Germans packed the paint and forced the Americans to fire from afar. The strategy worked for a half before the U.S. pulled away for an 85-65 victory.
It may have been the scariest 20-point win in team history. The Americans struggled against the Germans' zone defense and were out of sync for much of the night.
The Americans' performance provided a glimmer of hope for defense-oriented Greece, which faces the U.S. in the semifinals Friday. Spain and Argentina, which meet in the other semifinal, also will take note.
"I'm sure we're going to see a lot of zone," U.S. guard Kirk Hinrich said. "We have up 'til now, and I'm sure we will the remainder of the games. And that's fine. We've got guys who can make shots, and for whatever reason we just didn't do that tonight."
Indeed, the U.S. struggled through its worst shooting performance -- 38 percent from the field and 25 percent from 3-point range -- in seven games.
The only worse shooting came from German star Dirk Nowitzki, who finished with more turnovers (five) than baskets (three). He was 3-for-12 from the floor and finished with 15 points, tied for the team high with Ademola Okulaja.
The Americans' leading scorer was Carmelo Anthony, who scored 19 points but was 2-for-12 in the first half.
Sheridan: Things to dislike
The Greek coaching staff had to be positively giddy with what it saw in the U.S.-Germany game Wednesday night, and Spain or Argentina will be taking a good, long look at this game tape once those two get finished with each other in the other semifinal and one of them gets the U.S. in the gold or bronze medal game.

• To read more of Chris Sheridan's analysis from the FIBA World Championship, click here.
SEMIFINALS
Friday, Sept. 1
• Greece vs. USA, 3:30 a.m. ET, ESPN2
• Argentina vs. Spain, 6:30 a.m. ET, ESPN2

CHAMPIONSHIP
Sunday, Sept. 3
• Semifinal winners, 6:30 a.m. ET, ESPN2
• Full schedule
• Vote on the matchups

"My shot wasn't falling, but we're going to have nights like that when shots don't fall," said Anthony, who went 5-for-7 after halftime. "We keep shooting. We know we're capable of making those shots. Coach [Mike Krzyzewski] told us to keep shooting. That's what we did."
The U.S. is at its most potent when it is running the floor and attacking the basket. But it launched 40 of its 85 shots from beyond the 3-point arc.
At halftime, this looked like the nightmare scenario envisioned by skeptics who have questioned the Americans' shooting touch. German coach Dirk Bauermann packed the lane with a zone defense and dared the Americans to fire away from outside.
Others have tried to do the same thing, but this time the strategy worked.
"We switched our defense and played a lot of zone in the first half," Bauermann said. "In the second half, they turned up the heat and played a great defensive game, and when you play like that you can beat anyone and win the gold."
The U.S. pulled away with defense and rebounding. It pressured the Germans into 24 turnovers and hammered them 48-34 on the backboards, including a 22-6 advantage on the offensive glass.
"The U.S. was better defensively," Bauermann said. "They turned us over and killed us on the offensive glass."
True enough. The U.S. is two wins away from its first gold medal since 1994 in this competition. But it will take more than rebounding and defense to mount the winner's podium on Sunday night.
The Americans didn't appear medal-worthy for much of Wednesday night.
Dwyane Wade went 1-for-11 from the floor and fired two air balls from beyond the arc. Shane Battier missed all three 3-pointers he tried. LeBron James was 6-for-10 from the floor but had seven turnovers.
"We weren't taking bad shots," said Wade, who left the game for a few minutes after taking an inadvertent shot to the face from Germany's Pascal Roller. "They were open looks."
Given its dreadful shooting, the U.S. seemed fortunate to take a 40-39 lead into the dressing room. One reason: The Americans kept Nowitzki off balance by running platoons of defenders at him.
"We tried to give him different looks and not try to send him to the free-throw line," Anthony said. "That's his moneymaker right there. Just playing against him all year long, we kind of knew some of the stuff he was capable of doing."
At halftime, Krzyzewski decided to turn up the defensive pressure. Smart move. The Germans turned the ball over 13 times in the second half, and that allowed the U.S. to take control.
With three steals in the second half, Anthony was among the U.S.' most active defenders. In a dazzling one-minute sequence in the third quarter, the Denver star dunked on a fastbreak, nailed a 3-pointer and then stole a pass and cruised in for a breakaway dunk.
"You've got to do little things to try to find your rhythm," Anthony said.
Anthony sparked an 18-4 run that gave the U.S. a commanding 60-45 lead. The Germans never threatened again. But they had thrown a scare into the U.S. while providing new hope for the rest of the field.
"We missed a lot of shots but defensively did what we had to do," Krzyzewski said. "We won even though we missed a lot of shots."

Copyright 2006 by The Associated Press
SPONSORED HEADLINES
MORE OLYMPICS HEADLINES
MOST SENT STORIES ON ESPN.COM
FIBA World Championship
Co-captains Carmelo Anthony, LeBron James and Dwyane Wade and coach Mike Krzyzewski lead a U.S. team trying to end several years of disappointing results and bring home the world title.
When: Aug. 19-Sept. 3
Where: Japan
Schedule | Standings | Scoreboard
MEDAL ROUND
• Spain routs Greece for gold medal
• Lithuania beats Germany for seventh place
• Sheridan: Team USA rebounds

• U.S. beats Argentina, wins bronze
• Gasol out with partial fracture
• France beats Turkey, finishes fifth
• Sheridan: U.S. fails at worlds, again

• Broussard: U.S. has lost grip on game

• Greece beats Team USA 101-95
• Spain beats Argentina, will play for gold
• Sheridan: Coach K's Greek tweak
• Fraschilla breaks down final four
• Sheridan: Things to dislike about win

• U.S. beats Germany 85-65 with D
• Greece beats France, awaits U.S.
• Spain, Argentina bring similarities to semi
• Turkey, France will play for fifth
• Sheridan: U.S. ready for Dirk attack

• Sheridan: U.S. will win silver

• Spain, Argentina win, set up showdown
• Sheridan: World media likes U.S. chances

• U.S. routs Australia, 113-73
• Roundup: Nowitzki saves Germany
• Roundup: Argentina, Lithuania win
• Sheridan: Bizarre Lithuania ending
• Scoop: If all else fails, pray
• Fraschilla breaks down round of 16
• Sheridan: U.S. braces for medal round

• Sheridan blog: U.S.-Australia anecdotes
TEAM USA: PRELIMS
• U.S. rests Wade in easy win over Senegal
• Sheridan: Bittersweet for Bosh

• Melo scores 35 as U.S. wins group
• Sheridan: Wake-up call

• Rules: FIBA vs. NBA

• Sheridan: U.S. finding form

• U.S. cruises past Slovenia 114-95
• Sheridan: Battier survives Yao
• USA blows out China 121-90
• U.S. 111, Puerto Rico 100
• Sheridan: Mixed grades for opener

OTHER TEAMS: PRELIMS
• Aug. 24: Nowitzki's 47 fuel Germany in 3 OTs
• Aug. 23: Argentina, Spain win groups
• Aug. 22: Yao can't save China in OT
• Aug. 21: Argentina, Angola reach Sweet 16
• Aug. 20: Puerto Rico gets win
• Aug. 19: Germany, Argentina win

OTHER STORIES
• Wade likes coming off bench
• New Zealand coach resigns
• Battier wears U.S. colors with pride
• Paul dishes on (or to) U.S. stars
• Ginobili doesn't mind sharing minutes
• Angola no longer sacrificial lamb
• Stiebing resurrects career as coach of Qatar

PREVIEW
• Sheridan: U.S. won't win tourney

• Fraschilla: Argentina formidable in Group A
• Fraschilla: Nowitzki, Gasol in Group B
• Fraschilla: Greece, Brazil highlight Group C
• Fraschilla: U.S. favored in Group D