With all of its talent, Canada didn't come together
TORINO, Italy -- They were standing about 5-feet apart in the mixed zone, an ashen Joe Sakic and the Russian kid, Alexander Ovechkin, fairly bouncing off the walls.
The captain of a Canadian team that seemed built for gold with oodles of talent, experience and grit, and the exuberant star of a team that never seemed to get it right at these tournaments.
One of them was going home. The other was high-fiving Russian writers and getting ready for a semifinal date with the plucky Finns.
What about Gretzky?
Keeping with the theme of disappointment, executive director Wayne Gretzky sounded very much like a man who'd had enough when he said he was going to reevaluate his position with Hockey Canada following Canada's quarterfinal loss to Russia.

"Quite honestly, I'm going to reassess where I fit and what I'm going to do in the future," Gretzky said. "Hockey Canada's wonderful and our country's great and I love it dearly. But I'm also human, too. It's really been a horrible three months for me."

Gretzky took over as the executive director in 2001 and selected the coaching staff and players for the 2002 Salt Lake City Olympics, 2004 World Cup of Hockey and the Torino team. He's also been involved in selecting players and coaches for World Championships.

"I'll reassess what's best for me and what's best for Hockey Canada, quite frankly," he said. "Listen, I just want them to win gold in 2010. If I'm part of that moving forward, great, if not, I hope they win gold."

When the Canadians were bounced in the semifinals in 1998 in Nagano and then lost the bronze medal game to Finland, there was a great hue and cry in Canada about the state of the game.

Gretzky, a member of that team, said there's no need for panic just because this team failed to win even one playoff game in 2006.

"Does this mean it's the end of Canadian hockey? I don't think so. We'll be back," he said. "Yeah, we're devastated we lost, but we're not going anywhere."
-- Scott Burnside

Everywhere you found Canadian red and white, you found that stunned look of disbelief. It is the look an entire nation bears today.
Gone. No gold-medal defense. Not even a sniff at a medal.
This was a Canadian team that had eight current or former NHL team captains, eight Stanley Cup winners and eight players who won gold in Salt Lake City, and they were still shut out in 15 of their last 16 periods, including all three in Wednesday's excruciating 2-0 quarterfinal loss to the Russians.
It was as exciting a game as you're likely to see, and there is no small regret this wasn't a gold-medal game. End to end. Great goaltending. Big hits.
The teams were scoreless entering the third period. Yet, it was the Russians who seemed to sense their moment, not the Canadians. It was the Russians who found the glue, while the Canadians slowly unraveled.
Ovechkin scored the winner 1:30 into the third on a Russian power play with -- wait for it -- Todd Bertuzzi in the box after taking the kind of foolish penalty critics said he was prone to taking when he was made a controversial member of this team.
The Canadians had a flurry of chances late, but Alexei Kovalev salted it away with 23 seconds to go.
The Bertuzzi penalty -- he picked defenseman Sergei Gonchar behind the Russian net -- will generate lots of buzz on the sports talk radio circuit, but it had little to do with the crux of why this Canadian team was such a disappointment.
The fact is that this group of players, as talented and as experienced as it was, never became anything more than simply a group of individuals. Talented. Committed. But nothing approaching a team.
"Well, I know we'll be probably thinking about it a lot. I know we looked at all the tapes every night and thought that we're a talented enough group that has scored, does score at the National Hockey League level," head coach Pat Quinn said. "But the real bottom line is you have to come together as a team and we didn't do it as well as we needed to."
Never was that more apparent than when they played the Russians, a team that seemed so unlikely to pull itself together in such a fashion three weeks ago and is now the gold-medal favorite.
"In such a short tournament, chemistry is a very important thing, and since Day One, we've been talking about it and working on it. It's worked out well so far," Gonchar said.
"To beat Canada, it feels good," added Russian defenseman Darius Kasparaitis, a four-time Olympian. "But we want to have a gold medal, that's what we want. And then, when we win that, then we're going to remember that we beat Canada. But right now, it doesn't mean anything."
So often, it's been the Canadians on the other side of these emotions, putting wins in perspective, talking about future opponents, the importance of team play.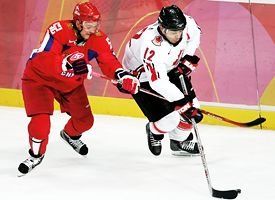 Robert Laberge/Getty Images Jarome Iginla and Team Canada will not defend their gold medal.
Instead, they tried to explain how it felt not just to fail, but fail in a way no one imagined was possible.
"Not good. It's not the outcome any of us wanted by any means," said Rob Blake, who was playing in his third Olympics.
"You expect to be there right at the end," added Sakic. "I think we learned a lot here about what it takes at this level, this stage. We weren't good enough."
If there was disbelief about what had failed to transpire here in Italy, there was no doubt the grim understanding of what awaits them on the other side of the Atlantic. A nation that lives and dies with its hockey heroes, and which debates intensely every development leading up to a tournament like this, will be in a fever pitch.
Goats will be identified.
Players who didn't live up to expectations.
And there are plenty to choose from.
Bertuzzi did not score. Simon Gagne scored once and wasn't a factor in Wednesday's game after being walloped by Kasparaitis. Joe Thornton had one goal. Vincent Lecavalier did not score. Bryan McCabe did not score and led the team in penalty minutes with 18.
"I think nobody expects to see that," admitted Kasparaitis. "I think Canada, they had a great goalie, but I think their offensive power, maybe they left it at home. I don't know."
And there's the rub.
A team that failed to deliver offensively did not include rising stars like Eric Staal and Jason Spezza, who watched from the sidelines here as members of the taxi squad, while Sidney Crosby was also left off the roster.
But would things have been any different? Would there have been better cohesion? Would more goals have been scored?
"I suppose we'll get second-guessed on the roster. There's always other people you can put in, I suppose. But these young men came and they played their hearts out and right now, don't feel very good," Quinn said. "I'm sure they felt they let some people down, including themselves."
Some of the blame, naturally, will fall on the shoulders of executive director Wayne Gretzky. He knows that and, in fact, predicted it at the beginning of the tournament.
"I'll take all the -- deservedly so -- the responsibility of us not winning. That's the situation I'm in and the position I have," Gretzky said. "[I] feel tremendously responsible that we didn't win.
"It's nobody else's fault."
As noble as such sentiments are, it seems the burden lies in the Canadian dressing room and nowhere else.
Scott Burnside is an NHL writer for ESPN.com.
Hockey writer for ESPN.com
10 years at Toronto Sun, Windsor Star and National Post
Wrote best-selling true crime book "Deadly Innocence"
SPONSORED HEADLINES
MORE OLYMPICS HEADLINES
MOST SENT STORIES ON ESPN.COM