Finland's teamwork exposes another Olympic favorite
TORINO, Italy -- In a classic battle of skill versus determination, it was the iron will of the Finns decisively trumping the Russians' raw talent, and in the process, earning their first berth in an Olympic gold-medal game.
The Finns, who have been virtually flawless throughout this Olympic tournament, were so again in Friday's semifinal, shutting down the flashy Russians, 4-0. The win sets up a classic clash with arch-nemesis Sweden on Sunday. The Finns have never won an Olympic gold in hockey.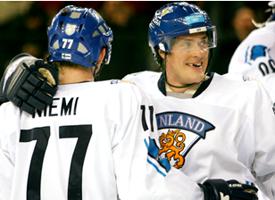 Robert Laberge/Getty ImagesTeemu Selanne (right) and Finland thoroughly dismantled Russia in Friday's semifinal win.
"It's a dream final. We've got five, six million people in our country, and I'll bet there's going to be every single one watching the game on TV," Florida Panthers captain Olli Jokinen said. "For our country, we've got a lot of bad memories playing against Sweden, but we're here to change that."
Before he left for Italy, Jokinen's teammates in Florida asked him when he was coming back. He told them he wouldn't be back until the day after the gold-medal game.
"And there were a couple of guys that were smiling over there a little bit. But we're this far and we're enjoying our time right now. It's an unbelievable feeling being in the gold-medal game," Jokinen said. "I don't think there's been a single person outside our locker room who believed we could go this far."
The Finns made believers of a Russia team that seemed to be peaking at just the right time, winning five straight games, including a riveting 2-0 win over Canada in the quarterfinals.
But in the face of superior firepower and, at least on paper, superior netminding, the Finns turned in their most complete game of the tournament. In almost every respect, it was a virtuoso performance.
Every time the Russians looked to make a pass, there was a Finn in their face or in their passing lane.
Every time the Russians looked to take a shot, there was a Finn in their face or in their shooting lane.
Every time there was a loose puck, it was a Finn that came up with it.
And when the Russians faltered, taking a penalty or coughing up the puck, the Finns made them pay.
"I think we've played a lot of perfect games in here," said Jarkko Ruutu, the official team agitator. "It's all about the team game, playing within a system. Look at the guys. First line to fourth line, every single guy is unselfish."
Friday's shutout was the fifth of the tournament for the Finns, who have allowed just five goals in seven games. But they are far from one-dimensional. They entered Friday's semifinal with the most potent power play in the tournament. It wasn't surprising, then, that they opened the scoring against Russia on the man advantage.
Ville Peltonen deflected a Kimmo Timonen wrist shot past Russian netminder Evgeni Nabokov for his third goal of the competition just 6:13 into the game. Playing on a line with Jokinen, Peltonen is another of the Finnish foot soldiers who has made a surprising contribution to the whole. A former fringe player with San Jose and Nashville with just 18 goals in 175 career NHL games, he added a lovely assist on the fourth and final goal by Jokinen. It was Peltonen's eighth point of the tournament.
Saku Koivu, again on the power play, and defenseman Toni Lydman, also added goals to complete their whitewash of the Russians.
"We got what we deserved. I think the score pretty much sums it up. We did not play well and we did not deserve to win. They were hungrier than we were and I don't know why," said Nabokov.
The defining moments of the game came late in the second period with the Finns up 3-0 and the Russians given a two-man advantage for 1:40 late in the second period. Facing down some of the game's best talents, Alex Kovalev, Ilya Kovalchuk and Alexander Ovechkin, a player some believe is the finest in the world, the Finns were unyielding.
A wicked one-timer from Kovalchuk caught Antero Niittymaki flush on the facemask, leaving him dazed but undaunted.
Throughout the two-man advantage, the Finns were able to clear the puck after every shot. No wild scrambles. No one lured out of position for the easy goal. No one breaking ranks.
It was so the entire game. It has been so the entire tournament.
"Russia's weakness is that they have a lot of individual skill, but they're not playing as a team," Ruutu said. "And when you play against a good team like we've been doing the whole tournament, that's been the difference. You create turnovers and capitalize on them, we don't really care who scores. All we really care is about the win."
Niittymaki is in many ways representative of the Finns' unexpected success here.
Not selected to the original Finnish roster, Niittymaki was thrust into the starters' role when Miikka Kiprusoff and Kari Lehtonen begged off the Olympics. The Finns had to cope with seven roster changes necessitated by withdrawal or injury before the tournament started. Another player, defenseman Sami Salo, was lost for the tournament with a shoulder injury in the quarterfinals.
It matters not to the Finns.
"We talked about that before the tournament. We said these are the guys in the room that are going to do it," said Montreal captain Saku Koivu. "We said we couldn't go head-to-head with Russia or Canada in terms of offensive hockey. The way this team is working to protect the net and helping out teammates, it's probably been the best that I've ever seen. Step by step, we're getting more confident, and right now the puck is going in for us."
Scott Burnside is an NHL writer for ESPN.com.
Hockey writer for ESPN.com
10 years at Toronto Sun, Windsor Star and National Post
Wrote best-selling true crime book "Deadly Innocence"
MOST SENT STORIES ON ESPN.COM