March, 3, 2015
Mar 3
2:22
PM ET
By
The Associated Press
| ESPN.com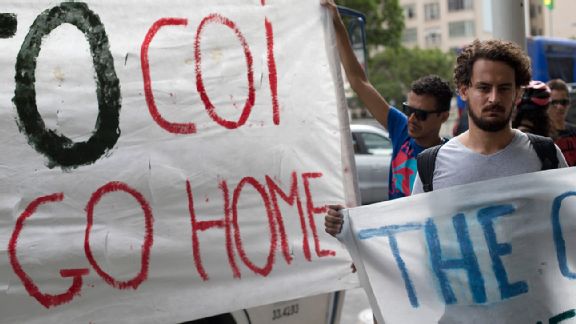 AP Photo/Silvia IzquierdoProtesters hold a banner that reads "COI go home," at the entrance of the hotel where International Olympic Committee met in Rio de Janeiro, Brazil, on Saturday.
RIO DE JANEIRO -- Environmental activists burst into the lobby of a luxury hotel on Rio's Copacabana Beach where IOC officials were meeting Saturday, protesting against ecological destruction related to the 2016 Olympics.
With little progress visible on Olympic promises to clean up the city's waterways filled with sewage and trash, and the Olympic golf course being carved out of a nature preserve, environmental issues have become a major issue.
A small group of activists managed to steal the spotlight from IOC President Thomas Bach when at least two women pushed their way into the lobby of the hotel where Bach was chairing a meeting of his executive board on another floor.
One of the activists, who grabbed a five-ring Olympic flag and tried to wave it, shouted and blew on a whistle as security guards tried to restrain her. Other protesters outside the hotel held banners, including one saying "Ecological Holocaust. IOC go home." Another read: "Thomas Bach is a nature killer!"
The chaotic scene was witnessed by about 100 journalists from around the world waiting for the start of a news conference by Bach.
Jean Carlos Novaes, who eventually reached the hotel lobby, said he represented the environmental group "Golf for Whom." Other protesters said they represented a group called "Occupy Golf," and "Occupy Marina da Gloria," the venue for Olympic sailing.
"We are not against the Olympics, but we are against the corruption around the golf course that is being arranged by the mayor (Rio Mayor Eduardo Paes)," Novaes said. "They are stealing with the Olympics as an excuse."
March, 1, 2015
Mar 1
3:50
PM ET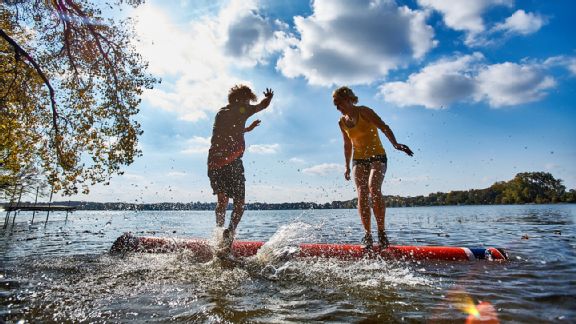 Courtesy of Abby HoeschlerChampion log-roller Abby Hoeschler hopes the growing popularity of log-rolling coupled with the rise of artificial logs could help expand the sparring sport into the Olympics one day.
Sports enter and exit the Olympics all the time. Baseball and softball became medal sports in 1992, were kicked out after 2008 and are lobbying hard to get back in by 2020 in Tokyo (where baseball is a Japanese national pastime). Wrestling has been in the Olympics since the ancient games in Greece, but was oddly temporarily booted out after 2012 before being voted back in for 2016.
Tug of War was in the Olympics until 1920. There are movements to get squash, ballroom dance and chess in the Olympics, as well as log-rolling.
Yes, log-rolling. While I would much rather see baseball back in the Olympics, I definitely would choose log-rolling over ballroom dance or chess.
"We're pretty realistic. I definitely don't think that I will be competing in the Olympics but hopefully I will at least be one of the coaches," champion log-roller Abby Hoeschler said. "I think it could take 20-25 years, but you look back at where snowboarding was in the late '70s, and things happen a lot faster these days."
Hoeschler's mother, Judy Scheer, grew up in Hayward, Wisc., where she fell in love with it 9she became a seven-time champion) and passed that love onto her children.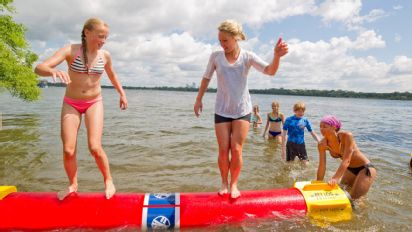 Courtesy of Abby HoeschlerHoeschler, right, hopes log-rolling continues to rapidly expand. "More people have learned to roll on the key logs in the past two years than in the past 150 years of the sport," she says.
"My siblings and I were big ski racers, tennis, soccer -– we did all those normal sports," Hoeschler said. "Log rolling was something we did in the summer. It definitely set us apart. It was a fun sport to train for."
I grew up in a town built on the logging industry (my high school team was the Lumberjacks) and each Fourth of July there were log-rolling and pole-climbing competitions. Log-rolling is definitely fun to watch.
"It's such an intense sport. It's a sparring sport," Hoeschler said. "You're on this log in the water with an opponent and you can't touch them. There's a center line you can't cross. It's sort of like boxing with your feet. You're doing maneuvers to dislodge your opponent. As a female, there aren't many opportunities where you can compete in sports that are intense like that.
"You step on the log, and if you make one wrong move, you've lost. You don't know if it will be 15 seconds or five minutes that you have to stay on. It requires a serious amount of focus and concentration. You can't let up."
February, 28, 2015
Feb 28
11:40
AM ET
By
The Associated Press
| ESPN.com
RIO DE JANEIRO -- The IOC is relaxing a rule that prohibited athletes from promoting non-official sponsors during the Olympics.
The International Olympic Committee executive board agreed on Thursday to modify a provision known as Rule 40, which
athletes strongly protested
because it stopped them from mentioning their own sponsors.
Under the proposed new rule, the IOC will allow "generic" or "non-Olympic advertising" during the Games. The change, which requires formal approval by the full IOC in Kuala Lumpur in July, would be in effect for next year's Olympics in Rio de Janeiro.
"It has to do with advertising around the games, on a social media site, or newspaper, or whatever," IOC spokesman Mark Adams said. "So if someone has a contract with a watch manufacturer, that may continue as long as the advert doesn't relate to the games."
Rule 40 prohibits athletes from using their names or likenesses for advertising during a nearly monthlong period around the games. Sanctions for violators can include disqualification and stripping of medals.
"Athletes have wanted this changed for a very long time," Adams said. "It's been a very long discussion."
Rule 40 was intended to protect official Olympic sponsors, who spend tens of millions of dollars for exclusive marketing rights.
The rule states: "Except as permitted by the IOC executive board, no competitor, coach, trainer or official who participates in the Olympic Games may allow his person, name, picture or sports performances to be used for advertising purposes during the Olympic Games."
Dozens of athletes launched a Twitter campaign during the 2012 London Olympics to urge an end to the rule. They used the hashtag "WeDemandChange2012."
February, 27, 2015
Feb 27
2:45
PM ET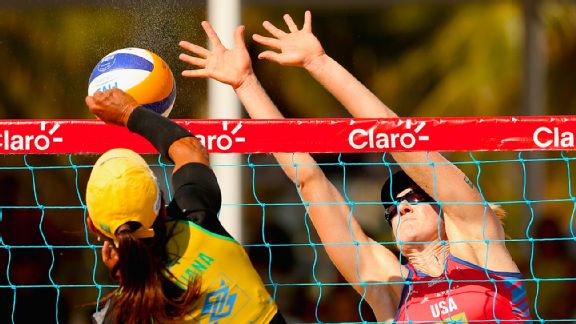 Matthew Stockman/Getty ImagesThe U.S. team is getting a preview of the venue and conditions in Rio ahead of the 2016 Summer Olympics.
What better way to preview the 2016 Rio Olympics than testing out Copacabana Beach? That's exactly what the top four U.S. men's and women's beach volleyball teams are doing this weekend when they face off against Brazil in a team event in Rio de Janeiro through March 1. Here are some of the athletes' first impressions of the Olympic city and the match action so far:
Emily Day
It's amazing that we're out here in 2015. We're getting a glimpse of what the 2016 Olympics will be like and getting used to the environment, the sand, the fans, how hot it is. All of that is huge for us. Playing on the Copacabana sands, under the hot Rio sun with the loud Brazilian fans, is something you can't get anywhere else. We can take those mental pictures and lessons learned back to the States and remember them when we're training.
[+] Enlarge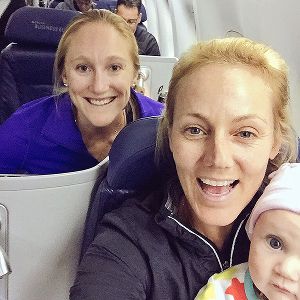 USA Volleyball Emily Day, left, playing partner Jennifer Kessy and Kessy's daughter, Aïla, are ready for Rio.
My partner, Jen Kessy, and I started practicing together in mid-January. It's somewhat frustrating to be out there because our intentions with the ball are good, but they are not as crisp as we'd like them to be. We're playing one game to 21, and if you aren't ready, it's tough. When you get done playing, our bodies are so used to playing and then you feel like you still have energy left -- you want to keep going.
The coolest thing about being in Rio? I love that we are Team USA. We don't get many opportunities where we can all root for one another. On the world tour, we are competing for ourselves as much as we are for Team USA because we're all vying for Olympic spots. Here, there is no pressure with Olympic qualification; everyone is cheering for one another. That's special, that's not something we get all the time.
Tri Bourne
The first day was a learning experience for us. We learned what level our training is at compared to where we want it to be during the season. I think we're feeling good for this point in the year. I keep catching myself saying, "Oh yeah, I should never do that," or "Oh yeah, I can't be foot faulting ... ever!" Learning how to deal with mistakes is a huge part of being an elite athlete. I'm loving my experience here in Rio. It's a great city and I feel very fortunate to have the opportunity to compete against the best in the world during my preseason.
[+] Enlarge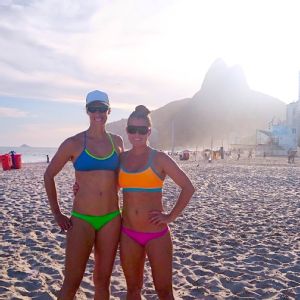 USA VolleyballLauren Fendrick and Brooke Sweat take in the Copacabana views after their match on Thursday in Rio.
Jen Kessy
Sadly, my first match back from having my baby went too quickly. It was only to 21 points, and I would have loved to have two games to 21, obviously. I was a little nervous that I was going to embarrass myself or my team -- I didn't know. I haven't played a lot, only for one month. It was better than I expected; we lost, and I hate losing, but it's a good learning experience for me. It felt really good to compete again. It gives you that something in your chest that you don't get when you're not playing.
After one of my first hits went down pretty hard, I turned to Emily and said: "Wow, I can still do that!" It's surprising sometimes; I thought for sure I was going to get blocked. The ball went down hard and I was super fired-up. I still got it -- it's just going to take a little longer to get back.
Kerri Walsh Jennings
I firmly believe in visualizing and knowing where you want to go in life. This event is perfect for that. We are hearing the sounds, seeing the sites, feeling the energy. Each place we play is unique, and Copacabana is certainly that. There is a lot of chaos and energy, so we're going to learn how to deal with it because we know the Olympics will be that times a million. At least we will have an idea, so when we prepare mentally, we will be ready for that.
There is definitely heat to contend with here. The thing about the heat is that it's the same for both teams. The Brazilians train in this every day, but they're still hot, and sweat. I'm never worried about the heat. I personally like it when it's hot or really cold because I feel like we can outlast other people. We played at night and it was no issue. We came out here a couple days early to get used to it; we trained twice a day in dead heat and got better with every training session.
[+] Enlarge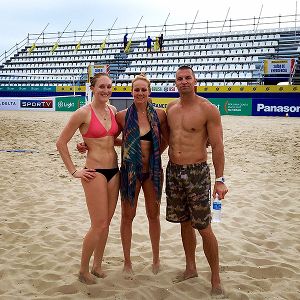 USA VolleyballEmily Day and Jennifer Kessy, pictured here with U.S. coach Rich Lambourne, say the test event will help the team familiarize itself with the conditions in Rio.
Off the sand, we hiked Sugarloaf Mountain and that was wonderful. We trained twice at the army base and then went to the gym afterward. It's at the bottom of Sugarloaf, and everything is so beautiful. You're in the culture and you don't feel like a tourist much because you're in the mix. I appreciate that.
Summer Ross
I love the Rio heat. I'm enjoying playing and also watching so many high-level games with only a five-minute wait in between the games. Playing in Rio is tough without many of our U.S. fans, but the Brazilians are all really nice to us. This one staff member follows Jen (playing partner Jennifer Fopma) and I around asking if we need water, fruit or anything.
John Hyden
During our matches today, it was pretty hot! In our first match, you could tell we were a bit rusty and we just began training three weeks ago. In the second game, we settled down and found our groove, and hopefully we can carry that into the weekend. It's great to be here to get a taste of where the Olympics will be held. The experience just makes you want to train even harder to get back here in 2016!
February, 27, 2015
Feb 27
2:09
PM ET
By
Ryan Garfat
| ESPN.com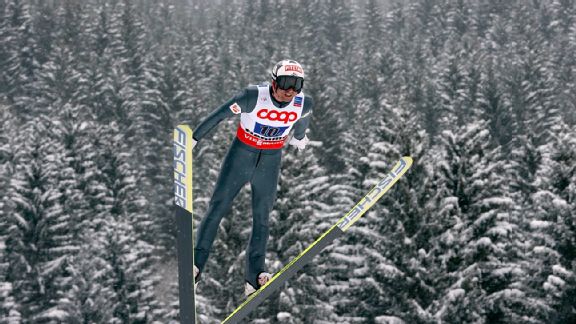 AP Photo/Matthias SchraderAustria's Mario Stecher soars through the air at the Nordic Ski World Championships in Italy in 2013. The 12-time Nordic combined World Cup winner and Olympic gold medalist retired following a 21-year career.
FALUN, Sweden -- Six-time Olympian Mario Stecher of Austria has ended his Nordic combined career, 21 years after winning his first of 12 World Cups.
The 37-year-old Stecher, who has been left out of the Austrian team for the Nordic skiing world championships, says "this is the right time. So far I've enjoyed this sport incredibly but now something is missing."
In 1994 at 16, Stecher won the second World Cup he competed in to launch a career that earned him 10 medals from major championships, including two Olympic team event titles in 2006 and 2010, and two world championship golds in 2011.
Stecher calls winning silver at the 2013 worlds shortly after recovering from knee surgery "one of my greatest moments ... That was my emotional highlight."