December, 10, 2013
Dec 10
4:22
PM ET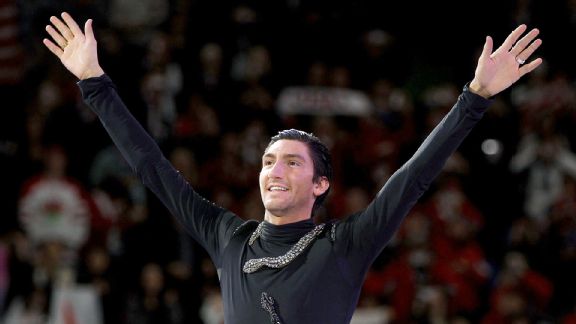 Matthew Stockman/Getty ImagesEvan Lysacek won an Olympic gold medal at the 2010 Vancouver Games.
Evan Lysacek is an expressive athlete who spent years perfecting polished and elegant body language. His ability to channel emotion and couple it with athleticism on the ice carried him to an Olympic figure skating gold medal in 2010. Conversely, Lysacek does not have much of a poker face, and he looked worried when he spoke to a room full of reporters at the Olympic media summit in early October.
Worried but resolute, which was natural for an elite competitor who had won the mind-over-matter tussle many times. Lysacek fell and injured himself while training in August, but he had recovered from injuries efficiently before. The world saw a shrinking time frame to qualify for Sochi. He saw a deadline he thought he could meet by following a rational plan. But the torn labrum in his left hip didn't mend and became a literal thorn in his side instead, putting him at risk of permanent damage if he continued to stress it.
"As the training intensified, so did the pain," Lysacek told reporters on a conference call Tuesday.
The call came hours after Lysacek had announced via an appearance on NBC's "Today" and elaborated on in an interview with Nancy Armour of the Associated Press what had appeared inevitable as the autumn went on and he couldn't compete: He would not be able to defend his title in Sochi, and hasn't plotted any course beyond that.
"I'm still processing what's going on with my health, and that devastation will take me quite a bit of time to get over, mentally," Lysacek said during Tuesday's call. "I haven't looked beyond that. I want to get back on the ice. In what capacity, I don't know yet."
Many counted him out long ago, but Lysacek refused to let go of the ladder until late last week, when it became obvious he couldn't enter an event in Ukraine, the last possible competition that would have enabled him to earn the minimum technical score required to be in the Olympic mix. "I never let myself think about the possibility of it not working out," he said.
And if it had? Lysacek's biggest risk in returning was not the competition with other, younger skaters with better hops. It was the comparison he would have provoked with his younger self. The image Lysacek left on the ice almost four years ago was a sublime, game-winning fadeaway jumper.
He defied the predictions that skating's modern scoring system would favor the steeplechase style of his Russian rival Evgeni Plushenko over a more complete program. As a bonus, Lysacek ended the Olympic championship shutout for his indomitable coach, Frank Carroll.
Lysacek has not competed since, first by choice, then because of a dispute with the U.S. federation, then because of injuries and lack of form. All his chips stacked up on this season, and he said in some ways he put more effort into it than he invested in the lead-up to the 2010 Vancouver Games. He was insistent that he had been on pace to compete to his own high standard. Lysacek injured himself practicing a quadruple jump, the trick he had won without in Vancouver but knew he had to have in his pocket for Sochi.
"Neither of us would have gone through what we did with the intensity we did if we didn't think I had a chance to win," Lysacek said of himself and Carroll.
His absence means the United States will send two far less decorated male skaters to the Winter Games. It may not mean the end of Lysacek's career, but if it does, it should be some comfort to him that he closed it with a performance that was nothing but net.
November, 11, 2013
Nov 11
9:13
PM ET
TORONTO -- The head of Hockey Canada, Bob Nicholson, said he's not sure how Team Canada will handle
Steven Stamkos
' injury, although it's not beyond the realm of possibility they could include Stamkos when the Canadian Olympic team is announced in late December even if he's not healed.
"You know what, it's too early even to talk about that. There is an injury clause in the agreement. But whether he's one month, two months, three months, we'll see what happens in the next 48 hours and start to discuss that," Nicholson said before Monday's Hall of Fame induction ceremony.
The injury clause says that teams can make changes only because of injury to their rosters once they are announced and those changes can be made basically until the start of the tournament in Sochi, Russia. That tournament begins almost exactly three months from now.
But does that mean a team could name an injured player and then make a switch if he's not healthy enough to play in the tournament early in the New Year?
Nicholson wasn't sure.
"We'll look at all those options there in the next 48 hours," he said.
Nicholson insisted this isn't about Team Canada, though, it's about Stamkos and what is best for him. Stamkos broke his right tibia in Monday's game between the Tampa Bay Lightning and Boston Bruins. He is expected to undergo surgery on Tuesday.
"It's just devastating that it happened to him today. We've got a lot of time to figure out where we're going to go and we just hope things go well with him," he said.
That said, the loss of one of the game's dominant offensive players will make an already difficult job for executive director
Steve Yzerman
, who happens to be Stamkos's GM in Tampa, even more difficult.
"You're never replacing Steve Stamkos. We have a lot of great players. Steve Yzerman has a very difficult job in putting this team together, but you don't replace Steve Stamkos and we'll just have to find another way to make sure the lineup's strong," Nicholson said.
Team Canada head coach Mike Babcock echoed those sentiments.
"Well, obviously brutal. Really unfortunate. Stammer came to our building the other night and he was an absolute superstar. It's hard to be a star when you play head to head with [Pavel] Datsyuk [and] he still was that night," Babcock told ESPN.com Monday night.
Babcock added that the most important thing is how Stamkos gets through this, not Canada's Olympic team.
"You know unfortunate for him, more-so than unfortunate for Canada or Mike Babcock is him. The NHL needs stars. He's a star. And he's got charisma and he's got a way about him. He loves the game and it shows and he's a fan favorite because of it."
Wayne Gretzky joined the rest of the hockey world in expressing sympathy for the
Stamkos situation.
"It's horrible. First of all, you know I say this all the time. Two things: One, the players today are bigger, better and stronger than we were, than [when] we played. It's a physical game, it's a fast game.
"Secondly, they all carry themselves so well from Crosby and Ovechkin, Stamkos, Perry, Getzlaf. Our game should be very proud of how they conduct themselves as individuals and as people and you don't want anybody to get an injury like he sustained today. It's unfortunate and that's the risk of being a National Hockey League player or a professional athlete. Hopefully he mends from this and comes back even stronger. He's a wonderful young man and I'm sure he'll come back a better player."
October, 17, 2013
Oct 17
5:02
PM ET
TORONTO -- It is easy to forget that
Cam Ward
is only 29 years old.
After years of people lumping him in with the game's elite netminders, lately he's no longer mentioned in the same breath due to people seemingly thinking he's no longer in his prime.
Of course, the fact Ward has played only about six weeks of NHL hockey over a 16-month period before this season, with last season's lockout and a knee injury limiting him to 17 games, has something to do with it.
Out of sight, out of mind?
[+] Enlarge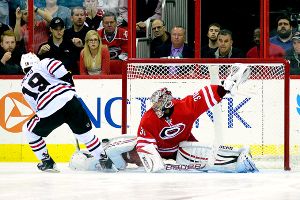 Grant Halverson/Getty ImagesCam Ward stops a shot attempt by Team Canada and Blackhawks star Jonathan Toews.
Still, his omission from Team Canada's summer Olympic camp surprised many, including himself.
"Out of respect, I spoke with someone from Team Canada and they told me ahead of time before the list came out," Ward told ESPN.com Thursday at Air Canada Centre ahead of that night's game versus the
Toronto Maple Leafs
. "That was good, but it's still not what you want to hear. It's in my own hands now, you have to go out and take care of business."
Motivated? Do you think?
"As soon as the summer evaluation camp list came out, I wanted to use that as motivation to not only help better my team but to remind some people what I can do," Ward added. "It was disappointing to be left off that list, but at the same time, I realize there's a lot of great talent in Canadian hockey."
Ward is a soft-spoken guy, he's not going to come out guns a-blazing in the media no matter how much the Olympic camp snub hurt. But it's obvious how motivated he is coming into this season. He wants in on Sochi.
"I've known Cam for a very, very long time," said Hurricanes captain
Eric Staal
. "He may say that didn't bother him a lot, but it definitely added some fuel to the fire that was already there."
The way Staal sees it, it's a win-win for Ward and for the Hurricanes if he plays well enough to get back into the good graces of Team Canada. That means a lot of W's for Carolina in the process.
And despite not going to Canada's camp last summer, Ward never felt out of the running for a shot at Sochi.
"I never looked at it last summer when the camp roster came out that I couldn't make the team anymore," said Ward. "I looked at it as extra motivation and I know that if I can play like I know I can in the first half of the season, they'll be watching and that I'll be in consideration. That's my focus. If I make that team, obviously that means the Hurricanes are doing well, too. That's what I'm striving for, that's my goal."
First things first. For Ward, this season is about re-establishing himself and getting back into the swing of things.
"For me it's about getting the game reps again," said Ward. "When you include the lockout and then my injury, I was basically sitting for a year. Being away from the game for that long, it's difficult to come back. That's why you emphasize on your practices and take advantage of your opportunities."
After a so-so training camp and preseason, Ward seems to be coming along early in this regular season, including a solid start against the Cup champion Blackhawks on Tuesday night in a shootout defeat.
"I actually felt like I was fighting it early on, but by the third period I felt like my old self; also knowing that there's still another level that I want to get myself to and I feel like I'm headed in the right direction," said Ward.
Whether there's enough time for him to make his mark on Team Canada's radar with
Carey Price
,
Roberto Luongo
,
Mike Smith
and
Corey Crawford
, among others, depends on whether he gets on a roll here soon with Canadian management watching.
"Obviously he's a top goalie, been a top goalie for a while in this league. I'm sure he's in that mix," Toronto Maple Leafs captain
Dion Phaneuf
, a Team Canada summer camp invite, told ESPN.com Thursday.
Phaneuf played with Ward for three years in Red Deer in junior and knows first-hand what the goalie is about.
"Having played with him, I know how good he is, and just from playing against him more since I came out East, you see him a lot more and you see how calm he is, that's the biggest thing for me with Wardo," said Phaneuf. "He's always square to the puck and always seems to make those big saves at big moments to keep his team in the game. I can't say enough good things about Wardo."
Don't sleep on Cam Ward. I just get that feeling he's going to return to form this season and make Team Canada notice him again while he's at it.
October, 2, 2013
Oct 2
5:05
PM ET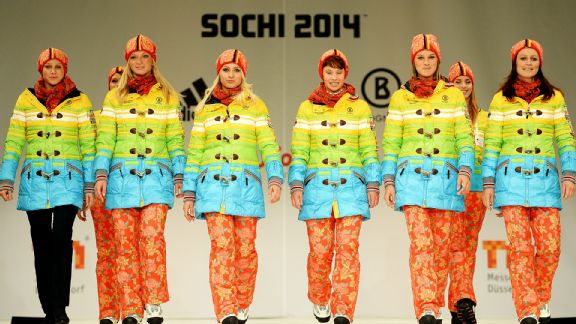 Lars Baron/Getty ImagesThe German Olympic Sports Confederation (DOSB) said the uniforms "are not a protest" of Russia's anti-gay law.
PARK CITY, Utah -- So is the German Olympic team making a political statement with this rainbow-hued uniform? Or is it simply trying to top the old Houston Astros' rainbow jerseys for the worst look in the history of sports?
I suspect the latter.
Few Olympic federations are willing to go out on a limb to make a strong political statement. They are, however, quite willing to make bad fashion statements.
Remember the horizontally striped, "Where's Waldo?"-style Swedish uniforms from London in 2012? Or Russia? Or Malaysia? And when you have winter coats to add, so much the better.
Plus, I would imagine whatever fashion company responsible for this mess was drawing up the designs months before Russian president Vladimir Putin signed the new anti-gay law. I mean, you don't come up with something that ugly overnight. It takes months and months of carefully planning. I know! How about we add orange-patterned pants in a salute to Marcia Brady?!?!
Many people probably are eager to see what political reaction the uniforms get when the German team marches into Olympic stadium during the opening ceremonies in Sochi. Personally, I am more eager to see what Joan Rivers has to say about them on "Fashion Police."
October, 2, 2013
Oct 2
2:59
PM ET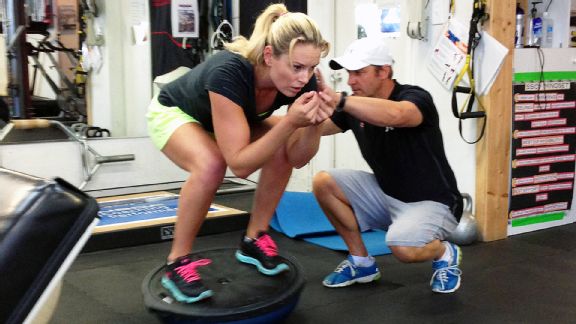 AP Photo/Pat GrahamLindsey Vonn said Wednesday there hasn't been any pain or swelling in her surgically repaired knee.
PARK CITY, Utah -- There were a couple bits of interest that came out of Lindsey Vonn's teleconference at the Olympic media summit Wednesday.
The most important is that Vonn says her right knee feels great and she could be healthy enough to race when the World Cup season opens at the end of October in Solden, Sweden. If not then, she definitely plans to compete at the World Cup race in Beaver Creek, Colo., at the end of November.
Her other interesting response was when she said she was speaking from Ohio. Ohio? What mountains are in Ohio? Oh, wait. That's right. Tiger Woods is competing in the Presidents Cup there this week. Vonn did not mention Tiger by name, but did say "my boyfriend" had provided a lot of support during her rehabilitation after knee surgery.
There are no reporters from the National Enquirer at the media summit, so there were no questions about Vonn's relationship with Tiger. Instead, the focus was on her return from February's devastating knee injury. Vonn crashed in a race and tore her right ACL and MCL, and she also fractured a bone in her lower right leg.
[+] Enlarge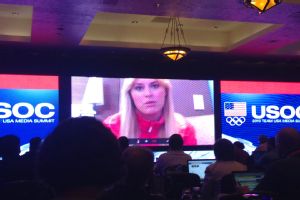 ESPN.comLindsey Vonn spoke to reporters at the Olympic media summit by teleconference.
"My knee is great," Vonn said. "It has no pain, no swelling. ... I'm definitely quite a bit further along than I anticipated, or anyone else anticipated. The surgery was very successful."
Vonn said the key remaining issue in her recovery is getting prepared to push her knee to the limit in a race.
"I don't have any trust issues. I trust my knee is 100 percent. It's just that I haven't pushed my knee to 100 percent yet; I haven't tried it in a race," Vonn said. "That's as much mental as anything else. I have to be in that racing mindset. But it's not that I'm doubtful or don't trust my knee or body. ... There are other athletes who don't trust their knee [after injury], but that's definitely not me."
Vonn said she did not completely rule out competing in slalom sometime this season, but added it is unlikely due to the stress on her knee.
"I'm definitely more excited to be back on skis than I normally am," Vonn said. "I haven't raced since February when I crashed, so the excitement has increased since being injured. But I am someone who thrives on chaos. I need a lot going on. I need to be skiing and training."
That is certainly true. There is always drama around Vonn, even before she and Tiger started dating. She had to be airlifted off a mountain following a training-run crash at the 2006 Olympics in Torino. She resorted to placing layers of a rare cheese on a severely bruised shin to help it heal at the 2010 Olympics in Vancouver. She fought off severe flu early last season and then shredded her knee in February.
Yet there isn't much that stops her for long. So what if she completely shredded her knee just eight months ago? She is looking to make Sochi her fourth Olympics, and ahead of schedule.
"I'm going in as the defending champ in the downhill," Vonn said. "I'm coming back from knee surgery and I still have a lot of expectations, both that I put on myself and what everyone else puts on me."