December, 23, 2014
Dec 23
2:24
PM ET
By
Christopher Chavez
| ESPN.com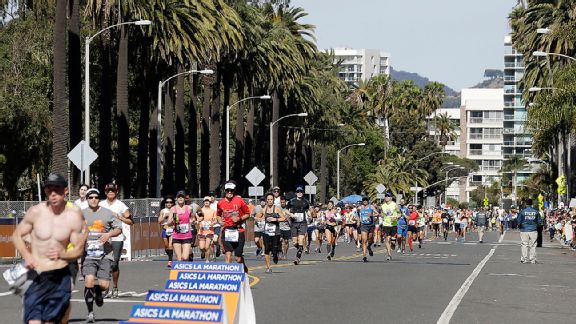 AP Photo/Reed SaxonL.A.'s marathon course could act as a showcase for a possible 2024 Summer Olympics bid.
As Los Angeles begins work on a potential bid for the 2024 Summer Olympics, Asics L.A. Marathon CEO Tracey Russell and other organizers are already preparing for the 2016 U.S. Olympic Trials Marathon on Feb. 16, 2016.
The course design for the trials has not been finalized, but may be revealed by the March 15 running of the 2015 LA Marathon. It is expected to be a criterium-style course with a two-mile first loop and then four six-mile loops run central to downtown Los Angeles.
"We originally wanted to do a course that would emulate [the 2016 Olympic course in Rio de Janiero], but as of a few months ago they did not have anything finalized," Russell said during a recent conversation with ESPN.com. "We debated waiting for them or moving forward. With a major city like Los Angeles, we wanted to get all of the necessary approvals with plenty of time for athletes to come in and run some of the course."
United States Track and Field and L.A. Marathon organizers decided to move forward and design a course that appeals to athletes, spectators and television. The course will feature Los Angeles Memorial Coliseum, where Joan Benoit Samuelson won the first women's Olympic marathon in 1984.
"It's being designed where we can showcase our runners and showcase our city," Russell said.
December, 18, 2014
Dec 18
1:29
PM ET
Barry Gossage/NBAE via Getty Images
Becky Hammon, former Olympian and WNBA star, broke new ground with the San Antonio Spurs earlier this year as the first full-time female assistant coach in NBA history. It is why she tops espnW's annual Impact 25.
Click here
to see the other Olympic athletes who made the list.
December, 18, 2014
Dec 18
1:20
PM ET
By
The Associated Press
| ESPN.com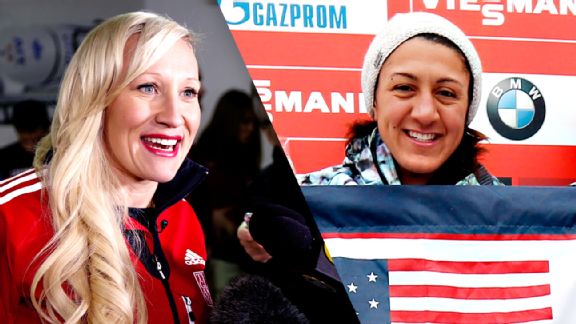 Jeff McIntosh/The Canadian Press/AP Images; Mike Groll/AP ImagesKaillie Humphries and Elana Meyers Taylor are set to compete in four-man bobsled this weekend in Calgary.
Katharin Dewey showed Elana Meyers Taylor and Kaillie Humphries the possibilities, decades before either was born.
Dewey started bobsledding in the mid-1930s, a woman competing against men before new safety rules prevented that from happening. It probably was no coincidence those rules were amended soon after Dewey outdrove all-male sleds at Lake Placid, New York for the national championship in 1940.
Her torch is now passed.
Meyers Taylor and Humphries will make history at Calgary, Alberta on Saturday, when they compete against men on bobsledding's top circuit, the World Cup tour. Meyers Taylor will drive a sled for the U.S. with three men along for the ride. Humphries will do the same for Canada.
[+] Enlarge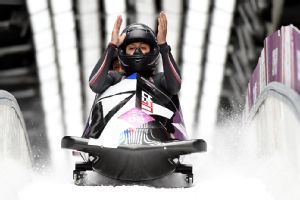 Leon Neal/AFP/Getty ImagesThis is the first World Cup season that bobsled's international governing body has defined what was called four-man bobsledding as gender neutral.
"This is my passion," said Humphries, the two-time Olympic gold medalist in women's bobsledding, where only two are in a sled. "It's what I love to do. I do this to be the best I can be. I don't do it to prove anything to anybody."
Still, that's exactly what will happen this weekend.
Neither Meyers Taylor nor Humphries is expected to win any four-person race this season. That's not an indictment of their skill; they're considered the best two women's drivers in the world, strong, speedy, explosive and powerful, the perfect mix for bobsledding. But since both will be driving the No. 3 sleds for their respective countries, they won't have the best equipment or pushers.
They'll get leftovers.
"The biggest thing is just proving that women can drive four-man sleds," Meyers Taylor said. "It's baffling to me that it's not just assumed. We're driving a sled. We do that. I don't know why it's such a big deal."
She knows exactly why it's a big deal.
This is the first season that bobsled's international governing body has defined what was called four-man bobsledding as gender neutral. Officially, the sport is still classified as four-man, though some are now calling it four-person in deference to Meyers Taylor and Humphries being part of the tour.
Rules allowing the coed sled were changed this fall, so it was a mad scramble for Humphries and Meyers Taylor -- the top two drivers, respectively, in both the women's World Cup standings and in the women's race at the Sochi Olympics last winter -- just to qualify for World Cup. To be certified for the top series, they needed to compete in five races on three tracks in a two-year span.
November, 21, 2014
Nov 21
9:27
AM ET
By
D'Arcy Maine
| ESPN.com

Ashley Wagner is a two-time U.S. figure skating champion, an Olympic medalist and a meme sensation, but it turns out she's somehow really just like the rest of us normals.
On Friday morning, Wagner tweeted on the most important topic of our time, or at least of the hour. And by that I mean she gave a shout-out to the guy in Taylor Swift's "Blank Space" video. Obvs. And it probably reads exactly like something you saw your college roommate post on Facebook.
While I know I have bigger things 2 worry about today, I want 2 make a shout out 2 that mystery man in T-Swift's latest video...ohh HEY!!

— Ashley Wagner (@AshWagner2010) November 21, 2014
Ohhhh HEYYYYYY, indeed. Ashley Wagner: Woman of the people.
See something entertaining on social media that you think deserves to be shared? Let me know on Twitter, @darcymaine_espn.
November, 18, 2014
Nov 18
3:38
PM ET
By
D'Arcy Maine
| ESPN.com
Caroline Wozniacki and Aly Raisman teamed up with SB Nation and a handful of other professional athletes for a public service announcement called "It's On Us." Released on Monday, the spot urges viewers to help do their part to stop sexual assault. It's the latest in a string of clips for the campaign, which has been publicly backed by President Barack Obama, and joins other entities like the SEC, the Oregon athletic department and the U.S. Military Academy that have also produced videos.
Now let's just hope all these influential people and institutions can actually help get this crucial message across.
See something entertaining on social media that you think deserves to be shared? Let me know on Twitter, @darcymaine_espn.