Commentary
Skaters 'of the moment' head to Games
Updated:
January 16, 2010, 10:46 PM ET
By
Jim Caple
| ESPN.com
SPOKANE, Wash. -- So how would you pick an Olympic team?
Would you pick the athletes who performed best for their country over the past couple of years, whose track record indicates they're the best in the nation? Or do you pick the athletes who perform the best on a particular weekend?
[+] Enlarge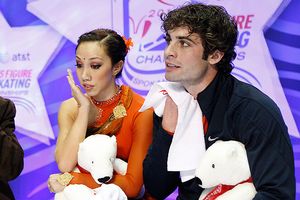 Rick Bowmer-Pool/Getty Images Two-time defending national champs Keauna McLaughlin and Rockne Brubaker finished fifth on Saturday and failed to make the U.S. Olympic team.
That's the choice figure skating's Olympic selection committee faced Saturday when picking the two pairs squads for Vancouver. Other sports, such as swimming and track, pick the team based solely on performances at the Olympic trials. Perform under-par there, and it doesn't matter what you've accomplished in the past, you'll spend the Olympics at home. Figure skating, however, bases its Olympic team on how skaters perform at the U.S. championships along with how they've done at major events over the past year.
So more than an hour after the U.S. national pairs competition ended Saturday, four couples were still anxiously waiting to see which two would go to Vancouver. In the end, the committee chose Florida skaters Caydee Denney and Jeremy Barrett, who easily won Saturday's championship with an electrifying performance, along with their rinkmates, Amanda Evora and Mark Ladwig, who finished second just ahead of veterans Rena Inoue and John Baldwin.
It didn't figure to be this way. Keauna McLaughlin and Rockne Brubaker entered this weekend as the two-time reigning U.S. champions and also won the U.S. juniors championship and junior worlds three years ago. They were the heavy favorites to win and go to Vancouver. But they skated poorly under pressure in both the short and long programs, finishing a distant fifth. McLaughlin said not winning felt "like getting sucker-punched in the stomach."
"I think they know that we're one of the most competitive pairs internationally. I think our track record speaks for itself," Brubaker said when asked what he would tell the selection committee. "But sometimes it's about being in the moment and doing it when everything is on the line. I think we made it a lot tougher than they wanted it to be."
Baldwin said if one skater "totally outweighs the other," he would pick that one. Otherwise, the choice should be based on the finish at nationals, even though that left him and his partner out.
"It would be terrible to wrong someone who finished second," he said, adding later, "This is an Olympic trial. If you don't take the top two teams or the top three teams, why even have this event?"
And, eventually, that is how the committee picked it. U.S. Figure Skating Association president Patricia St. Peter declined to provide details of the discussions, "but let's just say the committee resoundingly made a decision that these two pairs would be our nominations to the Olympic committee."
"You have two teams from Florida at the top of the competition -- I think that's pretty exciting in itself," Barrett said. "I think that's history that both representatives are from Florida."
Florida is not exactly the first state you would pick as a figure skating hotbed, but St. Peter said she isn't surprised to have two pairs from there. "You have quality coaches in Florida, and with the quality of coaches comes quality of programs and there also is a quality of facilities."
The two pairs certainly bring an interesting dynamic. They not only skate in the same rink in Bradenton, Fla., Evora dates Barrett, 25.
"It has been a process," Evora, 25, said of dating a rival. "We've learned our boundaries for each other, when to be there for each other and when not to be. Like any relationship, you have your quarrels and your fights, but at the end, we learn to grow together. ... I've always believed that personal is personal and business is business and never mix the two. It makes complete sense in my mind even though it sounds odd to a lot of people."
Ladwig, 29, was a volunteer at the Salt Lake Olympics in 2002, and he displayed his volunteer medal and read its slogan ("Light the fire within") Saturday. "I still have my original volunteer gear under the bed," he said. "Maybe I'll break it out so my wife can wear it and stay warm in Vancouver."
Ladwig, meanwhile, will have much better clothing to wear in Vancouver because he and Evora -- like Denney and Barrett -- came through when it mattered most.
Asked whether they were surprised the selection committee chose them over pairs with a better international record, Evora replied, "I think nationals is very magical. That starts the year off with a bang. Changes happen there. That's where dreams are made. The past is past and the future is ready for us to take it."
Jim Caple is a senior writer for ESPN.com. He can be reached here. His Web site is at jimcaple.net.