Commentary
Games in reach for Nagasu, Cohen, Flatt
SPOKANE, Wash. -- There were actually two comebacks at the rink here Thursday night, one much more celebrated than the other, as the murky selection picture for the U.S. ladies' Olympic figure skating team shifted into high-definition.
[+] Enlarge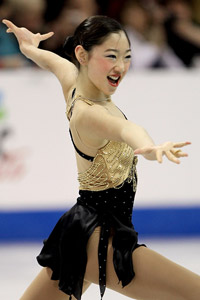 Matthew Stockman/Getty ImagesAfter Thursday's short program, Mirai Nagasu leads the ladies event with a score of 70.06.
Less than a point separates Mirai Nagasu, Sasha Cohen and Rachael Flatt after the short program, and a wider gap in style and substance distinguished them from the rest of the pack. Absent a dazzling leapfrog by someone lower in the standings, the two slots available for Vancouver will be filled from that pool of three Californians.
Flatt, 17, punched in and performed with the zest and consistency that has become routine for her. She met expectations, but had the slight misfortune of running into a pair of opponents who exceeded them.
The 16-year-old Nagasu may seem to have her whole career in front of her, but she has already traveled along a vertigo-inducing trajectory that would have been enough excitement for most lives. The surprise national champion in 2008 and the first U.S. girl to win back-to-back junior and senior titles in 70 years, Nagasu struggled the next season, then changed coaches.
She still seemed fragile when she met the assembled Olympic press corps at an event in September, her voice tremulous at times as she spoke with precocious insight about her own foibles. As recently as the last weekend of October, when she competed in a Grand Prix series event in China, Nagasu wrestled with championship pressure and lost. "I don't want to be first, I don't want to be first," she sobbed to her coach, Frank Carroll, after winning the short program. That predictably became a self-fulfilling prophecy and Nagasu stumbled to a fifth-place finish.
Carroll promptly imposed a no-cry rule on his protégé, and Nagasu apparently was ready for that tough love. Dressed in glittering gold and black, she performed a brilliant program that included subtly ramped-up difficulty on her spirals and spins, and landed all her jumps to take a lead that held up by 0.43 of a point over Cohen's score.
"Crying takes too much energy," Nagasu declared afterward, saying she had been fueled by "just pure emotion, fun emotion."
Then, after an intermission for resurfacing, Cohen slipped out of the gate with her warm-up group onto what looked like a clean sheet of ice. That wasn't really the case. Invisible tracings of history, the beautiful tight circles of her bull's-eye spins and the ugly divots left by falls, lay just beneath the surface.
After almost four years of soft-focus show skating far removed from the algebra of judged performance, Cohen wasn't competing against a bunch of other, younger athletes as much as she was competing against her old tightrope-walking reputation of elegance marred by the occasional fatal error.
There was no doubt that much of the crowd at Spokane Arena wanted to see her succeed, and perhaps even more fervently did not want to see her embarrassed. Cohen reached the podium at every national championship she entered. Her most public misstep, at the 2006 Olympics, still resulted in a silver medal. The thought that she might be middling was almost distasteful.
Fans collectively held their breaths through Cohen's triple-Lutz, double-toe combination, a triple flip at the other end of the rink, and then a double Axel. Only then did they relax and begin to clap in rhythm with her Spanish pasodoble number and enjoy her balletic grace. Cohen curtsied to them when she finished, her face luminous with relief and pride.
"To me the accomplishment is being here," she said afterward, noting that her intention to compete after sitting out the fall season with a calf injury had been questioned openly. "I've been to two Olympics. I would love to do a third, [but] it's not the end-all of my life.
"I think I have more wisdom now that I'm 25," Cohen added later. "And it's not like, 'Oh my God, I have to be perfect, I have to make the Olympics, I have to do this,' it's more like, 'Wow, this is probably my last national championships,' and I love that everyone's coming up to me and saying 'We're just so glad that you're here.'"
[+] Enlarge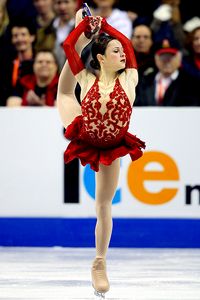 Matthew Stockman/Getty ImagesSasha Cohen (69.63) slightly trails Mirai Nagasu after Thursday's short program.
Cohen became so animated at one point in her musings that her coach, John Nicks, leaned in next to her at the microphone and intoned, "Save some of this energy for Saturday." Nicks has been in this spot with Cohen before, with the summit in sight after making it part of the way up the mountain. He knows the air gets thin.
After Cohen left the room, Nicks said she hadn't fully gotten her act together until a mere two or three weeks ago.
"She's very deceptive," he said. "She looks like a petite little china doll, but you've got a very tough young lady there. She endured some very bad falls, some very hurtful falls, got up like nothing and did it again and fell again and got up and finally came together.
"But as I've said many times after a successful short program, it was a good start, an extraordinarily good start, but that's all it was. The rest of the job has to be done on Saturday."
The formula that night will be similar. The three skaters are so close mathematically that they might as well be starting from scratch. But it may take more than skating clean or being happy to be there to make the Olympic team.
Flatt has showed a near-imperviousness to stress that could serve her very well. Cohen will need to remain Zen while exerting more effort in a four-minute stretch than she has exerted for four years.
Nagasu has to contend with the fact that she is no longer an underdog, a role she seemed to relish when she asserted she had not been taken seriously as an Olympic contender. "I'm not in my personal bubble all the time," she said defiantly. "I do have access to the Internet. I can read what people write about. I'm never included." Not so, by the way, and Carroll speculated that Nagasu was simply putting up her own internal bulletin-board material for motivation.
Left hanging for the moment is the question of what might happen if the scores remain this close after the long program, or if a less-tested skater wins the long program and breaks into the top two.
The skating federation committee that makes the final call on the Olympic roster must consider other recent international results in their deliberations -- an area not applicable to Cohen, and where Flatt has an edge over Nagasu.
But the criteria also include this interesting bit of verbiage: "It has been the experience of U.S. Figure Skating that the athletes who have had success at the Olympic and international level are those who have demonstrated consistent performances as opposed to the athletes who have only a single great performance." That section makes clear that Olympic selection is not solely based on the order of finish at nationals.
But Carroll doesn't think discretion will come into play even if the decision is difficult. "First and second, I think that's going to be your Olympic team, whether I like it or anybody else likes it," he said.
Bonnie D. Ford covers tennis and Olympic sports for ESPN.com. She can be reached at bonniedford@aol.com.
Enterprise and Olympic Sports
Bonnie D. Ford is a senior writer for ESPN.com.
MOST SENT STORIES ON ESPN.COM