Commentary
Yzerman embraces great expectations
VANCOUVER, British Columbia -- It's funny how things turn out.
As a player, there were times when Steve Yzerman could be a bit prickly.
The longtime Detroit Red Wings captain and Hall of Famer was sometimes abrupt with the media, and often guarded.
In some ways, he appeared ill at ease with the attention afforded him as one of the great players of his generation.
[+] Enlarge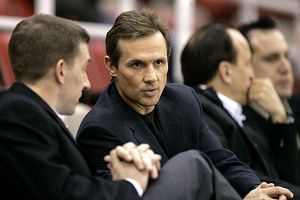 AP Photo/Paul SancyaSteve Yzerman brings his experience as a player to the Games as well.
Fair enough. Still, it made you wonder just how Yzerman was going to take to the task of not just putting together Canada's Olympic team, but of being the face of that team.
On Saturday, Yzerman and other members of the Canadian management team -- Bob Nicholson, Johnny Misley, Doug Armstrong and Kevin Lowe -- gathered for their first media briefing of these Olympic Games. As Yzerman deftly handled the bulk of the questions, we were struck, and not for the first time, at how Yzerman has not just handled this duty, but embraced it.
He has proven himself to be witty and gracious and dedicated to what might well be the most important hockey job in the world. Certainly if putting Canada's Olympic team together isn't the most important, it is the most talked about hockey job in the world.
What became apparent Saturday was something else, something that marked Yzerman's career as a player, and that was confidence.
Yzerman explained that he was prepared for the second-guessing that comes with trying to come up with 23 names for the Canadian roster, especially given that they had to name the team six weeks ahead of the tournament.
"We had to make a decision, announce the team on December 30, knowing full well that there were going to be players that lit it up immediately [who weren't on the roster]," Yzerman said.
"We can't sit back and say what if this or what if that or maybe we should have gone this way. You don't have that luxury. We watched a lot of hockey, a lot of discussion, a lot of discussion of where players were going to play what type of role, who was the best player in that spot and picked the best team at that time," Yzerman explained. "I think we have a terrific team."
Win the gold and the Canadians will have merely accomplished what an entire nation expected them to accomplish. Lose and it won't matter that there are seven nations that have legitimate medal aspirations; it will be a national calamity and Yzerman will have failed.
He went on to point out that Canada isn't the only team with high expectations coming into the 2010 Games.
"Honestly do you think they'll have a parade in Moscow if the Russians go home with the silver medal? They won't. Expectation in Russia is gold. The expectation in Sweden is gold and whether they admit it or not the USA is in it to win a gold medal," Yzerman said, getting in a subtle dig at U.S. GM Brian Burke, who has been insisting all along that not a nickel will be bet on the Americans to win the gold.
"All of us are playing to win the tournament, to win the gold medal. And every team that doesn't will be disappointed," Yzerman said.
It goes without saying that great players do not necessarily make great or even good coaches or managers. And putting together the Canadian Olympic team is as close to a thankless task as there is.
Win the gold and the Canadians will have merely accomplished what an entire nation expected them to accomplish. Lose and it won't matter that there are seven nations that have legitimate medal aspirations; it will be a national calamity and Yzerman will have failed. Harsh but true.
Yzerman gets it and hasn't shirked from that reality in the least -- even if the past six weeks haven't been a walk in the park.
"Virtually six weeks of sitting, waiting and this great anticipation so I found it actually much easier as a player because I was much busier for the six weeks leading up to the tournament," Yzerman said.
[+] Enlarge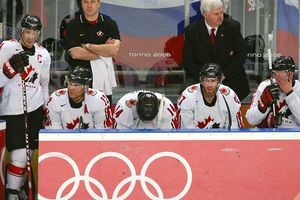 Don Emmert/Getty ImagesCanada is looking to erase memories of its disappointing finish in 2006.
Still, it would be wrong to assume that Yzerman's work is done. In fact, his most important work may yet come in the days ahead.
The Canadians are icing the youngest team they've had at the Olympics since the NHL started taking part in '98, and those players will be looking for cues on how to behave and react to circumstances from the top on down. They will be looking to Yzerman from the moment they start arriving in Vancouver on Sunday.
The players' roles, discussed in Calgary at the Canadian orientation camp, will be reinforced here in Vancouver, Yzerman said.
The idea that every player will have to do everything in their power to help Canada win will also be reinforced.
If that means diving to block a shot, so be it, Yzerman said.
"If it means playing out of position, you do that. If that means playing more minutes than you're accustomed to, then you do that. In some cases that means playing less minutes than you're accustomed to, you do that as well. We're asking these players to put their egos aside and go out and do whatever they can," Yzerman said.
Perhaps every manager in this tournament will say the same things to their players. But somehow coming from Yzerman, a player who lived those words during his career, they will carry a lot more weight. Perhaps they are words that will end up carrying their weight in gold.
Scott Burnside covers the NHL for ESPN.com.
Hockey writer for ESPN.com
10 years at Toronto Sun, Windsor Star and National Post
Wrote best-selling true crime book "Deadly Innocence"
MOST SENT STORIES ON ESPN.COM