Commentary
'He would have wanted me to be here'
VANCOUVER, British Columbia -- Brian Burke was telling the story about the night his son Brendan was born.
It was Dec. 8, 1988. He weighed 8 pounds, 8 ounces.
[+] Enlarge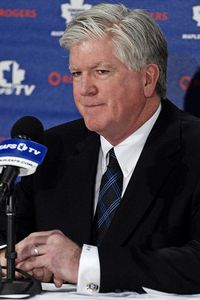 Brad White/Getty ImagesSaid Brian Burke of coming to the Games after the recent death of his son: 'There was never a thought about not coming. My son would have wanted me to be here.'
"And all those eights, eight's a lucky number for people of Chinese descent, and I don't know what other cultures," Burke recalled. "For Chinese people, eights are very lucky. He was in the nursery the day he was born and they kept rubbing his head, the nurses. And I said to one of the nurses, 'What's the deal?' And she said, 'That's a very lucky baby.' I said, 'Well rub his foot because he's going to be bald for Christ's sake.'
"He was born with a lot of lucky signs around him."
Burke was speaking Sunday afternoon to a room full of reporters, most of whom are here to cover a hockey tournament. Burke was there along with Team USA coach Ron Wilson, captain Jamie Langenbrunner and players Ryan Miller, Zach Parise and Jack Johnson.
And yet, as Burke talked about the son he buried less than a week ago, it struck us: By relating the story of the lucky signs, Burke was really talking about his own good fortune as a father. And by sharing that story with the reporters gathered, some of whom he knows well, many complete strangers, he offered a cautionary tale about the nature of good fortune and family and how the two are so delicately intertwined.
"I feel fortunate," he said. "I had him for 21 years."
Brendan Burke died after being in a car crash in snowy Indiana a little more than a week ago.
Even now, there is a sense of wonder at Burke's memories of a son that was in so many ways different than his father and older brother, Patrick, a scout with the Philadelphia Flyers. Brendan worked with the top-ranked college hockey team at Miami University, but Burke said he didn't think his son had the hard-heart gene required to be a GM.
"You've got to make hard decisions, sending guys down, trading guys," Burke said. "You've got to have a side where you're able to put feelings aside and say, 'OK, this guy just had a baby, but I've got to make this trade,' or this guys' wife is sick.
"You've got to be a little callous in your heart to do this job. Patrick, my oldest son, has got that side. I'm not sure Brendan did, to his credit. So I'm not sure what he would have done, but he would have been successful. He's one of those kids."
Brendan was in fact driving back from checking out law schools when the fatal accident took place. Burke recalled talking to one of Brendan's teachers at his wake earlier in the week.
"One of his teachers came up to me and said he was at an eighth-grade dance and there was a girl there that nobody would dance with," Burke said. "Brendan walked right over to her and said, 'C'mon, let's dance.' He didn't care that other boys would tease him about it. He didn't care what anyone thought. He just didn't want her to have a bad night. He was that kind of kid. He was a special kid."
If we learned something about Brendan from listening to his father, we also learned something about Burke himself, and about duty and the manner in which the fallen can be honored. Had Burke decided to stay away from these Olympic Games and the constant, public reminder of his loss, who could have blamed him? No one, yet it is equally unsurprising Burke is not just in attendance, but willing to share so candidly his feelings about his loss.
"My family needs me to be strong right now and my teams need me to be strong, Toronto and this team," he said. "I think part of leadership is dealing with personal adversity or personal difficulty. There was never a thought about not coming. My son would have wanted me to be here."
The one change Burke made to his plans was to decline marching in the opening ceremonies Friday. "I was going to march, then I just didn't. My heart wasn't in it," he said.
Who knows how this tournament will turn out for Burke and the U.S. team? Burke said he cries a little less each day, but that doesn't mean it gets any easier. "It's been tough," he said, tears welling up in his eyes. "I think about him."
In the coming days, these kinds of press gatherings will be devoted to things like line combinations, special teams and defensive-zone coverage. As it should be. As we presume Brendan Burke would have wanted it to be for his father.
But it will be hard not to remember those moments Sunday afternoon when hockey seemed far away and Brian Burke provided a heartfelt lesson on the true nature of good fortune.
Scott Burnside covers the NHL for ESPN.com.
Hockey writer for ESPN.com
10 years at Toronto Sun, Windsor Star and National Post
Wrote best-selling true crime book "Deadly Innocence"
MOST SENT STORIES ON ESPN.COM