Commentary
Scrappy Swiss take Canada to the wire
VANCOUVER, British Columbia -- All you have to do is watch a game like Canada's 3-2 shootout victory over the tiny hockey nation of Switzerland on Thursday to understand why the Olympic hockey tournament is so magical.
[+] Enlarge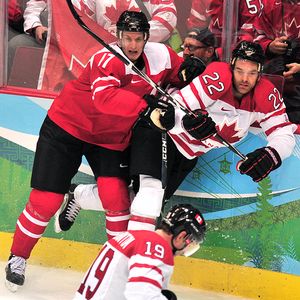 CRIS BOURONCLE/AFP/Getty ImagesHnat Domenichelli and the Swiss showed they're a force to be reckoned with.
The Swiss have two regular NHLers on their team.
The Canadian roster will make more than a $120 million combined this season, and the country could have iced three Olympic-caliber rosters.
And yet, on this day, the anonymous Swiss battled mighty Canada to a virtual standstill.
They came back from a 2-0 deficit and went to extra shootout goals before bowing to the Canadians 3-2 and proved again that it is the sum of the parts, not necessarily how much money the parts make, that defines a team at a tournament like this.
"Anybody can come and play [in the Olympics]. But the question is can you compete? It's easy for us just to show up and get mopped in the games," Swiss forward Hnat Domenichelli said.
"We're just fighting and trying. We're proud to say we could be even better than we were here," Canadian-born Domenichelli said.
Although many will take the view that this outcome signals problems for the Canadians -- Switzerland? A shootout? -- the game merely reinforces what the Canadian players already knew: Switzerland is the real deal. Plain and simple.
"They're a team that works very hard. They play a physical brand of hockey. A North American style. We knew that coming in. We knew it wasn't going to be an easy game, we needed to prepare and be focused," Canadian defenseman Chris Pronger said.
The big Flyers defenseman saw firsthand four years ago that it is unwise to take the Swiss lightly, when they beat Canada 2-0 in the round-robin in the Games in Torino, Italy.
On Thursday, the Swiss were much more in the game, trading chances, standing up to the Canadians physically, not taking as many penalties.
"I thought we were a much better team tonight [than four years ago]," coach Ralph Krueger, a Canadian, said after the game.
What was perhaps more impressive about Thursday's effort -- which came exactly four years to the day after the upset in Torino -- was that the Canadians were prepared for the contest and knew what the Swiss were going to bring to the table, even if many Canadian fans didn't.
[+] Enlarge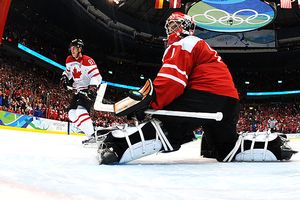 Bruce Bennett/Getty ImagesSidney Crosby's shootout goal helped lead Canada to the win.
"It was a great team effort. Everybody was fighting so hard. Everybody was sticking together. And I think that's a huge plus of our team," Swiss defenseman Philippe Furrer said.
"The message is that everybody should now know the Swiss hockey. I think some here, they misunderstood the Swiss hockey," Furrer added. "I think a lot of people, they don't know it, so that's the message from our side."
Even when the Canadians jumped ahead 2-0 just 35 seconds into the second period, the Swiss did not buckle -- although captain Mark Streit of the Montreal Canadiens acknowledged that you never know against a team like Canada how it's going to go.
"After the second goal, it could have gone either way. You never know. It could be 6-0, but we played hard, we didn't give up," Streit said.
Canadian forward Rick Nash played in Switzerland during the NHL lockout in 2004-05 and was also part of the Canadian squad that lost four years ago. None of this comes as a surprise to him.
"Playing in Switzerland, it's amazing how many breaks they take every month just to practice with the national team. And it shows. They added two or three [NHL] guys, and that's it. The rest are all regulars. You know, they're a good team. I don't think we underestimated them at all. We just had a tough game," Nash said.
This tournament will be somewhat bittersweet for Krueger, who will leave his post as coach of the Swiss national team after the Olympics.
He spoke passionately about the commitment of his players to the game plan and the belief in the collective.
"The advantages that we have compared to teams like Canada is the time we spend together," Krueger said. "It's our only chance; it's the only way we can compete at this level. Just the way the players have bought in to what we try to do together, our commitment without the puck," he said.
"We use our time well when we're together. The Swiss players love to play for each other. There's absolutely no egos in that dressing room," Krueger said.
Scott Burnside covers the NHL for ESPN.com.
Hockey writer for ESPN.com
10 years at Toronto Sun, Windsor Star and National Post
Wrote best-selling true crime book "Deadly Innocence"
2010 VANCOUVER OLYMPICS

American Evan Lysacek came up with the skate of his life -- and walked away with figure skating gold on Thursday.
DAY 7
MOST SENT STORIES ON ESPN.COM