Canada makes switch after U.S. loss
Updated:
February 23, 2010, 2:31 AM ET
ESPN.com news services
Canada's stunning loss to the United States on Sunday has led to a shakeup in the nets.
Roberto Luongo will take over in goal for Martin Brodeur when the Canadians face Germany on Tuesday.
More From ESPN.com

After its upset loss at the hands of Team USA, Team Canada isn't panicking. But they are making big changes, writes Pierre LeBrun. Story
---

Has Canada mismanaged its goaltending assets? In the wake of its decision to start Roberto Luongo before Canada's first elimination game, Scott Burnside makes the case for Marc-Andre Fleury. Story
"I'm pumped," Luongo said after practice on Monday. "The adrenaline is really going. I can't tell you how excited I am."
Brodeur -- the NHL career victories leader -- surrendered four goals on 22 shots in the 5-3 loss to the U.S. The fifth was an empty-netter as the Canadians tried to avoid their first loss to the Americans in the Olympics in 50 years.
The loss forced Canada into Tuesday's play-in game, while the U.S. went on to clinch the top seed in the tournament and earned a bye.
Luongo, playing in his NHL home arena, made 15 saves while shutting out Norway 8-0 in Canada's first Olympic game on Feb. 16.
Steve Yzerman is the man who put the Canadian roster together, and he's hoping Luongo steps up and takes some pressure off his team.
"We know the expectations and the hopes of our country," Hockey Canada's executive director Monday during an interview with The Associated Press. "Our players just want to win. They want to do well. It's a great challenge for them. You can't worry about anything other than playing the game -- and not worry about the big picture."
The big picture isn't looking so great right now.
Besides being upset by the United States, Canada needed a shootout to beat Switzerland but did rout Norway.
"Obviously, we hope to do better," Yzerman said before Canada practiced on Monday.
[+] Enlarge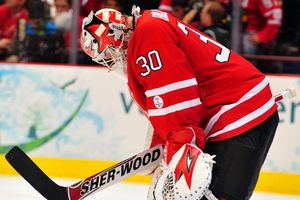 Luis Acosta/AFP/Getty ImagesMartin Brodeur struggled against the U.S. and will start Tuesday's game vs. Germany on the bench.
Yzerman said Canada won't look past Germany to a possible matchup with Russia.
"Definitely not," he said. "The Germans are a difficult team to play. They check pretty well. We have to play a good team and win. We can't worry about anything beyond that."
And if Canada loses, there's only one person likely to bear the blame because he assembled the roster.
"I've chosen this career path and win or lose. They have been great experiences," the Hall of Famer said. "I'm not concerned about my legacy."
Belarus assistant coach Dave Lewis, who played with Yzerman and coached him in Detroit, said Hockey Canada has the perfect man in charge.
"Steve is one of the best athletes I've ever seen dealing with pressure," Lewis said. "He has a way of figuring it out and I don't see any difference in this.
"He will know what to say, when to say it, and who to say it to and all those things are important to him being the leader of that group."
Yzerman, though, didn't plan to give his team a pep talk.
Information from The Associated Press was used in this report.
Levelwear Youth New Jersey Devils Martin Brodeur #30 Fx Highlight Reel White T-shirt Shop »
MOST SENT STORIES ON ESPN.COM