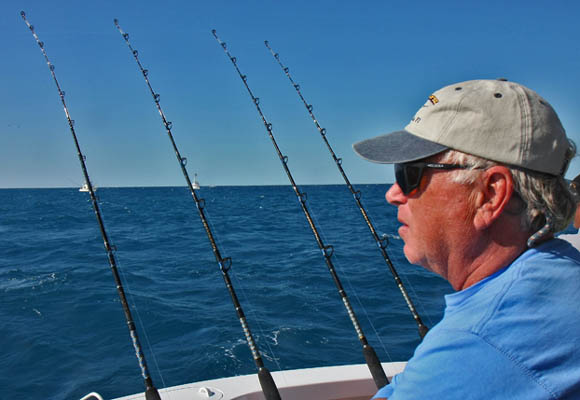 "Both Rusty and I sat down on our large cooler, as if someone had knocked our legs out from under us, neither saying a word. It was 7:15 p.m. The sailfish, Rusty and I had been locked in a battle for three and a half hours, and now it was over."

— from "Fish Fights" by Bob Rich
ISLAMORADA, Fla. — Two rods bent and suddenly all hell broke loose on the back deck of Bob Rich's 45-foot custom-designed Game Fisher boat.
But hope made only a brief appearance aboard the Esperanza on this day.
"Dammit, you're telling me two different things," Rich yelled at his captain, Rusty Albury, and crew, Mike Kozma and Jay Sullivan.
Kozma had grabbed the second bent rod after Rich grabbed the first. But the simultaneous sailfish bites left their lines crossed. In the scramble to give themselves a fighting chance, Albury instructed Rich he needed to take his rod under Kozma's line, and Kozma told Rich he needed to go over Kozma's line.
And just that quickly, both lines went limp.
"Our over-under maneuver didn't work," said Rich, with a resigned laugh at their failure. "I was getting contradictory directions from my crew."
Rich has been sailfishing enough to know it's just one of those things that happens in the sport. He let go of his anger and frustration as quickly as those emotions had enveloped him.
Florida's "Keys disease" came to him relatively late in life. But Rich, as president of Rich Foods Inc., one of Buffalo, N.Y.'s most successful businesses, has quickly made up for those decades in his 20s and 30s when Florida saltwater fishing was the furthest thing from his mind.
"Fish Hunter," the book Rich wrote about his quest to catch the 10 species required to enter Florida's Metropolitan Tournament Hall of Fame — he became only the second person to do it — details how Keys disease would dominate his mind, even while running an international business employing over 7,000 people, making him one of America's most wealthy executives.
The first fish Rich checked off in his 10 species quest for the Met Hall of Fame was a 60-pound sailfish caught on 8-pound test line. It measured 64 inches from the fork of its tail to the tip of its lower jaw. It's the end of that fight that Rich described in the quote from his book, reprinted at the top of this story. Albury was his captain for that catch, which took place in January 1997.
Met rules at that time required the fish to be killed and officially weighed. It's important to note that Rich's love of saltwater angling has also led to improved conservation of this valuable resource. Killing the fish is no longer required by the Met.
"As this fish died on our deck, I knew that all tournaments, including the Met, must give up requirements that cause anglers to kill fish, and that I must become part of that fight as well," Rich wrote in "Fish Fights." "Tournaments, like anglers' attitudes, had to change or be boycotted."
By the time Rich checked off No. 10, a 24.80-pound snook, on May 25, 1999, a fish that was released alive, minutes after it was caught, and still met requirements for the Met Hall of Fame. Rich would like to think he had something to do with that change. (He, by the way, didn't have to kill that 100-plus-pound tarpon either, when it was caught on May 14, 1998.)
But Rich doesn't care about getting any of the credit. He realizes that not one angler, but all anglers must adopt that concern with conservation before its effects will truly be realized.
---
It takes leaders to start a sea-change in human behavior, and Rich knows a thing or two about leadership.
Rich Products Corporation, the largest family-owned frozen foods manufacturer in the U.S., was founded by his father, Robert E. Rich Sr., in 1945. It was Rich Products that developed the first non-dairy whipped topping, using soy protein and corn syrup. Rich's Whip Topping was followed by Coffee Rich, the first frozen nondairy creamer. Those were the first steps on Rich Products' rise to its prominence today as an international company with over 7,000 employees and $2.5 billion in annual sales.
Bob first started working for his father in 1964, after a year playing professional hockey for the Buffalo Bisons. He was named president of Rich Products in 1978 and became chairman in 2006.
So, yes, Bob Rich had some leadership skills to use in the movement to conserve sportfish. He now serves on the board of trustees of the International Game Fish Association. It's another perfect place for a maven to connect with other influential people in the world of sportfishing and spread the gospel of catch-and-release.
But, most of all, as you may have already surmised, Rich knows something about having fun. Nicknaming yourself Bubba symbolizes just that.
---
Rich's partner in the Don Gurgiolo Salfish Classic was John Latella, a lawyer from Pittsburgh who, like Rich, now lives in Islamorada most of the year. They've known each other for 20 years.
And that's plenty long enough for Latella to mention how it was he, not Rich, who caught the first sailfish from the Esperanza.
Rich already owned a perfectly good offshore sportfishing boat, but couldn't pass up the Mike Matlack-designed, custom-built 45-footer in January 1997. While stuck in a Buffalo winter snowstorm, Rich called Albury, his long-time captain, to check on his new purchase.
"I took the boat out today," Albury reported. "It's running good."
There was a pause in the phone conversation before Albury continued, saying, "Oh, yeah ... John Latella caught the first sailfish on it today."
Rich was smiling, but just barely, when he recalled, "Rusty was almost looking for a new job that day."
The friendly competition within this two-man team would continue throughout the day. Rich represented his Buffalo Bills (do you remember when the Bills used to play in Rich Stadium? Yes, that's another part of Bob Rich's legacy.) Latella was the Pittsburgh Steelers.
Man o' war birds, also known as frigatebirds, are good luck charms for anglers seeking sailfish. These kite-like birds spend most of their lives in the air. With their 7-foot wingspans and relatively light body weights (2 to 4 pounds), they can remain in flight a week at a time. They cannot take flight from the water, or any other flat surface, and light only in trees or on rock cliffs; they feed by snatching fish from the sea with their sharply-hooked beaks.
When the man o' war birds appear, it usually means a school of baitfish has been pushed to the surface by bigger fish, oftentimes sailfish.
With the fishing slow Saturday morning, Rich jokingly tried to send hand signals to the frigatebirds when they showed up behind the boat.
"Come to the Buffalo side, not the Pittsburgh Steelers side," said Rich, as he waved his arms while manning the two lines trolled from the starboard side of he boat and Latella stood behind the rod-and-reel combos trailing two lines on the port side.
Between Rich's good humor, several sailfish bites (but only three landed) and frequent barracuda hook-ups, the day passed quickly. Rich and Latella knew from the radio traffic they'd be well down in the first-day tournament standings as we motored back to shore.
"I'm not too worried," Rich said. "I'm always better on the second day."
That turned out to be untrue, but Rich always exudes the hope that exists in every angler. Rich is well-read, particularly when it comes to authors like Zane Grey and Ernest Hemingway, who wrote about fishing.
And it's those words put together about an angler's enduring hope that are never far from his mind, like these by Zane Grey:
The most humble fisherman has this in common with fishermen of all degrees. Even the thousandth trip of the same old familiar fished-out stream begins with renewed hope, with unfailing faith.
---
One seemingly random event in Bob Rich's life leads you to believe that he was somehow destined to become a maven in Florida's Keys. Rich had kept his flats fishing skiff at Islamorada's Bayside Marine for three years, when he received a notice that all renters were being evicted on December 22, 1995.
The property had been bought, and the five-tier, 50,000-square foot boat storage facility was going to be torn down and replaced with a retail store. Rich couldn't believe it.
His mood took another downturn a short while later, when he pulled into the driveway of his Islamorada home and noticed that "someone had leveled my neighbor's property, tearing out every tree in the place. The only thing missing on this desert was a burning oil well."
His new neighbor turned out to be the same man who was destroying Bayside Marine. When that neighbor introduced himself, Rich said, "Great. What are you going to do next, shoot my dog?"
That neighbor turned out to be Johnny Morris of Bass Pro Shops fame. And they soon became great friends, despite the awkward start.
There's one freshwater species requirement in the Met Hall of Fame list: a 6-pound largemouth bass caught on an artificial lure. Although Rich grew up on a great bass fishery — Lake Erie — it was the saltwater species that had lured him to The Keys, made him a fisherman and sent him on the Met Hall of Fame quest.
With some helpful advice from Morris, who knows a thing or two about catching bass, Rich was able to meet the Met requirement with a 6.17-pounder in November 1997. And he took it back to the store that replaced Bayside Marine.
Rich's largemouth bass was soon swimming in one of the giant aquariums that are a hallmark of all Morris' stores, including the World Wide Sportsman in Islamorada.
So let's reconsider Rich's fishing resume: second member of the Metropolitan South Florida Sport Fishing Hall of Fame; member of the International Game Fish Association board of trustees; author of two books on fishing — "Fish Fights," plus "The Fishing Club: Brothers and Sisters of the Angle" — and Florida next-door neighbor to Johnny Morris.
So if you want to know something about fishing in The Keys, talk to Bubba. He can hook you up.
Met Hall of Fame Qualifying Catches


Fish              Tackle                  Minimum Weight (in lbs.)

Tarpon            Fly                     100

Bonefish          Fly                     9

Trout             Plug                    8

or

Snook             Plug                    18

Black bass        Plug                    6

Permit            Spin                    20

Dolphin           Spin                    25

Sailfish          8-lb. test (max)        Any

Barracuda         8-lb. test (max)        25

Wahoo             20-lb. test (max)       25

Marlin, white     20-lb. test (max)       Any

Marlin, blue      50-lb. test (max)       Any