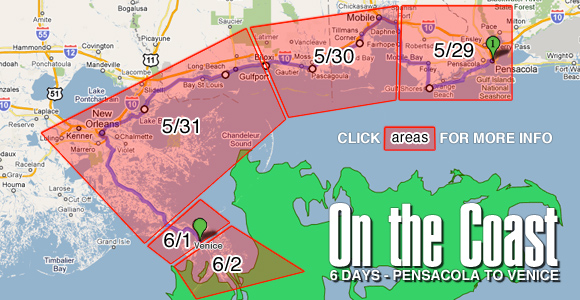 PHOTO GALLERY
Bad news from Dauphin Island — 7:05 p.m.
In a post a couple of days ago, I mentioned stopping at Dauphin Island, Ala., for dinner and later catching up with some old friends who happened to be vacationing on the island when I passed through.
One of those old friends, Charlie Henry of Bowling Green, Ky., just sent me a disturbing text message.
He said tar balls, some the size of a fist, just started washing up on Dauphin Island. The message went on to say that he's heard that Dauphin Island beaches will be closed tomorrow.
I'm on the way to Venice, La., to check on things there.
---
Phenomenal fishing — 6:45 p.m.
It would be horribly wrong to understate the scope of the tragic events going on in the Gulf of Mexico, especially what's happening as oil washes ashore in southern Louisiana.
But there's still good fishing, and many charter captains are doing everything they can to make sure the word gets out that there are still open areas to fish, and that anglers don't need to cancel trips or shy away from booking new trips.
"We're fishing," said Capt. Billy Waulbaum of Paradise Plus Guide Service in Buras, La. "I'm not trying to promote myself or say you need to come fishing with me. Just call your favorite guide and book a trip. We're a big family down here in a lot of ways, and I just want everyone who fishes for a living to have a fair chance to make a living."
Like charter captains and others associated with the fishing industry across the Gulf Coast, Wallbaum and other guides are disheartened by what they perceive as misinformation emanating from a lot of national media coverage of the oil spill disaster.
Wallbaum isn't trying to diminish the significance of this disaster, and he fully realizes that long-term impacts potentially could be severe. But there's good fishing right now, and he proved it to us Tuesday during a trip to Breton Sound.
After a slow start to the morning, the action picked up, and by the time we quit fishing about 2 p.m., Wallbaum's charter had put 56 keeper speckled trout in the boat and three redfish. The fishing was so good that, after watching Wallbaum, Chad LeBlanc and Trey Sherman boat fish for most of the morning, I picked up a cell phone and called the Louisiana Department of Wildlife and Fisheries and ordered a fishing license so I could join in on the fun.
We caught more than two 25-fish limits of speckled trout, and the three redfish were a nice bonus to close the day on a high note.
I didn't see a drop of oil in Breton Sound, although there was ample evidence of the ongoing response to the oil spill in the form of helicopter and boats.
The only way in which we were negatively affected by any of it was an inconsiderate boat that ran right through the area we were fishing. The boat's passengers were looking through binoculars, apparently searching for any signs of oil on the numerous birds that were perched on a small island.
We were fishing off the tip of the island, another boat just about 100 yards away, and the boat inconsiderately ran right between us, shutting off an impressive trout bite we'd been enjoying for 20-30 minutes.
Otherwise, it was a phenomenal day on the water.
"We just want people to know the whole story," Wallbaum said. "This thing is bad, but we're still fishing, and the fishing's great."
---
Louisiana coast is still fishing strong — 1 p.m.
We're still out in Breton Sound, and Chad LeBlanc just put our 54th keeper trout in the boat. The Louisiana coast isn't dead yet.
Capt. Billy Wallbaum just made it 55.
We've seen a lot of other boats, so not everyone has been canceling their charters.
We've also seen a lot of helicopters and airplanes that we presume are headed to work on the oil spill.
We have had one problem with a spill-related boat. It pulled up near an island we were fishing to check for oil and observe pelicans (which were fine) but upon pulling away they motored right through the area where our boat and two other boats were fishing, showing no regard for any of us.
(Note: Watch Saltwater Web TV on ESPNOutdoors.com on Friday at 4 p.m. ET, when Reid gives a report from the water.)
---
Out with Capt. Wallbaum — 7:25 a.m.
I'm out with Capt. Billy Wallbaum and his clients, Chad LeBlanc of Arnaudville, La., and Trey Sherman of Monroe, La., fishing Breton Sound.
They've already put four keeper speckled trout in the boat and several short fish.
There are seven other boats in the area, and numerous shrimpers and oystermen are working to the west of us.
---
Business as usual — 6 a.m.
It's business as usual at Paradise Plus Guide Service in Buras. Three groups of fishermen just finished breakfast and now are headed for the marsh.
---