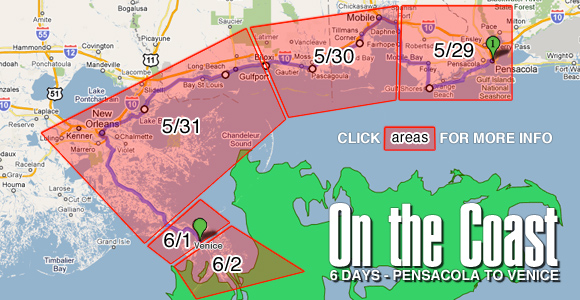 PHOTO GALLERY

Click Here
Frenette to testify before U.S. Senate — 8 p.m.
Capt. Mike Frenette had a busy Wednesday, but he'll have even more on his plate next week.
Frenette received confirmation today that he'll testify June 9 at a legislative hearing before the U.S. Senate Committee on Environment and Public Works.
The testimony will be part of Senate hearings to consider S. 3305, including issues related to the modification of caps on liability in the Oil Pollution Act of 1990.
Frenette received an electronic copy of a letter inviting him to testify from Sens. Barbara Boxer, D-Calif., and James Inhofe, R-Okla.
---
Wild ride in Venice — 6:20 p.m.
After talking with Capt. Mike Frenette for several hours last night, I figured today would be interesting. But I had no idea.
PHOTO GALLERY

Frenette checked in with several other charter captains, talking about various issues that have arisen since the Deepwater Horizon rig blew up in the Gulf of Mexico 44 days ago.
Then he received a phone call from a friend in the Plaquemines Parish government saying that Louisiana Gov. Bobby Jindal and Plaquemines Parish President Billy Nungesser would be arriving in Venice about 11:30 a.m.
We climbed into Frenette's boat outside his lodge at Venice Marina and hurried over to Cypress Cove Marina to meet several Plaquemines Parish officials who joined us on the boat to follow Jindal and Nungesser and a swarm of media into the marsh to check on the progression of oil into southeast Louisiana.
We traveled to the Pass a Loutre field office of the Louisiana Department of Wildlife and Fisheries, where Jindal and Nungesser arrived by helicopter and climbed onto LDWF patrol boats for a marsh tour. We then joined a huge flotilla of LDWF boats carrying media into the marsh to cover the government officials' tour.
The mouth of the Mississippi River was the destination, with the first stop at Southeast Pass/Redfish Bay and then on to Pass a Loutre/Blind Bay. It was an up-close and personal look at just exactly how devastating the oil spill has been on the Louisiana marsh.
Even with the tide rising, dark brown oil was visible at the base of the Roseau cane. White absorbent oil booms had sucked up oil like sponges. The smell of oil permeated the moist air.
After taking numerous photos, we headed back to Venice through the marsh, driving through an intense thunderstorm with pelting rain and sporadic lightning.
As president of the Venice Charter Boat and Guides Association, Frenette has been an outspoken representative for the interests of the recreational fishing industry in southeastern Louisiana, and he was a hot commodity for reporters when we arrived back at Cypress Cove Marina.
Frenette started a round of numerous television and newspaper interviews: CNN's Anderson Cooper 360, New Orleans CBS affiliate WWL Channel 4, Reuters, The New York Times, The Sun of London and a live shot with CNN's Situation Room with Wolf Blitzer.
A reporter from Fox Business was doing another live shot with Frenette and Nungesser when Jindal arrived late (the same foul weather that we ran through forced a late helicopter departure from the LDWF field office) for a news conference at Cypress Cove.
Jindal started the news conference with a report from what he and the others had just seen on the marsh tour. Then he had strong words for BP and the federal government regarding Louisiana's plan to begin building artificial sand barrier islands to keep oil from washing into the marshes that are so important to both commercial and recreational fishing in these parts.
"You can hear the silence. It's obvious this marshland has been damaged," Jindal said. "You don't see bugs. You don't see the marine life you should see there.
"This is literally the Gulf's nursery. It's so important to our way of life to protect our fisheries, to protect our wetlands. This is a war to save our way of life."
Jindal had a strong answer for a reporter's question about seeking restitution from BP. After saying the state obviously would seek financial mitigation from the oil company, he put it in terms that made great sense to Frenette and several other charter boat captains and fishing guides at the news conference.
"You can't compensate people for losing their way of life," Jindal said. "Nobody should think you can put a price on these wetlands."
Nungesser, who has been the leading advocate for protecting his parish's coastal wetlands through the barrier island-building plan, added his thoughts on the loss of Louisiana's coastal marshes.
"Every time I go out there and see it, I break down," he said. "The marshes are dying, and I'm beside myself. If I had the ability to go out there and pick up oil, I'd stay there all night.
"If we don't throw everything we have at this, the only fish we're going to have are the ones in pictures."
An aide walked up to Jindal during the press conference and whispered in his ear. Jindal whispered something back, got another hushed answer from the aide, and then stepped back to the dais, saying he'd just received word that the White House had called with good news: The first stage of the barrier-island plan has the green light, and the federal government will force BP's hand if necessary to make it happen. The announcement drew feverish applause from all the locals in attendance.
After the news conference, Frenette and I headed back over to Venice Marina for one more interview, another live shot, this one with MSNBC's The Ed Show.
We finally sat down for dinner, the first bite of food either of us had had all day, at 5:30 p.m.
Now we're back at Frenette's lodge. He's checking e-mails and trying to figure out what's wrong with his cell phone. It took a spill on the long run down the Mississippi River and hasn't been working right the past few hours.
He'll have to get that fixed. Tomorrow's sure to be another busy day for him.
---
Saw blade humor — 4:11 p.m.
There's nothing funny about what's happening on the Gulf Coast, but sometimes you have to laugh or lose your mind.
Plaquemines Parish President Billy Nungesser, who often has showed his emotions over the disaster in recent weeks, couldn't help but pop a joke when he got word that BP's current plan to stop the flow of oil was back in action after workers unstuck the saw blade that had lodged in the pipe earlier in the day.
"What'd they do, put WD40 on it?" Nungesser said. "There's enough oil on it that it shouldn't have ever gotten stuck."
---
Things are getting crazy — 3:12 p.m.
Mike Frenette and I just returned from a boat trip at the mouth of the Mississippi River. We followed boats with Louisiana Gov. Bobby Jindal and Billy Nungesser, president of Plaquemines Parish. We are at the Cypress Cove Marina awaiting the start of a news conference.
Frenette has done numerous interviews, including reports with The New York Times, Reuters, CNN and local TV stations. CNN producers just informed Frenette that the network wants him to report live on "The Situation Room" with Wolf Blitzer this afternoon.
Things are crazy around here. As soon as they slow down, we will have more reports.
You can look for Frenette on tonight's episode of "Anderson Cooper 360."
---
Oil difficult to clean — 11 a.m.
We just ran into James Peters outside of Venice Marina, and he showed us just how bad this oil can be.
Peters went out yesterday and ran through some of the mucky gunk.
After spending six hours cleaning his boat, he still couldn't remove a bunch of the tacky oil.
He destroyed two cleaning brushes and went through 5 gallons of degreaser, and still all the oil didn't come off the boat.
---
Pushing estuary devastation — 10:55 a.m.
Mike Frenette has been on the phone with the producer for CNN's "Anderson Cooper 360." He's been discussing a potential story for tonight's broadcast, and he's trying to line up other charter captains to talk about issues with the oil-spill response.
The producers want to tell a story about the Vessel of Opportunity program, but Frenette keeps pushing the story of estuary impacts and devastation to this area's fishing industry.
---
Storms, media, the gov — 10:40 a.m.
We'll be going out on the water later in Mike's boat to follow Louisiana Gov. Bobby Jindal, who is on the way to Venice. There's media everywhere in Venice. The satellite truck count at the marina is seven.
We went to Cypress Cove Marina, staging area for the Vessel of Opportunity program. Charter boats are pulling out of the water because operations have been suspended for today. We had just learned that oil-recovery operations were temporarily suspended today because of thunderstorms with lightning.
---
Uncertainty grows — 9:45 a.m.
Everyone seems to have a lot of questions, but answers are hard to find.
Mike Frenette just stopped to talk to Bobby Warren, one of the fishing captains who works with him. Warren said he recently called the Louisiana Department of Wildlife and Fisheries with spill-related questions.
"I got five different answers, and three of them were, 'I don't know,'" Warren said.
It's a common theme. Another source of questions deals with work on the spill response, which is a source of income to offset losses from fishing closures. Many captains have signed up for the Vessel of Opportunity program, in which they use their boats to assist in transportation of BP officials and Coast Guard officials as well as transporting absorbent booms to staging areas. But when they work and when they get paid has been a source of many lingering questions.
---
Ground Zero — 6:45 a.m.
Referring to Venice, La., as a different world isn't novel. It's a small community at the end of the road that's totally immersed in fishing and oil production, the dual engines that drive its economy.
This town is anything but typical. It's what you'd expect in a place that's a jumping-off spot for offshore and inshore fishing and Gulf oil platforms, an island of civilization surrounded by water and marshland.
To put its location in perspective, consider that it's about the same distance from here to New Orleans as it is from here to the site of the exploded Deepwater Horizon rig.
In the wake of the Gulf oil spill, however, Venice is even more different. And it's a world away from what I've seen over the past five days.
Normally, Venice is something of a sleepy little fishing village. But when I arrived about 8 p.m. last night, I found activity everywhere.
Venice is serving as a major staging area for the cleanup efforts. There are people here from every imaginable government agency as well as national and international news media. Workers taking part in the cleanup are all over the place.
Instead of fishermen filling the small motels and other rental properties, the aforementioned spill-related workers are taking up the spaces.
There's no fishing. That's saying something when you consider that Venice is one of the top fishing destinations in the country. And it's the reason we're here.
Last night I caught up with Capt. Mike Frenette at his fishing lodge overlooking the Venice Marina. Mike has been a driving force in promoting Venice fishing over the years, one of the leaders in turning this place into a top-notch destination for anglers from across the country.
Over the past few weeks, Mike has been a common presence in media coverage of this disaster. He has appeared on NBC's "Today" show and numerous other national broadcasts. Just yesterday afternoon, he spent nearly half an hour discussing the disaster and its effect on fishing with Diane Rehm on National Public Radio. As Mike and I talked for a couple of hours last night, he spoke several times with a CNN producer for "Anderson Cooper 360," a show that may call on Frenette's perspective in the coming days.
Mike also told me he has been invited to testify before Congress next week. He'll find out today if that's going to happen, he said.
"I'm trying to keep myself out there as much as possible," he said. "For a lot of reasons."
Sitting at the kitchen table in Mike's lodge, it was amazing to watch this disaster unfold right in front of me in the form of Mike's response to it. He was staring alternately at his laptop computer screen and his television, where Plaquemines Parish President Billy Nungesser appeared on CNN's AC360 to discuss Nungesser's plan to build barrier sand islands along his parish's coast (Venice is part of the parish). On the computer, Mike is reading news accounts, looking at maps of the oil's movement, checking reports from charter captains in the area.
Mike's phone rang numerous times, and he made several more calls, including one call to a high-ranking official in Nungesser's office. Mike is like a one-man command center, responding to the disaster the only way he knows how, and it's a fluid situation, changing every minute.
While other fishing guides along the Gulf Coast have been trying to get the word out that fishing is still open and still good, Mike has a different message to deliver: Fishing is closed, things are real bad, and his and other people's lives and livelihoods are in danger.
"I'm losing my business. I'm losing my life," he said. "I'm losing everything I've worked for."
This message is a far cry from what I've heard the past few days. While other coastal communities are watching and waiting, Venice is coping with and responding to the disaster. Yesterday, I went fishing, taking off from a boat ramp just 10 miles north of here. Today, I'm walking around a place where there is no fishing. Most of the fishing boats here sit idle, and those that are going out this morning are carrying spill-related workers instead of fishermen.
"It's a peculiar situation to be in right now," Frenette said. "It's confusing to people who don't know the geographical makeup of this area. It's all curves and points and bays and bayous. Twenty miles up the road, everything's different."
Mike said he lost more than $25,000 that his charter business would've grossed this past weekend alone. And that's just one weekend. When you consider that he and other captains in this area just finished rebuilding their businesses and lives after 2005's Hurricane Katrina, this is a smack in the face and a kick in the private parts that no one saw coming.
"I took an ass whipping after Katrina," Frenette said. "But if you've got the guts and the fortitude, you can rebuild. It's not easy, but you can rebuild. I thought that was the most difficult thing I'd ever done. But this is."
To be perfectly honest, my head is swimming right now. Everything I'm hearing from Mike is so different from what I've been hearing, even what I was hearing just a few miles up the road yesterday.
More than anything, Mike wants to go back to work in a safe environment. He wants to chase fish and make a living. He wants his life back.
"Who knows what's going to happen next," he said. "That's the uncertainty, that's the hard part. This year is shot. We know that. But are we talking one year, three years, 10 years before things get back to normal? We don't know. That's the scariest thing about this. It's on the brink of disaster here."
I have no idea what our plan will be over the next several hours. I want to see what's happening so we can report it on this site. I'm going to try to do that. But that's becoming difficult. BP and government officials are not making it easy. I'm not a conspiracy theorist or anything, but there's a definite sense that some people don't want anyone to see what's really happening around here.
One thing I do know: I'm going to spend as much time as possible with Mike Frenette today, shadowing his every move and trying to make as much sense as possible of this ongoing disaster.
Yesterday, fishing on Breton Sound was fun. I feel today will be much different.
---