Editor's note: To get more liveliness out of the live blog, refresh your page.
5:30
PM ET
A point of clarification to follow up on an earlier blog entry: I wrote that KVD "yelled at one (spectator) to put his power poles down and sit in one spot."
We've since been contacted by Kevin himself, and it appears we may have misunderstood the entire situation. Apparently, the boat he spoke to was a camera boat and Kevin was trying to get him into position for his next pass through his key area.
"Yelling" may have been an overstatement, too -- they were at enough of a distance apart (as were we) that a raised voice might have been necessary to clearly communicate his thoughts. Kevin reiterated that he appreciates the fans' interest in the sport and in his performance.
-- Pete Robbins
---
5:15
PM ET
Anglers are arriving at the arena and the Day One weigh-in is less than 20 minutes away. All the speculation about who, what and where will soon end and one angler will be a step closer to winning the 2011 Bassmaster Classic.
From the looks of things, the long run to Venice paid off even with the fog delay, but the anglers that kept close to the launch stole the show. Aaron Martens, Kevin VanDam and Scott Rook positioned themselves as contenders, but the real question remains: Can the small area the majority of these anglers are fishing hold up for three days?
In Venice, the anglers found the fish biting and no major incidents were reported. The fishing should remain good, but will the trip there and back continue to be flawless?
Can't wait to get some of these questions answered.
-- Rob Russow
---
4:58
PM ET
More weights and a reminder that all these are estimates. We won't really know how they shake out until the weigh-in:
Kevin Wirth, 11 pounds (3 more than BASSTrakk)
Brent Chapman, 18 pounds (1 more than BT)
Dave Wolak, 12.5 (3 more than BT)
Cliff Pace, 14 pounds (no data from BT)
Jason Williamson, 8 pounds (3 more than BT)
Brian LaClair, 9 pounds (1 more than BT)
Dave Watson, 12 pounds (same at BT)
Morizo Shimizu, 10 pounds (1 more than BT)
Clark Reehm, no fish
Scott Rook, 16 pounds (same as BT)
Derek Remitz, 12 pounds (same as BT)
Mark Davis, 7 pounds (1 more than BT)
Stephen Browning, 8 pounds (no ifo from BT)
Brian Snowden, 12 pounds (3 more than BT)
Shaw Grigsby, 9 pounds (same as BT)
Boyd Duckett, on time, 14 pounds (1 more than BT)
Aaron Martens, 21 or 22 pounds (same as BT)
Greg Hackney, 4 pounds (same as BT)
Russ Lane, no fish
George Crain, 5 pounds (3 more than BT)
Gary Klein, 12 pounds
Brandon Palaniuk, 12 pounds (4 more than BT)
And that's all we were able to get. We'll see how things shake out at the weigh-in. Watch it live here. And don't forget to follow the standings on the Real-time leaderboard.
-- Kyle Carter
---
4:31
PM ET
More estimates from the ramp:
VanDam update: he actually said 17, possibly more...
Scroggins, 10 pounds (no BASSTrakk info)
Iaconelli, 14.5 pounds (about the same as BT)
Keith Combs, 13 pounds (2 less than BT)
Steve Kennedy, 2.4 (only two fish)
Andy Montgomery, 7 pounds (exactly the same as BT)
John Crews, 12 pounds (2 more than BT)
Bowman, who is at the dock getting these weights, think both Reese and VanDam are lying. They have more than they're letting on.
That's pretty much the first flight of anglers, with a few exceptions. We'll try to grab a few from flight two, but we're getting to the point where we need to pack up and head to the weigh-in.
-- Kyle Carter
---
4:22
PM ET
Here's are estimates we're getting from these guys at the ramp:
Kevin VanDam, 17 pounds (must have had a good afternoon)
Matt Herren, 14 pounds (5 more than he had on BASSTrakk)
Todd Faircloth, 14 pounds (no info on BT)
Kelly Jordon, 14 pounds (6 more than he had on BT)
Paul Elias, 13 pounds (1 more than BT)
Swindle, 10 pounds (1 more than BT)
McClelland, 8 pounds (no info on BT)
Skeet Reese, 15 pounds (no info on BT)
Edwin Evers, 14 pounds (no info on BT)
Bill Lowen, 8 pounds (2 pound LESS than on BT)
Dean Rojas, 3 pounds (2 more than on BT)
More coming ...
-- Kyle Carter
---
4:19
PM ET
The doors have opened at New Orleans Arena, site of the Classic weigh-in. We can hear folks filing in from our position in the bowels of the 18,000 seat facility. (Just like saying bowels.)
Folks are grabbing up the primo seating and in less than an hour can expect a 20-30 minute concert from Elite Series angler Casey Ashley.
There were no big lines outside the arena for the 3 p.m. door opening, probably because most folks are still enjoying the Expo. There was a crowd of about 50 around Yamaha booth for the unveiling of Manabu Kurita's world record bass. See the video..
-- Mike Suchan
---
4:11
PM ET
Bobby Lane just walked by and said he has 16 pounds. We're going to try and catch more of these guys as they come off the water.
The first flight is due in pretty much right now.
-- Kyle Carter
---
4:09
PM ET
Here's the report from BASSTrakk, showing when fish were caught, etc.
-- Kyle Carter
---
3:57
PM ET
There are packs of boats running back up from Venice, and it looks like Duckett is bringing up the rear. He's going to have to let her eat and hope nothing goes even slightly wrong to get back on time. We have him with 13 pounds, so that would be a significant loss if he's late.
The penalty for being late to check-in is a pound a minute.
With everybody out of the Bermuda Triangle (Venice), BASSTrakk should be decently accurate right now.
I'll have some interesting BASSTrakk stats coming shortly.
-- Kyle Carter
---
3:44
PM ET
Justin Martens, nephew of Aaron, is at the Bassmaster Classic Expo sporting his team jersey for Bethel University, where he has been awarded a scholarship to fish on their collegiate fishing team.
Justin says fishing on a college team has been a dream since he was 13. He said he envies Jonathan VanDam being on the Bassmaster Elite Series full-time, but he expects to be there soon himself after he finishes his degree in business.
-- Angie Thompson
---
3:35
PM ET
In almost every Classic we have a Federation angler show out.
PHOTO GALLERY

In 1999, it was Iaconelli.
This year it appears to be Dale Hightower. He's sitting in the third-place neighborhood at the moment.
Good to see the club tourney guys always represent.
My sentimental favorite is Gary Klein, for obvious reasons. But in that same list is the Fed guys and the Weekend Series guy.
I hope this information is accurate.
-- Steve Bowman
---
3:32
PM ET
This is turning out to be just about as confusing as advertised.
Huge, HUGE, playing field. Spotty at best cell service. And anglers going all different directions. Is there another sport where the playing field is this large?
And when you consider that there are 50 guys out there for 8 hours, you know someone is making a move every second of the day, which changes the playing field again.
And when we say someone went to Venice ... that's a lot like saying, "Hey, I'm in Dallas. Come find me." You can get to Venice, run 30 miles and still be in "Venice."
I've been at this a few years now (this is my first one here) and I've never been this confused going to a weigh-in. And I'm not sure the weigh-in is going to clear a whole lot up other than who caught what.
I'm starting to agree with Cliff Pace when he said, "we're not really going to know what decisions mattered in this event until the weigh-in ends on Sunday."
-- Kyle Carter
---
3:18
PM ET
We knew the Federation Nation would be represented by an angler, we just didn't know which one. So far it appears to be Dale Hightower, the Central Division champ.
BASSTrakk has the Terlton, Okla., angler in third place with around 16 pounds, 8 ounces. Now, these are unofficial, repeat unofficial.
Hightower gave us the "second place is first loser," spiel yesterday, and he's out to "win this thing."
OK, OK. We believe you.
He had said he's not worried about the other 49 anglers, just his fish.
"I've got to go fish the fish. That's my competition."
Go Fed Nation!!!
-- Mike Suchan
---
3:15
PM ET
The anglers have an hour left at this point before the first flight has to check in. For those who didn't go to Venice, this hour is a big reason why.
They wanted more time to fish, but in order to make it worthwhile, they need to make a late move.
Meanwhile, we're watching Crews basically drive through the Gulf of Mexico to try and get back. There's a lot of gas being burnt out there right now.
-- Kyle Carter
---
3:08
PM ET
After what seemed like an eternity without a fish catch, we just watched KVD swing one in the boat. It went straight into the livewell and he didn't cull so we're guessing that's his limit fish.
He may go another 2-3 years without backlashing again.
-- Pete Robbins
---
3:03
PM ET
Clark Reehm gambled today. We just picked him up track near California Bay, which means he's really lost or he went to the Delacroix area.
We have him with a zero at the moment. But that doesn't mean anything.
Delacroix is one of those places that anglers feel like they can win there in just a few minutes.
Reehm, though, will have to hurry. He was California Bay at 2:50 p.m. (EST) and he has about an hour and a half to get here. He still has to get through the lock at Empire, and then work his way back north to Segnette.
He may have waxed them. But it's even odds at this point that he won't make it on time if his check in is 4:15 p.m. (EST)
-- Steve Bowman
---
2:47
PM ET
Kyle Lawrence reports "Hackney has left Lake Cat and made a run to Lake des Allemands area. Still only two keepers and pitching again."
-- Steve Bowman
---
2:45
PM ET
The shake ups just keep coming.
Martens is still in the lead.
Brent Chapman is second with 17 pounds.
Dale Hightower, one of the Federation Anglers, is third with 16 plus.
Rook has slipped into fourth with 16 plus.
Bobby Lane is fifth with 15-15.
Vinson has 15.
Iaconelli has 14 on BASSTrakk (but if he's culling 3-pounders he has much more)
Keith Combs is in the 14 neighborhood.
Biffle and Remitz are around 13 pounds.
Paul Elias is around 12, as is Skeet.
And the Venice contingency just keeps getting closer on their boat ride and the changes keep mounting.
-- Steve Bowman
---
2:36
PM ET
It's crazy how different the Delta can be from one end to the other. I just read Pete Robbins blog about "howling wind" toward Venice for Steve Kennedy. We could have used a few gusts over here in Bayou Black today. (Venice and Bayou Black are about 80 miles apart as the crow flies).
Randall Tharp has packed it in for the long run back to Bayou Segnette. Should take him just under 90 minutes, which will still leave him with a few minutes for a last-second cull.
We are on our way back to where we put in, closer to the entrance to Bayou Black. I'd call this a surprising day with weights lower than expected and only one angler in our neck of the woods. Could be more tomorrow with a few game plans shaken up after Day One. Could be less.
All I know is that we won't know the whole picture until this weigh-in gets under way in a few hours.
-- Rob Russow
---
2:34
PM ET
Sorry I was out of range and was just able to get this in. Around 12:33, Todd Faircloth was fishing a small pocket off a cut not far from Boyd Duckett. A few hundred yards away, Brian Snowden just left a pond and headed toward Main Pass.
Iaconelli just raced past Faircloth's spot and dropped his trolling motor to fish another break in the roseau canes less than 100 yards from the entrance to the pond where Faircloth is fishing. Iaconelli appears to be fishing a crankbait.
For an area as huge as the Delta, several anglers are now bunched fairly close together at Delta Duck. There's one common denominator: clearer water than surrounding areas. While most water down here is brown and murky, the water where everyone's fishing has more of a green tint with a foot or more visibility.
Several spectator boats are also in the area. Ike just landed a 2 1/2 to 3 pounder and quickly threw it back. He has a limit and said he has two "good" fish. They may be better than "good" if he's culling 3 pounders. We are headed back to Venice to drive back to New Orleans for the weigh-in.
-- Trey Reid
---
2:30
PM ET
The spectator boats have cleared out and we expect Tharp to soon as well.
Since arriving at Bayou Black, Tharp has only turned on his big engine once, to move about 50 yards. He's milked the same creek all day for just under 10 pounds, but it was really one key stretch that yielded all his fish. The rest of the canal was dead.
Either he was extremely confident the fish would show up or he didn't find anything else worth spending the time running to.
Likely, the hot day and warm night contributed to the change in fishing.
"I caught all my fish when I found them out in the middle of the canal. Now, they are all up on the bank."
Tharp didn't even want to estimate what he has in the box.
"I don't have any idea how much weight I have. With the tougher fishing, every one of those looks good to me."
He and all the other anglers beat the canal up pretty bad and the weekend traffic should only get worse.
"I may make it back tomorrow and I may not. We'll see where I stand."
-- Rob Russow
---
2:26
PM ET
Steve Kennedy is talking to VanDam. He had planned to go to Venice -- "figured I could catch more in 15 minutes there than I could here all day" -- but got halfway there and the howling wind led him to turn around. Could be a bumpy ride back for the Venice crew.
-- Pete Robbins
---
2:26
PM ET
Skeet Reese has a limit and is culling, but like so many of the anglers, there's no size to them.
His five are guessed to be around 12 pounds, which would put him in our unofficial top 10.
And a few other anglers are starting to show up.
Dave Watson and John Crews are in that mix, both with limits in the 11-pound range.
KVD, Kriet and Lowen are all stuck on 12th place with 10 pounds each.
Morizo has a limit as well, but it's estimated in the 8-pound range.
Lot of little changes showing up. And our guess is the trip from Venice back home has started for a lot of guys.
-- Steve Bowman
---
2:24
PM ET
Somebody asked us if we could provide them with something that shows where all the anglers are actually at. We took this screenshot of BASSTrakk to give you an idea.
The time stamps report the last update for that angler, so most are probably not in that exact location any more. Sorry that some of the guys are overlapped.
-- Mike Suchan
---
2:20
PM ET
Rook just babied a 3-plus pounder into the boat. Think he's media savvy? We heard him yell "Overstreet" as he fought it to the boat.
-- Pete Robbins
---
2:16
PM ET
Scott Rook just told us the spawn has the fish messed up -- he can feel them slapping at his spinnerbait like crazy, but the few hookups are on the trailer hook. He did say that everyone here has a limit, but only Aaron has any size. He also reported that everyone is getting along -- so far.
-- Pete Robbins
---
2:08
PM ET
Boyd Duckett is doing a little shaking on his own. We just got a report of him having a limit that weighs 13-5.
That'll put him in the top 5 at the moment. We know he was south of Venice, so our guess is he's on his way back.
We expect to see more of that.
-- Steve Bowman
---
2:03
PM ET
Things are starting to happen on Day One. A lot of contenders are fond of saying, "You can't win on Day One, but you can certainly lose on Day One."
So we start seeing the foundation emerge.
KVD and Aaron Martens are bumping boats in a very interesting battle between two giants in the game.
Martens is winning, hands down. KVD is even yelling at spectators and picking out backlashes. Who would have ever thought that kind of thing would happen?
Meanwhile, Bobby Lane, who has been out of sight all day, just jumped into the mix with almost 16 pounds.
Lane said this morning he was jumping a bar into a pond and only needed 20 minutes to catch them. It will be interesting to see if he caught them that quick.
Vinson and Iaconelli are close behind. Then comes Biffle and Remitz in the 13-pound range.
Scott Rook is 7th with 12 pounds. He can hit KVD and Martens with a cast at times. Tharp is 8th and KVD is 9th.
We know just from seeing Lane, Vinson and Biffle show up that those are very preliminary. My guess is another bunch of Venice guys will shake up things.
But it gets more interesting by the minute. Aaron is probably just guarding his spot at the moment, if he really does have 20-plus.
Everyone around him is scratching their heads and wishing he would leave.
I wish the weigh-in would get here.
-- Steve Bowman
---
2:01
PM ET
---
1:54
PM ET
About 50 yards in front of Tharp, a guy catches a 2-pounder off a laydown. We passed miles of canals on the way here that didn't have any boats, but this one is loaded.
Our camera boat driver, Carl Cavalier, said this kind of thing happens all the time on the Louisiana Delta.
"That's a problem we have down here," Cavalier said. "If a big bag wins a tournament here one weekend, you can bet the word travels fast in the next week or two."
What makes this area special are the ponds that drain off into the canal. Plus, there are a bunch of laydowns, which are unusual for the mostly weed-covered canals.
Tharp is pitching to some of those laydowns on his way out of the canal. At a particularly juicy-looking one, he sets the hook, but the fish comes off at the surface. To win the Classic, misses like that just can't happen often. That makes two for Tharp on the day.
-- Pete Robbins
---
1:54
PM ET
Another backlash for KVD. Overstreet said he's only see him with five backlashes in 5 years.
He's getting frustrated by spectators. Just yelled at one to put his power poles down and sit in one spot.
-- Pete Robbins
---
1:49
PM ET
Has hell frozen over? We've seen the unthinkable, KVD picking out a backlash, or in his case, we can justify calling it a "professional overrun."
-- Pete Robbins
---
1:39
PM ET
Martens came into a TV interview on Tuesday all out of sorts. He was talking about how everything had been so busy he hadn't had chance "meditate on my tackle." That's vintage Martens. He's a unique guy.
"For some reason this event has me all twisted," he said. "I haven't had a chance to settle down and meditate on my tackle. I don't even know what to throw."
I mentioned earlier he said he'd take second place "in a heartbeat," but that's not where it stopped. After talking a little bit about how he was past all those (all three) second-place Classic finishes, he started to get emotional.
His dad is very sick so Marten's mom stayed with him in California. This is the first Classic Martens is fishing that she won't be attending. They used to be team partners in bass fishing events and are very close.
"I really don't expect to win this one but if I did, I would really want my mom to be here. It would be sad," he said. "I really wish she could be here."
He took that emotion and went back to talking about his second-place finishes and the effect it had on his family, including his kids.
"I'd like to win the Classic just for my family, to tell you the truth. They've cried more than me," he said. "I didn't really cry after the Pittsburgh Classic. I mean I was bothered by it with the throwing the keeper back and all the different things that happened, but my mom and kids were crying. I'd like to win to regain that moment and give it back to them."
It was an amazing three-minute look into how much goes through these guys heads when they are on the water.
-- Kyle Carter
---
1:36
PM ET
The fish seem to have moved closer to the bank as the day goes on. Tharp started off out in the middle of the channel first thing, but due to warming temperatures or boat traffic, his last few fish have come closer to cover.
Tharp sets the hook on a fish off a piece of wood cover, but this one won't help him. He has "three on the good side," but needs to cull two fish that will barely go a pound each.
Despite the recreational boat traffic, I haven't seen many fish boated. Fishing on the Delta is all about timing and location. Location has been key for Tharp so far. When he gets on one stretch in the middle of this canal, he gets bit.
-- Rob Russow
---
1:25
PM ET
Greg Vinson just came out of nowhere. He really hasn't registered all morning. Now he shows up with 14-12 and is in second.
We know he was in the Venice area. Word is he stopped to fuel up and head back. That's when we started getting the info.
Vinson could be a template for a lot of those guys we haven't heard from. As they get closer or fish into range their info will update.
Every little report like this just insures that the weigh-in will be pretty interesting, definitely exciting.
Another update comes in from Biffle. He's in fourth with 13-2. He's also a noted sandbagger, so you can bet that limit weighs more than that.
A few more limits are hitting the livewells. Kriet, Herren, Combs, Swindle, Grigsby and Crews all have a limit. They don't register heavy, but they do show five in the boat.
Things will start shifting now and we will start to get a clue as to who might be setting a good foundation for a run at this Classic.
-- Steve Bowman
---
1:21
PM ET
Randall Tharp is fishing his first Classic. While he's no stranger to big tournaments, the Classic is a different beast. The two spectator boats following Tharp have been closer than courtesy allows.
While they might not know any better, it is up to Tharp to remind them. He doesn't seem too distracted, but controlling those variables is part of the winning equation.
It reminds me of last year at Lay Lake. Kevin VanDam had been fishing behind the bridge in Beeswax Creek. To control the massive amount of spectators, VanDam asked them to remain behind the bridge or watch from shore.
It worked, not only to give KVD some space, but also to define a boundary and keep other competitors out. That's a veteran angler understanding how to handle a variable. First-timers aren't prepared for the boats and Tharp has to deal with all of them since he's the only one around for miles.
A brief flurry of excitement was tempered by the emergence of a dogfish. A few casts later and Tharp boats his limit, a bass a little over a pound. Not two minutes later, another fish bows up on Tharp, this one about 2 and change. That puts Tharp at 9 pounds and change.
"If I had that other one I lost back there I would have been in pretty good shape. It was easily 4 or 5 pounds."
With less than 2 hours, Tharp is hitting a flurry at exactly the right time.
"I don't have time to get excited, I've got too far to get back."
He's right back where he was catching fish earlier in the morning.
-- Rob Russow
---
1:01
PM ET
Here's the latest BASSTrakk standings. Remember folks, these are totally unofficial. Anglers can be fishing out of range and there's even room for errors as Marshalls are estimating the weights of the fish caught.
---
12:58
PM ET
While Rob Russow is watching Tharp, we have a direct line to his Marshal for the day, Wayne McLaughlin.
He basically gave us the same "he needs one more" text. But he also relays that he laid eyes on the fish Tharp missed.
"That might have made a big difference in this Classic,'' he said.
Those kind of misses don't ever register on BASSTrakk. It's great to have another set of eyes to give us some insight on what is taking place on the water.
-- Steve Bowman
---
12:56
PM ET
Trying to address a few of the issues in the comments section ...
We don't know anything about Skeet other than he is in Venice. Talking to a few of the locals, it seems like there is no cell service beyond the Venice marina, but there's still about 30 miles of fishable water. It's crazy to stare at a map and think about where these guys are fishing -- it's so close to the Gulf of Mexico.
And for cfmitchell21 and any other who might be interested, here's a larger version of the Venice photo from this morning.
We try and pay attention to the comments as much as we can so if you have a question, let us know and we'll do our best to answer it.
-- Kyle Carter
---
12:51
PM ET
Tharp fooled us for a moment. After wrapping his rod up and strapping on his life jacket, he only idled out about 50 yards past us to start fishing again. After going so long without a bite, Tharp is headed back toward where he had the flurry of activity earlier.
The sun is bright in the sky and there is no breeze for relief, opposite of what these guys practiced. Not ideal conditions for catching fish, especially considering their prime fishing hours are spent running to their fishing spots.
Tharp gets a bite, but it quickly pulled off.
"Did you see that one," he asked his Marshal. It looked like a good one.
He dropped his Power Poles down to cover the area more thoroughly, but can't hook up again just yet.
-- Rob Russow
---
12:49
PM ET
We just watched KVD reel in a whole bunch of grass and a little bit of bass. He's getting his culling tags on his five fish so he'll be ready to get rid of that peanut -- hopefully sooner rather than later.
-- Pete Robbins
---
12:48
PM ET
Pete Robbins reports that Martens just caught a 4-plus and is culling -- at least a two-pound upgrade.
"He's not doing anything unusual but he must have something figured out because he's leaving this crowd in the dust," Robbins said.
BASSTrakk all of the sudden has him at 21 pounds. Yikes!
I won't settle on that just yet. I still remember Pittsburgh, where it said he had 11 pounds and that wasn't even close.
-- Steve Bowman
---
12:46
PM ET
We are reasonably sure there are several anglers in our area, but they could be 100 yards from us and we'd never know it. There are several passes that are outlets for fresh water as the Mississippi River spreads and scatters throughout its Delta.
Off these passes, numerous smaller waterways branch off, and countless smaller cuts lead to small ponds that hold bass. The Roseau canes rise 8 to 10 feet, concealing anything behind them.
Iaconelli isn't far from Duckett. We are headed his direction as soon as we leave Duckett.
-- Trey Reid
---
12:44
PM ET
Kyle Lawrence, Hackney's Marshal, reports that the Hack Attack has caught three fish, with only one of those a keeper. He's a noted flipper and pitcher, but has switched over to cranking.
Some might say that's scrambling for Hackney. But he grew up on the Arkansas River and should be as noted as a shallow-water cranking expert as anything else.
He might be scrambling, but he could be starting a famous attack as well.
-- Steve Bowman
---
12:31
PM ET
The report from our BASSTrakk expert Hank Weldon is that there is not another competitor around us here in Bayou Black for 50 miles. Wow. I'm shocked. I know of a few other anglers that were planning on making the run, but the fog delay must have scared them.
Tharp is still stuck on four fish and hasn't had a bite in over 30 minutes. Those 30 minutes probably felt like an eternity with time slipping by out of control.
He covered up a 15 yard section of reeds and a few rickety docks without a sniff.
We are nearing a section of the canal a lot of other anglers were in. Not sure what they know, but we are about to find out.
-- Rob Russow
---
12:30
PM ET
Martens just caught a four-plus and is culling -- at least a two pound upgrade. He's not doing anything unusual but he must have something figured out because he's leaving this crowd in the dust.
-- Pete Robbins
---
12:23
PM ET
Finding anglers in this maze of water is difficult but not impossible. We just stumbled across 2007 Classic champ Boyd Duckett. He has three fish but isn't thrilled with the overall weight. He just put the third fish in the boat.
He's flipping a bait (not close enough to see what it is) around the Roseau canes in a slough that's about 10 feet deep. He's near Delta-Breton National Wildlife Refuge, a few miles south of Venice.
-- Trey Reid
---
12:19
PM ET
Just completed a call around to camera boats and their operators. The BASSTrakk is in the camera boat for guys like Skeet, Evers and Kriet, all of whom we figure to do something string in this event.
But in doing that we discovered that several of the boats following those leaders lost their anglers in the fog this morning. When that happens the cameraman and camera becomes the Marshal, but that's another unseen variable. It's not fun running in the fog, following these guys, some with radar units and trying to keep up in fog. Now that has to be a lot of fun. Not!
We still have Martens on top, Iaconelli a close second and Remitz in the top three.
And other catches are starting to trickle in. But I'm sure (as in years past) we won't have a real good look at how this will shape up until the weigh in. Day Two is always easier, because a top 10 is established. Looking for and chasing 50 guys at the moment is like herding cats.
-- Steve Bowman
---
12:14
PM ET
Fishing has slowed here in the Tank Pond. After martens put two in the livewell Remitz caught a short fish and Rook caught a fat keeper -- but that was it. With the water temp over 62 degrees, James Kennedy told us that it should be red hot. He's convinced the fish are moving toward the bank and this big crew is too far offshore.
-- Pete Robbins
---
12:13
PM ET
We're getting a few reports from Venice now. Iaconelli is down there and just boated his fifth to round out the limit at 14 pounds. Evers has a limit but it's nothing big. Best guess is a little under 10 pounds.
Weekend series qualifier Ryan McMurtury, who is not in Venice, just boated a 6-pound redfish. No word on whether he flipped out when the fish hit his bait but I imagine that stomach did some dropping.
-- Kyle Carter
---
12:08
PM ET
It's been interesting how the Venice situation has played out this week. A month ago, the feeling was that only a handful of anglers would go there, and even last week for the three-day practice, Russow didn't see a ton of anglers launching there.
PHOTO GALLERY

By Wednesday the number of anglers saying they were making a long run was growing, and after Wednesday's practice, speculation was that as many as 30 would risk the long trip.
Then came the fog delay, which a lot of guys said would deter them from trying to make the two-hour drive, but the delay turned out to be just short enough not to scare them away.
The prevailing feeling is that the tournament will be won in that water, but you take a crowded Venice, add a fog delay and two more days of uncertainty and it's hard to believe that an angler is going to be able to put three perfect days down there.
-- Kyle Carter
---
12:06
PM ET
This area that Randall Tharp is fishing in Bayou Black really seems to be a community hole. The recreational anglers are stacked in this one canal, at least a dozen boats within eyesight. A gator is in sight as well, briefly grabbing our attention since the action has slowed considerably.
When anglers make a long run like this, the clock has to be ticking in their heads. Every minute counts and Tharp is clearly fishing with a sense of urgency. Far from panic, but every movement is at maximum efficiency for Tharp, who has a little less than three hours left to fish.
-- Rob Russow
---
12:03
PM ET
What would you do with the $500,000 if you won?
Todd Faircloth: "I've got two kids and they need to go to college. I'd probably invest in something, too."
Cliff Pace: "I don't know; I'd never thought about that. I'd probably take the wife on a vacation, pay some taxes, then after that, I'm not sure."
Sean Alvarez: "That's a good question. I'd definitely save some for the kids' college. I'd also like to make sure my wife could stay home if it made sense. It'd be a family decision.
Gary Klein: "I'd give it to my wife to put it in the bank. I don't really have any wants or needs, it'd be nice security for the future. Before, I'd always bought property, but a victory isn't about the money. This is something that I've wanted for my whole career, so I'd really like to earn the credential of winning."
Shaw Grigsby: "I hadn't thought about that. I'd probably build a cabin on my property in South Carolina. It's always been a makeshift deal, but it'd be nice to have something better."
Edwin Evers: "I'd probably pay off my house and go to Walt Disney World. Isn't that what you're supposed to say?"
John Crews: "I could spend that real easy! But, I'm not worried about the $500,000. It's the trophy that lasts a lifetime."
Greg Vinson: "I'd put it in the bank and fish for years!"
Greg Hackney: "I'd probably buy a little bit (of guns and ammunition) and some land. I'd have some fat, happy deer, too."
Kelly Jordon: "Go to Disney."
Andy Montgomery: "I don't know. I never thought about having that much money. My wife would like it, though."
Clark Reehm: "Pay some entry fees and spend the rest on diapers and Enfamil."
Dale Hightower: "I'd pay a few bills and fish the Elites."
Jeff Kriet: "I'd probably put it in the bank so when I'm too old to catch bass I'll have a nice little nest egg."
Got fog?
The anglers were split on the issue of the fog delay. Some dreaded it, others were indifferent. Here are a few thoughts.
"Ideally I'd stay close, depending on how long we're delayed. I was planning on making a long run," Todd Faircloth said.
"I'm all in with this fog," Gary Klein said. "It's 2 hours, 5 minutes one way, so even if I only had 15 minutes to fish I'd go. But, I have a lot of 'ifs' in my gameplan."
"I'm going to do what I'm going to do," John Crews said. "I can't not do it because of the fog."
"I wish this fog would go away," Aaron Martens said. "If it doesn't it'll make my area crowded. Right now it's not, that's what's cool about it. This might cause 10 or 15 guys to come in there."
"This fog isn't good for anyone," Kevin VanDam said.
"The fog isn't a problem," Bobby Lane said. "I just need to be in my area for 30 minutes by myself."
-- David Hunter Jones
---
11:58
AM ET
Unofficial BASSTrakk standings.
These are really unofficial as Aaron Martens is reported to have around 16 pounds, so take it all with a grain of salt.
---
11:56
AM ET
From cameraman Wes Miller, who is with Michael Iaconelli: He has three fish that weigh around 10 pounds, including a 4-plus pounder.
In other reports, Martens BASSTrakk is starting to update and it will soon show him with close to 16 pounds. Some of the kinks are starting to settle, which means more reports. But we're still dealing with Venice.
We have 21 anglers with fish at the moment, all of them basically in the Cataouatche area.
-- Steve Bowman
---
11:53
AM ET
After about five minutes without a bite on the lipless crankbait, Tharp picks up a creature bait and on the first flip to a laydown, lays the smack down on a three-pounder.
The crowd cheered on the impressive hookset, but Tharp was all business getting the fish into the box and making another cast. That fish gives Tharp three keepers for around 5 pounds.
His plan seems pretty clear, search down the middle of the canal and then stop on good-looking laydowns. Right now, he needs a few more bigger fish.
As I write that, he hooks up on the lipless again, this fish takes him on a tour around the boat before he can swing it in the boat. It's a 1.5-pounder that leaves Tharp one fish short of a limit for 6.5 pounds total.
-- Rob Russow
---
11:51
AM ET
I am shocked that Martens is doing so well. In talking to him this week, he couldn't have been less confident. He looked scattered, confused and when asked about all his second-place finishes he said, "I'd take second place in a heartbeat right now."
That's not exactly a vote of confidence for his chances. In fact, when writing my Fantasy Fishing column for this event, I briefly had three sections: who you should pick, honorable mention and who you shouldn't pick.
I had Aaron Martens in the "shouldn't pick" section but eventually scrapped that part of the column because I didn't have strong feelings about not picking anyone but Martens. Now I'm really glad I didn't put that in there because I would have looked pretty bad. And now I put it in a blog for some reason ...
My Fantasy season has already started off bad and we haven't even had a weigh-in.
-- Kyle Carter
---
11:49
AM ET
I'm still a little surprised at the lack of action. We actually thought there would be more limits and bigger sacks at this point.
There might be some out there that we are unaware of, but currently we have Remitz and Martens with the only limits. Reports tell us Martens has about 15 pounds. BASSTrakk has Remitz with almost 12.
We have 18 of the 50 with fish in the boat, and not a single BASSTrakk report from anyone at Venice. We know some of them will have fish in the boat.
It's just a dead area in terms of service. It's something we have to deal with at the moment. It is what it is.
Still we expect to see a lot of moving going on at some point.
It will be interesting to see how the strategies play out. Those staying close over a three-day period and if Venice really does produce the big sacks and whether or not that can be done over three days.
The fog this morning threw a scare in a lot of the anglers, so this may wind up to be the most important day of the event. It's not entirely impossible for a day to be called if it gets really thick and sets in. So goes the coastal environment.
-- Steve Bowman
---
11:46
AM ET
Be checking out our live feeds from all over New Orleans. Cameras are set up at the launch, where Kyle Carter and Steve Bowman will give reports from the water.
A Toyota Hooked Up segment should air at 11 a.m.
-- Mike Suchan
---
11:44
AM ET
Randall Tharp is on a bit of a roll. He's just boated two fish in about a dozen casts. One was a keeper and one was short. That gives Tharp two fish for about 2.5 pounds. Certainly not the quality that he ran all this way for.
A few more casts and Tharps picks up a creature bait to flip around the shallow wood. The boats around us are amazed that most of his casts land in the middle of the canal or off the edge of the grass. Most people recreationally fishing are hugging the bank.
-- Rob Russow
---
11:42
AM ET
We could have a new leader. Martens says he has about 15 pounds in the boat.
-- Pete Robbins
---
11:30
AM ET
Tharp hooks up with a fish as we watch, but it doesn't seem to be putting up much of a fight. He quickly whips it into the boat and puts it on the board. It doesn't measure.
"This is a known area for when they are spawning," our boat driver Carl Cavalier said. "They get in here pretty good basically every year. One thing, these canals in here are pretty small and there are a few boats in here."
Four boats are following Tharp as he keeps working back, and a half dozen boats are still fishing around here.
Tharp seems to be concentrating on the edges of the grass with the lipless crankbait, but it wouldn't surprise me to see him start flipping some of the shallow cover. He's pretty good with the flipping stick in his hand and told me in practice he wanted to find areas he could do that in the tournament.
-- Rob Russow
---
11:28
AM ET
VanDam said on Tuesday that he just wants to get through the first day. He's just about taken care of that already.
He certainly doesn't have the limit he wants to weigh-in with, but his angst seemed more about where he was going. At the pace hhe and Martens seem to be pulling in quality fish, it seems like he can put that worry behind him.
"It's not a magic bait or secret stuff that's going to win this tournament, it's all about the spot," he said. "It's pretty nuts and bolts fishing once you get in the right area."
-- Kyle Carter
---
11:26
AM ET
Kyle Lawrence, Marshal for Greg Hackney, reports he has made a couple of short runs around Lake Cataouatche. No fish to show for it yet. He's pitching to every piece of cover.
You have to expect him to start showing up at some point. He's had the Classic jinx on him for some time, but in his backyard one would think he would start showing out.
Be interesting to look into his head right about now.
-- Steve Bowman
---
11:24
AM ET
Local spectators report Tharp caught a 14-incher about 5 minutes after he got to Bayou Black. He's moving pretty quickly down the canal, making casts quickly and looking for a reaction strike.
I've noticed some scattered grass around the canal, what looks to be coontail and that seems to be what he's interested in. Our temperature gauge reads 66 degrees.
-- Rob Russow
---
11:21
AM ET
The internet is absolutley amazing. We have fans who commented below that they are keeping up with the Classic from Kabul and Zimbabwe. Thanks for watching.
-- Mike Suchan
---
11:18
AM ET
Remitz has boated the first limit on BASSTrakk for 11-15, and still no catches recorded from the Venice contingent.
-- Steve Bowman
---
11:15
AM ET
We found Randall Tharp in Bayou Black, thanks to our BASSTrakk crew. He's way back in a canal fishing the shallow wood and vegetation.
The water is 61.5 degrees, slightly warmer but pretty muddy. It has been clearing up slightly the farther we move back in here, but it is still pretty dirty.
There are about seven boats around Tharp and they are all fishing. I don't know if they followed him in and then started fishing or if they were here, but he can't be happy about the pressure. This is public water, but Tharp isn't as alone as he would probably like.
Carl Cavalier pointed out that there was a lot of baitfish activity in this canal. He said it's mostly shad in this area of the Delta.
As we get closer to Tharp, it appears he is fishing the area where the canal forms a point and staying pretty far off the bank. Here, 30 feet is pretty far.
-- Rob Russow
---
11:15
AM ET
We found Randall Tharp in Bayou Black, thanks to our BASSTrakk crew. He's way back in a canal fishing the shallow wood and vegetation.
The water is 61.5 degrees, slightly warmer but pretty muddy. It has been clearing up slightly the farther we move back in here, but it is still pretty dirty.
There are about seven boats around Tharp and they are all fishing. I don't know if they followed him in and then started fishing or if they were here, but he can't be happy about the pressure. This is public water, but Tharp isn't as alone as he would probably like.
Carl Cavalier pointed out that there was a lot of baitfish activity in this canal. He said it's mostly shad in this area of the Delta.
As we get closer to Tharp, it appears he is fishing the area where the canal forms a point and staying pretty far off the bank. Here, 30 feet is pretty far.
-- Rob Russow
---
11:14
AM ET
Aaron just caught another one with KVD's boat almost bumping his.
They were having a conversation when he set the hook -- couldn't hear what was being said but we may have a turf war brewing.
-- Pete Robbins
---
11:11
AM ET
John Lafitte, who is with Bill Lowen, reports that Lowen's intentions are to get a limit in the Cataouatche area then move and hunt for a big fish.
With several of the anglers pounding that area, that may be the strategy for several of them. Obviously the fog spooked enough of them that spreading out hasn't been a trend as of yet.
Getting off to a good start, though, is important. Expectations are that the bite will pick up as the day wears on. Virtually a full moon last night with mostly sunny skies and warm temperatures could spell a flurry later in the day.
That's when it will get exciting.
Although the Venice contingent, who have had their 20 minutes, might want to start showing up with the goods at any time.
-- Steve Bowman
---
11:09
AM ET
Many more boats have made it to Venice, probably close to half of the field. The anglers who have gassed up and headed to their spots include Skeet Reese, Kevin Wirth, Boyd Duckett, Dale Hightower, Greg Vinson, Terry Butcher, Cliff Pace, John Crews and Gary Klein.
The fog still hasn't lifted from the Mississippi River, which has a thick blanket lying on it's surface.
Most anglers appear to be headed toward an area known locally as Delta Duck. Pace was headed toward the area where Klein was famously shot at during the 2003 Classic.
-- Trey Reid
---
11:05
AM ET
As of now, according to the unofficial BASSTrakk, Derek Remitz is leading the 2011 Classic.
The mess of family at the launch, all wearing Remitz T-shirts, are sure to be proud. His parents, Judy and Steve, drove some 1,200 miles from Minnesota.
"I wouldn't miss it for the world," Judy said. "I love him and want to support him."
The Remitz crowd was among the groups donning similiar wear. Other nice fan bases included those for Brandon Palaniuk, Bill Lowen and Morizo Shimizu.
-- Mike Suchan
---
11:02
AM ET
A sign of life!
Aaron just boated a fish. While he was reeling it in, KVD, fishing just 30 yards away, bowed up but the fish got off.
-- Pete Robbins
---
11
AM ET
We just went over the I-10 bridge heading back to publish from New Orleans Arena. The fog over the cold water in the Mississippi was still rather thick. Wouldn't want to be in a boat down there. But Trey Reid reported that the fog in Venice had pretty much cleared, so no worries there.
-- Mike Suchan
---
10:54
AM ET
The guys who headed to Venice continually said they only needed 20 minutes or so to catch a limit. They are getting to their spots, so we should see some activity start to pick up from that crew.
Right now we have 11 anglers with fish. All more or less in the northern end of the Marsh. Although two of them, Herren and Tracey Adams, seem to be close to each other southeast of Cataouatche.
The vastness of the Marsh, along with the obvious lack of cell phone coverage makes tracking these guys a real challenge. Many of them are showing up one minute and off the grid the next, which is usual for the Marsh. The wind seems to blow the cell coverage around.
Right now, just following the Trakk, we have:
Remitz with four at 9-14
Herren with 3 at 6-0
Lowen at 4-5
KVD at 3-0 (but we suspect he as at least one more)
Sean Alvarez at 3-0
Keith Combs at 2-12
Tracey Adams at 2-5
Ryan Said at 2-0
Brian La Clair with 103
Swindle with 1-1
Grigsby at 1-0
-- Steve Bowman
---
10:51
AM ET
Faircloth is here as well. He told me yesterday he was planning to be elsewhere -- he's usually a straight shooter so I'm guessing the fog delay spooked him.
-- Pete Robbins
---
10:46
AM ET
When Hackney took off, we eased over to watch Ryan Said and stumbled on the motherlode. Within sight we have KVD, Swindle, Martens, Remitz, Rook and a couple more we can't yet determine. Add in a few spectator boats and it's a party.
Hack is here, too.
By the way, I still haven't seen my first La Delta bass.
-- Pete Robbins
---
10:46
AM ET
Timing is everything right? Well, it appears we just missed Randall Tharp on his way into Bayou Black by about three or four minutes, according to a few locals we saw hanging out in the Intracoastal Waterway.
It seemed they were waiting for a few more big named pros to run by before following. I bet they were as surprised as I was this morning to hear Tharp is the only one so far. We're going to try to find him.
-- Rob Russow
---
10:45
AM ET
Kelly Jordon and Mike Iaconelli just came through Red Pass, headed toward Venice. Another group of seven boats came through hot in their wake, including Edwin Evers, Mike McClelland and Todd Faircloth.
-- Trey Reid
---
10:33
AM ET
We are on the water in Bayou Black. The first thing I noticed is how much healthier the grass is here than closer to the launch in Bayou Segnette. I saw almost all the mats had green, expansive coverage here, while Wednesday, Cliff Pace commented on how ugly the water and grass looked.
The water temperature also came up significantly, helped by the warmer nights. At the ramp, the water was just over 60 degrees.
We are waiting on the first boat to arrive. I hear Randall Tharp is close. He's on my fantasy team, so I look forward to seeing how he fares today.
-- Rob Russow
---
10:31
AM ET
Interesting trend at the moment. All week several of the anglers have thrown out the area, Bayou Black, as one of potential winning areas.
It's basically boiled down to Cataouatche, Venice and Bayou Black. While there are several headed south, several around Cataouatchie, there seems to be only one boat headed to Bayou Black at the moment, and that is Randall Tharp.
He could get some company as the day wears on, but there shouldn't be a whole lot of running in this event. Word has been that you have to stick with your area. Be interesting to see if he has it to himself.
Matt Herren has jumped into the mix with three fish that weigh in around 4 pounds. That puts him in the BASSTrakk lead, and we're still believing that KVD and Martens are ahead of that.
With the spotty cell service, there's a good bet that a lot of catches haven't been recorded. But they will eventually get here through all the maze.
As an example, Lowen's Trakk has updated and he now has three for 6-13, putting him up there as well.
It may take a little bit, but this will start to shake out pretty soon.
-- Steve Bowman
---
10:28
AM ET
The fog is gone down here at Venice. Winds are calm. We are in a boat at Red Pass awaiting the arrival of anglers, but we haven't seen anyone yet.
-- Trey Reid
---
10:27
AM ET
In 20 minutes of watching Hackney, we haven't seen a fish yet; but he doesn't seem panicked. In fact, it's amazing how methodical he's being, saturating a small area. The sole concession he's made to speed is to put down his pitching rod and start flinging a moving bait.
-- Pete Robbins
---
10:25
AM ET
"By the time you read this I'll be on the water fishing. Hopefully I'll be culling big bass," says Mike Iaconelli in his Classic blog for today. Check it out here.
-- Nathan Benson
---
10:18
AM ET
The boys headed south are almost there. On the BASSTrakk it looks like one swarm of dots headed down that way. Almost half the field.
The other half is in the Cataouatchie area, with a few spreading to Bayou Black and Des Allmendes area.
Our BASSTrakk leaderboard looks like this:
Derek Remitz, 3-5

Bill Lowen, 3-3

Kevin VanDam, 3-0

Keith Combs, 2-12

Ryan Said, 2-0

Shaw Grigsby, 1-0
We do think we know that KVD has another for about 6 pounds, and Aaron Martens has two for about 8 pounds. But BASSTrakk hasn't updated yet.
It will, and we'll get a good feel once everyone settles in.
-- Steve Bowman
---
10:13
AM ET
"It's the first day of the Bassmaster Classic, and I hope I'm putting 5-pounders in my livewell as you read this," says Kevin VanDam in his Classic blog for today. Check it out.
-- Nathan Benson
---
10:09
AM ET
We found Hackney fishing in an area where we saw him Wednesday. Apparently he wasn't sandbagging. One by one, spectator boats are idling over. There are four of us here now, another closing in and the hum of more outboards in the distance.
-- Pete Robbins
---
10:02
AM ET
We're getting close to Bayou Black and the fog has really lifted here. Visibility is good on the road, although that could be deceptive since we moved away from the water temporarily. I imagine the Intracoastal Waterway, which the anglers run to get there, is a little more fogged in. Our first anglers should be arriving in the next 30 minutes.
-- Rob Russow
---
10:02
AM ET
Catches are starting to come in. But still not at the rate we expected. Some of that is due to the cell service. We know of some catches from Martens and KVD that haven't registered on BASSTrakk.
Those that have include two fish for 3 pounds from Derek Remitz, who is in Lake Cataouatchie, two from Combs in the same area for almost 3 pounds. Shaw Grigsby has a keeper.
Others are still running to Bayou Black and Venice.
-- Steve Bowman
---
9:57
AM ET
Running out of Bayou Segnette, pea soup had given way to clear air. But by the time we got to the bottom of Lake Salvador we were completely encased in pea soup again. Our boat driver, former Elite Series pro James Kennedy, said it's probably 10 times as bad down by Venice. "It could take them three hours each way," he said. We're idling along the bank, hoping to luck onto someone.
-- Pete Robbins
---
9:51
AM ET
John Lafitte, Marshal with Bill Lowen, reports that Lowen is catching fish. But none have been keepers. Three small ones. Remember he's in the same area with Swindle and Combs.
Kevin VanDam now has two fish for 6 1/2 pounds, and Aaron Martens, who is 60 feet away, has one for 4 pounds. And as soon as that is typed he boats another 4-pounder.
BASSTrakk hasn't updated yet, but those are reports from the Marshals. Currently that puts Martens in the lead with KVD in second.
No other catches at the moment.
-- Steve Bowman
---
9:46
AM ET
Troy West, our Marshal with Gerald Swindle, reports that the G-Man has already gotten stuck. It didn't last long, maybe a minute. And he got back under way and to his first spot.
At the moment, he is fishing within 100 yards of Bill Lowen and Keith Combs. There could be a lot of those little places that fill up with anglers today.
A question from below about live cameras: We will continually have as close to live video on our BASSCam page. Those will be short video clips. The lack of cell coverage in the marsh precludes having a camera run non-stop.
-- Steve Bowman
---
9:41
AM ET
Shawn Dufrene, our Marshall for the day, got lucky. He's riding with Iaconelli, and he reports that it's clear skies at Port Sulphur.
Meanwhile, Chase Livingston, who will be a Marshal on Day Two is on the water at Bayou Black. He says the skies are clearing there as well.
Meanwhile, wouldn't you know it. KVD ran just 15 minutes and immediately boated the first keeper of this event. It's a 3-pounder and, as strange as it may sound, VanDam is leading this thing at the moment.
-- Steve Bowman
---
9:39
AM ET
We're still sitting at Venice Marina, and it's still soupy outside. The fog is so thick, in fact, you can't see from one side of the marina to the other. The sun is rising higher, but it actually may make visibility more difficult because of the bright glare it creates. It's sort of like the bright reflection you'd see when sun reflects off snow.
We just received word that tournament officials are letting the anglers leave Bayou Segnette State Park. We'll be trying to intercept them as they near the Venice area and hope to catch them at either Venice Marina or Cypress Cove Marina as they refuel their boats before heading to fishing locations.
The run down here will probably take a little longer than usual under the foggy conditions. The Louisiana Delta is a maze under the best conditions, but navigating, even with GPS, will be a challenge this morning.
-- Trey Reid
---
9:37
AM ET
A quick look at the BASSTrakk and there are already some interesting things to see.
For starters there is a healthy throng headed south to Venice. Jeff Kriet is leading the way, with Michael Iaconelli following closely on their heels. At the rate they are going, they could be there in another 30 minutes.
Others are already fishing in Cataouatche and Salvador. It may not be long before some bass starting hitting the livewells. At the moment, it's just a jumble of boats and everything will start to shake out in a little bit.
Stay tuned.
-- Steve Bowman
---
9:34
AM ET
Karl Gauthier from right here in Westwego was among the handful of spectator boats waiting behind the Classic anglers. The 24-year-old big fan of B.A.S.S. would love to watch Ike and KVD fish, but "I ain't going to Venice."
He figures he'd try to catch those who stay close in Cataouatche, where he caught the biggest fish of his life, a 5-pounder. He said the giant fish reportedly coming from that area haven't been caught lately, but last year two 12-pounders were caught on the same day ... in February.
"Fishing will be pretty good," Gauthier said. "The water is starting to clear. Usually this is dark brown. You can see a little bit in it."
-- Mike Suchan
---
9:30
AM ET
The first photo gallery from the launch is up. Check it out. We'll add more photos to that gallery shortly and create a second gallery shortly after that. Bassmaster photographers James Overstreet and Doug Cox have us covered up with photos.
-- Kyle Carter
---
9:20
AM ET
Keith Combs of Huntington, Texas, a qualifier from the Opens, has fished big events before, including three championships on another tour, but he's never seen the fan interaction he's experiencing this week. That's one of the highlights of his first Bassmaster Classic, he said, along with New Orleans' outstanding cuisine. He's tasting his way through the French Quarter and hasn't had a bad meal yet. The only negative about Classic Week, he added, "is all the down time. There's so much 'dock talk' when you're not doing anything. It messes with your mind. I didn't have a very good practice, and everybody's talking about how many fish they're catching. Anything you hear tends to eat on you." Combs is learning about the mental dimension of competition this week, and it's a hard lesson.
-- Dave Precht
---
9:15
AM ET
It's important to note that even though the anglers are taking off, they probably will still experience delays on their way out. The fog has gotten thicker on the way to Bayou Black and that means the anglers will be exercising care while running. They may launch after an hour delay, but it might cost them over an hour and a half of fishing time.
-- Rob Russow
---
9:15
AM ET
It sounds too simple, but to finish on top in this Classic, "You gotta know how to win," according to Gerald Swindle, who only recently learned that lesson. Swindle outfished Bobby Lane for the Bass Pro Shops Bassmaster Southern Open on Lake Toho, Fla., in January. Although he claimed a Toyota Tundra Bassmaster Angler of the Year title in 2004, Swindle had never won a Bassmaster event before this year.
"I knew how to catch 'em, but you gotta know how to win," he said as he waited for the fog to lift this morning. The key? "Patience. I wasn't giving my spots enough credit. I was leaving without giving them time to see how good they were." Patience will be the key today. He has two spots in one of the nearby fisheries, and they weren't easy to find. "I fished from 6:45 a.m. until 5:30 p.m. before I finally got a bite in there during practice," he said. "I feel for any of the guys who didn't practice close. If they have to fish (where he is), they're going to see how tough it is. This upper area is dead."
-- Dave Precht
---
9:14
AM ET
Can you say "wait, then hurry up?" Once they decreed it safe to run, the launch site took on the appearance of a fire drill as lounging anglers scurried to make final adjustments. Motors fired up and game faces came out of the woodwork.
-- Pete Robbins
---
9:10
AM ET
They're taking off at 9:10 a.m. ET (8:10 local). That means they lost an hour and 10 minutes of fishing. Tough, but not deadly for those looking to make the long run. This show is about to start.
-- Kyle Carter
---
9:08
AM ET
Some are happy about the fog. Randall Tharp was among those grinning.
"I'm a little happy. It hurts everybody, but I feel I'm going to get a little more fishing time than some guys," he said.
He's running and hour and half to Bayou Black and best case will have five hours to fish.
"I don't care what kind of fish you're on, you will only have a half hour to catch them. The fish here aren't hard to catch, it's just getting there and getting back."
Ah, there's the rub. Now what's the over and under on how many will return late and have their day severely penalized by the pound-a-minute late fees?
This fog is also changing the thought on weights. Tharp said he'd feel real good going into the final day with 30 pounds.
He said the other key for him will be not having to refuel, but the trip to Bayou Black puts him on the edge.
"I came back from practice and put in 52 gallons. This boat holds 52 gallons."
-- Mike Suchan
---
9:06
AM ET
Don't think these Classic anglers haven't thought of every contingency. Weight is a big factor for boats that have about a foot and half of draft. So they've lightened their load as much as possible.
One big factor can be big guys, as in their Marshal. An angler who wished to remain anonymous said he's worried about getting back into some of the canals because he drew a big ole dude.
With $500,000 on the line, there's nothing too small to consider.
-- Mike Suchan
---
9:05
AM ET
We are heading toward Bayou Black now. The fog is looking pretty good here at Bayou Segnette State Park. I'll report back on our way as we keep an eye on the fog situation.
Our camera boat driver Carl said it will take the anglers about 90 minutes to run there without fog, so don't expect many fish catches from anglers headed there until after 10:00 a.m. CT.
-- Rob Russow
---
9:01
AM ET
Fortunately he hadn't eaten breakfast yet.
"I walked out and my stomach just got queasy," Brent Chapman said of the fog.
He had planned on Venice and has set a go time of 9 a.m., meaning he'd switch to Plan B if they don't launch before then. He doesn't get how others will go even if they take-off around 10.
"I just don't understand that," he said. "I've got something here."
Blue skies are starting to appear overhead but fog has thrown a monkey wrench into the hopes of many anglers.
He still felt a touch queasy about the fog. "It was inevitable that on the first day of the Classic ... "
-- Mike Suchan
---
8:53
AM ET
Kevin Wirth doesn't like the delay, which will cut into his fishing time significantly, from 3 and half hours to maybe 45 minutes. With a need to refuel, there are also worries about lines at the gas pump taking up time.
"That becomes an issue, but there's a lot of things that go through your mind on that run."
Despite the time cut, he will run.
"I'm going. The single reason I'm here is to win."
He sees it as a Classic case of risk-reward. The fish are bigger in Venice and he's swinging to win.
"I could wind up 50th or wind up winning it. Nothing ventured, nothing gained."
-- Mike Suchan
---
8:50
AM ET
Even during the fog delay the competitors engaged in a bit of gamesmanship. Boyd Duckett turned on his bilge pump to lighten his boat and proceeded to shoot a stream of water into Clark Reehm's neighboring boat. When Reehm pointed it out, Duckett just shrugged and continued working on his tackle.
-- Pete Robbins
---
8:44
AM ET
"There's a lot of guys who probably found a few fish close, and this don't hurt them," said Mike McClelland, who spent a day practicing close but didn't like what he found, a limit of maybe 7 pounds. "If I can go to Venice and fish for an hour, I'm going."
The anglers have to be back at 3:15 to check in. So McClelland's cutoff time to make that run is about 10.
The fog does appear to be burning off. The sun has broken through several times.
McClelland said the run to Venice takes "two hours before you make the first cast."
If they head out soon, it will look like a convoy. The boats travel around 75 mph but through the narrow canals and the twists and turns but he said they average around 60 to 65 mph on this route.
"We're going to be feeling like a bunch of road racers," he said.
-- Mike Suchan
---
8:40
AM ET
---
8:39
AM ET
The fog is thick in Venice, but the sun is starting to burn through it. Still, visibility is less than a couple of hundred yards in many areas. Some places have a little better visibility, where you can see maybe 400 or 500 yards.
Driving the 75 miles from downtown New Orleans to Venice, thick fog was prevalent. I imagine it's worse in the marsh, which anglers would have to navigate on their route down here.
Photographer Jerry Cunningham and I are going to post up at the Venice Marina and wait. It seems like everyone's playing the waiting game for now.
-- Trey Reid
---
8:32
AM ET
Most Classic anglers have supportive families, but few can top B.A.S.S. Federation Nation qualifier Brandon Palaniuk. At least 15 family members and friends made the trek to New Orleans, several driving from his hometown of Rathdrum, Idaho.
That's only 2,392 miles from Bayou Segnette State Park, or one day, 15 hours of driving at the speed limit. His mother, Tonya, and stepfather, Dan Lyden, along with his grandmother and aunts, stood in the bleachers and cheered him on. Palaniuk, the 23-year-old winner of the B.A.S.S. Federation Nation championship last fall, has been sleeping in his truck to be able to afford his foray into professional fishing.
He's also signed up for the Bassmaster Elite Series, which kicks off in March. Family members held up a banner in the bleachers imploring Palaniuk to "Do Work." That's the code phrase he uses to tell his mother when he's faring well in a tournament -- "I do work," he tells her.
-- Dave Precht
---
8:25
AM ET
Trip Weldon is headed out to where the anglers will be leaving Bayou Segnette State Park to assess the fog situation. He said the fog seems to be clearing in places and the visibility is better here in the park. To see the whole update with Trip, head over to the BASSCam page.
-- Rob Russow
---
8:01
AM ET
Gary Klein seemed a touch nervous about the fog.
"I have a limited time to fill my limit," he said. "I have no backup plan B." Once the launch time is determined, he said he's have to "sit down and calculate the times. If we start getting to 10 o'clock, it's decision time. If 8 or 9, I'll have a couple hours. "
He said he'd like to have more than 30 minutes to catch what he needed.
"I can't do it with five bites. I need 15 to 20 and cull through to have a good bag. I'm not catching big fish. A big fish for me will be like 5-2."
-- Mike Suchan
---
7:57
AM ET
It's normal for Classic competitors to have the butterflies as the tournament gets underway, but one of the observers this morning is all shook up as well. Ian Leybas of McAlester, Okla., was "shaking," just to be rubbing shoulders with his heroes, according to his wife, Crystal. Leybas, a B.A.S.S. member and Bassmaster Weekend Series fisherman, won a trip to the Classic by finishing first in the 2010 B.A.S.S. Fantasy Fishing competition.
As part of his prize, he gets to go out today as an official observer with one of the pros. He was ecstatic to have his picture taken with Skeet Reese this morning, he said as he staked out the coffee urn at Bayou Segnette, waiting for his assignment. "I hope I get to go out with one of the big name guys," he told me. A few minutes later, his partner was announced: Kevin VanDam. His lucky streak that helped him to a fantasy win continues.
-- Dave Precht
---
7:56
AM ET
Don't think these Classic anglers haven't thought of every contingency. Weight is a big factor for boats that have about a foot and half of draft. So they've lightened their load as much as possible.
One big factor can be big guys, as in their Marshal. An angler who wished to remain anonamous said he's worried about getting back into some of the canals because he drew a big ole dude.
With $500,000 on the line, there's nothing too small to consider.
-- Mike Suchan
---
7:54
AM ET
The fog has made some decide what they will do. Stephen Browning had options of running to Venice and said the issue most likely will make him pick option B.
"To be honest, I think I'll stay," he said.
He did not the water level has risen and that could make some of the canals more accessible, and that played into his decision as well.
"From last Sunday practice to Wednesday, it was night and day," he said of the water level. "From Wednesday to today, it's night and day."
He estimate wind has pushed an additional 10 inches of water into Bayou Segnette State Park.
-- Mike Suchan
---
7:51
AM ET
I saw something happen this morning at the dock that probably wouldn't happen in any other professional sport. Mike Iaconelli was at the dock meeting with his cameraman, and getting the video gear organized in his boat. Several members of the media were around him asking for interviews. And of course he obliged. In between interviews with reporters with big fancy television cameras, a guy with a little camcorder made his way to Ike. When it came his turn in line to speak to him, the guy asked Iaconelli if he would shoot a video for his daughter who loved Ike but was back home. They then proceeded to shoot a funny shtick where the guy pretended to steal Iaconelli's bait.
In what other sport could a fan approach a competitor on the morning of game day at the world championship and shoot a funny video for his kid back home? In what other sport would one of the biggest stars take the time to play with him?
-- Angie Thompson
---
7:50
AM ET
Kevin VanDam has recovered from the stomach virus that has affected others, but now he's worried about his son, Nicholas, who began showing symptoms overnight. Obviously worried, VanDam said his wife, Sherry, planned to take their son to the hospital this morning. "With a fog delay, it looks like there'll be plenty of time to get an update on him."
VanDam said he expected the fog delay and accounted for it in his gameplan. "I knew it would be foggy one morning this week, so I ruled out Venice." Like others fishing close by, however, VanDam fears that loss of fishing time today will drive more anglers into the areas he's fishing.
-- Dave Precht
---
7:49
AM ET
"Got a lot of seconds," defending champion Kevin VanDam said, anticipating the fog delay. Yet he knew it would happen way before it actually did.
"This is why I chose not to go to Venice. I knew there wouldn't be three days without fog. I made the right decision so far. I got a lot more – need to see if they're the proper decisions."
Told some anglers will make the run to Venice even if they only have an hour of fishing, he said "Don't blame them." That's especially true for those who don't have a backup to Venice.
"They'll definitely be some guys having to change strategy because of this."
-- Mike Suchan
---
7:48
AM ET
We'll keep you up to date on the weather throughout the morning. Head over to the BASSCam page to hear Trip Weldon's first report on the fog and what delay he expects. We'll check back with him regularly as updates become available.
-- Rob Russow
---
7:45
AM ET
The stomach virus that has sidelined several contenders this week is running its course. Jason Williamson, who missed practice Wednesday as he battled the ailment, is feeling about 95 percent of normal, he says. "I actually feel like fishing today. Tuesday and Wednesday I couldn't even think about getting in a boat." He didn't seek medical help this week. "In South Carolina, we just roll with stuff like this. The only thing that kept me going was knowing that conditions were getting better, the water was rising and getting warmer, and the fish would start biting by today. Not being able to practice Wednesday put me a little behind the 8 ball, but it's actually playing into my hands."
-- Dave Precht
---
7:44
AM ET
Paul Elias is preparing to lighten his boat even more for the long run on this shortened day: "I might as well leave the spare trolling motor in the truck," he said. "I won't have time to change it out."
-- Pete Robbins
---
7:42
AM ET
Ill much of the week, Bobby Lane's voice sounded much stronger Friday morning.
"The thing is my stomach still hurts some," he said. "It's not going to be an excuse, I promise you that."
Although he's running, Lane isn't that concerned with a fog delay, despite his anticipated run.
"I can catch them quick. I want to get there safe and back safe," he said within earshot of Gerald Swindle.
"Safety first," Swindle shouted out, referencing his disqualification from the Classic in 2007 for unsafe boating. It was suggested he must have learned his lesson.
"I still don't think that was right, so I don't think there was a lesson," he said.
He might have said it because Max Leatherwood of B.A.S.S. was at his boat performing the safety check.
-- Mike Suchan
---
7:38
AM ET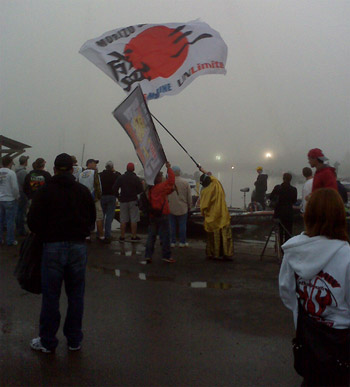 Award for the most devoted fans? Morizo Shimizu's friends from Tokyo, who stormed to the ramp wearing kimonos, carrying an oversized flag and screaming in Japanese.
-- Pete Robbins
---
7:29
AM ET
Searching through the annals of my Classic brain, I can come up with only one delay for a competition day. Actually, I was reminded of that delay by Trip Weldon, tournament director.
That came in 1992 on Logan Martin. Robert Hamilton won that event deep cranking. It was a summertime event, and pretty unusual for us to have fog.
I was paired with Larry Nixon, who gave me no quarter while I tried to take a nap on the back of his boat. I remember most of the anglers being pretty laid back, but there was still some uptight folks, wanting to get it started. The big hope then was that the spectator boats would not be as bad as expected.
That was during a time when spectator boats were just starting to become a staple in competition.
I don't think any one is worrying about spectators today. There will be plenty of them, but Classic competitors have learned to adjust to that. Most everyone is more worried about how and what they will be doing when, and if, we actually take off today.
The guys who are staying close, know they could get extra company today. The guys going a long way are working out in their mind the exact minute they will have to stay. Many of them are going to Venice, even if they have an hour or so of fishing. They have no other choices.
Right now, Trip Weldon is assessing the situation. Official take-off time is 7 a.m., and Weldon has Law Enforcement boats positioned out into the marsh, once things clear for a safe take off, he will rally everyone and get this thing underway.
Meanwhile, you should be able to watch the fog clear on our live stream.
-- Steve Bowman
---
7:25
AM ET
Photographer Jerry Cunningham and I are driving south to Venice on Louisiana 23, and it's a challenge. The fog is thick, and visibility is about a quarter of a mile at best.
It took a couple of attempts just to find the on ramp to get on the Mississippi River bridge in downtown New Orleans.
We're driving through Belle Chasse, and I can't imagine what's going through the anglers' minds as they arrive at the boat ramp in all this fog.
We are wondering if anyone will even make the long boat run to Venice if there's a fog delay.
-- Trey Reid
---
7:22
AM ET
Gerald Swindle planned for fog and will fish close if there is a shortened day. Gary Klein is committed to the run to Venice. To hear their opinions of the fog, click here to see the BASSCam videos.
-- Rob Russow
---
7:19
AM ET
Clark Reehm: "Running in the fog is like drinking and driving. You know it's not a good idea, but unfortunately some people still do it. I won't risk my life that way."
-- Pete Robbins
---
7:17
AM ET
Clark Reehm had a tough practice, so the fog bothers him less than it bothers some other contenders. Today may be a survival day, he said, where a lot of anglers are "just trying to catch enough so you're not out of it."
-- Pete Robbins
---
7:14
AM ET
Local tournament angler Matt McCabe said we could be in for a long wait. "It'll be worse in Venice," he said. "He best option may turn out to be canceling it and having them fish two days." Still, he believes that if the anglers eventually get sent out many will go to Venice. "It's the Classic -- there is no Plan B."
-- Pete Robbins
---
7:04
AM ET
Bill Lowen rides up and pulls between Skeet and Biffle.
"How long we going to be sitting here?" Lowen asked.
"An hour," Skeet replied.
"Driving down the highway it looked like it was raining on the windshield," said Lowen, who decided Thursday he would stay close because he'd rather have about 7 hours to fish instead of just 3, or less if there's a late start.
"I'm sure glad I did," he said. "The only problem is it's going to pull a little more company around us."
It's certain the first major decision of the Classic is happening right now.
"It's all a game of decisions," Lowen said. "It's going to be interesting to say the least."
-- Mike Suchan
---
6:57
AM ET
Classic news alert!!
There's fog and the launch might be delayed. B.A.S.S. Tournament Director Trip Weldon is assessing the situation and we'll keep you updated.
NEWSFLASH!!!!
Skeet Reese was beaten to the launch.
Reese, known as the first angler to arrive most every morning, took second fiddle Tommy Biffle, who was the first out to Bayou Segnette State Park for Day One of the 2011 Bassmaster Classic.
"Yeah, he didn't sleep all night -- too excited," Reese said.
You slept fine then, right Skeet?
"No, I tossed and turned all night," he said.
Biffle beats Skeet.
"Hope that will be the headline on the last day, too," Biffle chimed in.
Both sat tied to the dock watching the others launch their boats in the shroud of fog that has the anglers somewhat concerned. Those making the run to Venice would have less time to fish if there is a delay to the take-off.
"Hopefully, we get out on time," Biffle said, who is planning to fish Venice. "If I can get an hour down there, I'm going."
The area where Mike Iaconelli won the 2003 Classic is generally regarded as having the healthiest sized bass.
"That, and it's the only place I practiced," Biffle said, still worried about time management.
"I probably had two gallons left" in practice, he said. "I don't like running it that close in the Classic. I may need to get gas twice."
The fog and how late this show might get on the road is of major concern, but Skeet also still planned to make the Venice run.
"If I can at least get an hour, then I'm going," he said.
The wheels are turning.
-- Mike Suchan
---
5:47
PM ET
The Media Day portion of the day is over. Buses have taken the anglers back to their hotels.
After more than two hours of getting blitzed with questions, microphones floating in front of them and cameras snapping and winding from every angle, these guys are more than ready for a little peace and quiet.
PHOTO GALLERY

The rest of the evening will be spent in a variety of ways. Some of them will more than likely take a nap. All of them will likely spend some part of the next few hours sitting in their boats. They will wind on line, change hooks, sharpen points, organize and do all the things that fisherman want to do the day before a tournament starts.
A wise man once said that "men often go to church and think about going fishing. But the same men go fishing and think about God."
In that vein, these guys are going to church today -- even if it's just at the front deck of their boat. No doubt some of them will pray about their decisions to come, but all will be thinking about tomorrow. My guess is some will even play out the day in their minds, visualizing every move and every cast, all of it ending with them in the lead after tomorrow's weigh-in.
From now until take off, it's a perfect scenario for every angler. The perfection of that is within the work they've done and the decisions they are thinking about today.
It's an interesting time. For now, we will leave them be. Let them do the things within themselves that they think need to be done.
In the morning, dark and early, we will be at the ramp, starting a live stream from the take off that you should check out at 7:30 a.m. (EST). Immediately following that, this blog will kick into high gear, hopefully giving you as complete as possible look at what is taking place on the water.
Hope you join us.
-- Steve Bowman
---
• To access the blog from official practice and media day, click here.