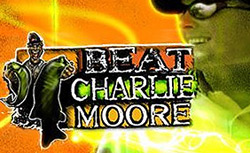 Many of you will recognize Chuck Woolery from his hosting duties on many familiar game shows such as Wheel of Fortune, The Dating Game, Love Connection and Lingo. In June, I was fortunate to have the opportunity to film an episode of Beat Charlie Moore with this television icon.
Chuck has been in the entertainment industry for a long time and has many interesting stories to tell. Of course, a little less storytelling while we were trying to fish wouldn't have been a bad thing! Oh wait, maybe that was me doing all of the talking!
Something most people probably don't realize about Chuck is that he is an avid outdoorsman who has a passion for fishing, which is something that we have in common, other than both of us having great hair! We spent two great days on the water. We had fun and the back-and-forth banter between us was very easy.
This is the second time that Chuck Woolery has been on Beat Charlie Moore. The first time was in 2004 and we fished on Chuck's turf in Michigan. There was some controversy over the outcome of that match. I claimed victory, but Chuck did not agree. We set up a rematch and this time, Chuck came to my neck of the woods in New England. We set out to fish on Lake Winnipesaukee.
Day One was shrouded in controversy, beginning with the weather. It was cold and rainy, a typical summer day in New England.
Right out of the gate, Chuck presented me with a gift: a DVD that he had made called "Bass fishing, the basics with Chuck Woolery."
I wonder, was he trying to tell me something? We had some great smallmouth fishing and heard many great stories about Chuck's life and career. When the day was over, I believed that I caught more fish, but Chuck wasn't buying it.
We made a decision to go fishing again the next day to determine a winner.
Day Two saw much nicer weather. We made a real effort to keep track of the number of fish that were caught.
Chuck was able to jump out to an early lead. After a whole day on the water, I was only able to catch one lousy Pickerel! Since I was, at the very least, able to avoid a shutout, we called it a day and headed to The Hanover Street Chop House for dinner.
Beat Charlie Moore is all about being in the outdoors and having fun. I went out with Chuck we both caught a bunch of fish and laughed until our heads hurt. Chuck is a TV icon and a class act. It was such a thrill to fish with him, but more importantly, he has become a good friend. I look forward to fishing with Chuck again really soon.
Well, I am off to my next challenge. Stay tuned to see what that challenge will bring!