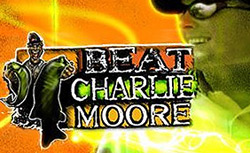 The Fourth Annual Beat Charlie Moore Classic was held in early October 2009 on New Hampshire's famed Lake Winnipesaukee. This show is my version of the Bassmaster Classic, which is the most famous bass tournament in existence.
The first two years of the Beat Charlie Moore Classic, I fished against myself and surprisingly enough, I won! Soon after my victory, I got a call from ESPN telling me that they loved the Classic, thought I was great on TV, thought I was very funny and caught a lot of fish, but I have to actually fish against other contestants to really have a competition and a then a winner.
Darn! So last year, I teamed with Joel St. Germain. We challenged three other teams and finished in first place, so entering this year's Classic, I was undefeated. Well, you know…in my own way.
After Joel and I won the Third Annual Beat Charlie Moore Classic, there were some rumblings from the other teams that they could have won if they hadn't made some small mistake, if they had chosen a different spot on the lake to fish or if they had used different lures. It's bass fishing, it's typical. To put all of that second guessing to rest, Joel and I decided to challenge the same teams on the same lake at the same time of year and to leave no doubt this time!
The rules of this eight hour tournament were simple. The best five fish won. There was a 12-inch minimum and both largemouth and smallmouth bass counted. Because Team Marzerka had a trout boat and the sides were high, nets were allowed for everyone. There was a mandatory lunch break and check-in which made this a two-part tournament.
Let's take a minute and meet the teams!
Team Marzerka consists of Shawn and his friend Scott. Shawn lives in the Wolfeboro area and is a guide on the lake.
Team Fitts includes Chris and Tim Fitts. The Fitts brothers have a house on Lake Winnipesaukee and have been fishing up there their whole lives.
Team Martins is Chris and his friend Chris. They fish competitively together all across New England.
Team Mad Fish was made up of me and Joel St Germain. Joel is one of the best bass fishermen in New England. He is a three-time Federation National Championship contender and a two-time Bassmaster Classic competitor. I am known as the Mad Fisherman, and I have great hair.
All kidding aside, this is the beginning of my seventh season on ESPN. From regular Joes to some of the biggest celebrities, the show is all about having fun and enjoying the great outdoors. It was a great day and the competition was tough. Make sure to check it out.